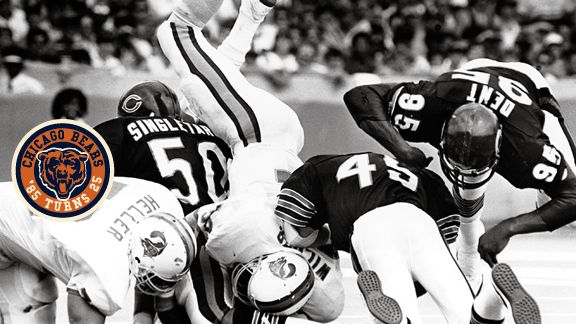 Jonathan Daniel/Getty Images
Les Frazier's pick fuels comeback
Mike Ditka views defensive touchdown as one of the pivotal moments of the season
Editor's note: ESPNChicago.com is celebrating the 25th anniversary of the Chicago Bears' dominant 1985 season and victory in Super Bowl XX. We'll have weekly features on each game from '85, video interviews with key figures, photo galleries and more.
The thermometer on Soldier Field's artificial turf registered a high of 133 degrees as the Bears melted down.
The eventual Super Bowl champs looked like anything but in their season opener as they trailed the lowly Tampa Bay Buccaneers at halftime, 28-17.
[+] Enlarge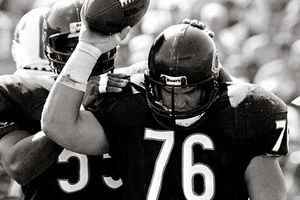 Jonathan Daniel/Getty ImagesSteve McMichael and Otis Wilson had plenty to celebrate in the second half against Tampa Bay during the season opener.
The St. Petersburg Times later called it the best first half of football in the Bucs' nine-year history.
In the Bears' locker room at halftime, cornerback Leslie Frazier did some soul-searching.
"I remember that they had jumped out on us and were whupping us pretty good at first," said Frazier, now defensive coordinator for the Minnesota Vikings. "I remember sitting in the locker room at halftime and thinking, 'Man, we need something to jump-start us. Damn, I hope they throw a ball my way.'
"I said to someone, 'I hope I get a chance.' I really said that, I remember. And then in the first series, there was the ball, and the momentum completely turned and our fans really woke up and carried us the rest of the way."
On the second play of the second half, defensive end Richard Dent swatted a Steve DeBerg pass into the hands of Frazier, who returned the ball 29 yards for a touchdown.
Walter Payton rushed for 120 yards on 17 carries, and Jim McMahon completed 23 of 34 passes for 274 yards, two touchdowns and one interception.
The Bears' defense, which had allowed 212 yards in the first half, yielded 95 in the second as Dent had a pair of sacks and the Bears won going away, 38-28.
"It was big," Frazier says now of the interception. "I saw a comment Coach [Mike] Ditka made later that he believed that play was the pivotal part of our season.
"It's weird. It was only the first game, but after being in coaching for a while and being on both sides, I understand what he meant. It does something for your confidence and momentum. We kind of got our swagger back after that first half. I was injured for that first game, and Ditka had messed with me the week before, saying I wasn't going to be better. But [defensive coordinator] Buddy [Ryan] was telling me not to worry. Looking back, I realize Ditka was just trying to challenge me."
The Bucs would finish the season 2-14, but they gave the Bears two of their best games that season, leading at halftime in both contests before the Bears prevailed. In Week 5, the Bears won 27-19 at Tampa.
Rich McKay watched as Leeman Bennett, who had replaced his father John after he retired, coached his first game for Tampa Bay.
"No. 1, the Bears had good players, and No. 2, they had smart players. And as dominating as that defense was, it only got better when they had the lead," said McKay, later general counsel and then general manager of the Bucs, the Atlanta Falcons and now president of the Falcons. "Then they could really take advantage of the [passing game]. And man, oh man, did they hit the quarterback hard."
DeBerg, who had the distinction of managing a 21-year NFL career despite getting replaced by John Elway in Denver, Joe Montana in San Francisco and Steve Young and Vinny Testaverde in Tampa, was typically part-brilliant and part-agonizing, getting called twice in the second half for illegal head bobs and once backing away from center before the ball was snapped.
"The thing about Steve [DeBerg] was that he was a rhythm passer, and when he got into a rhythm, he was extremely accurate and could move the ball," McKay said. "But if he got out of rhythm like a lot of quarterbacks, it was a different story. And the Bears, with that rush, could be a real problem, real fast."
After the game, Bennett told reporters, "I had the feeling [Bucs players] thought they were going to lose. On the opposite side, I don't think the Bears ever thought they might lose the game.
"They played like a championship team is supposed to play. There was no panic. We stopped Payton. So what? We'll hand the ball to him again. We intercept McMahon, and he throws again. That's the way you are supposed to play if you are a good team."
Whether the Bears were going to be a great team, Ditka was far from sure. "We knew we had a good defense, but we had to figure out what we had on offense," Ditka said. "We came back in that game, and then we got better and better.
"We had some close games that year, but we beat the Patriots 20-7 the next week, and once we started rolling, there was no stopping those guys. Everyone wanted to do their job and wanted to be part of the reason we were succeeding."
Melissa Isaacson is a columnist for ESPNChicago.com.