Commentary
Putting it all on the line
New coach Marinelli praises 'beautiful blend'
[+] Enlarge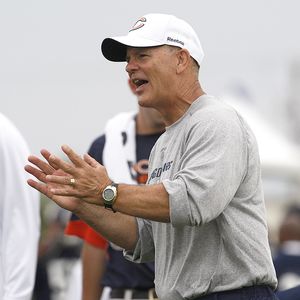 AP Photo/Nam Y. HuhRod Marinelli wasn't as big an acquisition as Jay Cutler, but Marinelli is making an impact with the defense.
BOURBONNAIS, Ill. -- Like an old house that started to show its wear and tear, the Bears' defense fell into somewhat of a state of disrepair in 2008.
With the exception of interceptions, which were up from 16 in 2007 to 22 last season, and a dramatic improvement in rushing defense (ranked 24th in the NFL in 2007; fifth last season), virtually every other major statistical category was down from 2007's numbers.
Sacks decreased from 40 to 27, forced fumbles dropped dramatically from 22 to just eight, fumble recoveries plummeted from 33 to 14, and total tackles dropped from 834 to 782.
The Bears' defense was ranked 16th for both the 2007 and 2008 seasons -- it dropped from 27th to 30th in pass rush.
The performance drop-off was particularly evident on the defensive line. While its play started strong, it finished less than stellar, with individual tackles and/or sacks leaving something to be desired over the previous year's play, for the most part.
With the acquisition of high-profile quarterback Jay Cutler in the offseason, the defensive line will face even more pressure this season to keep Cutler and the Bears' offense on the field longer than the opponents' offensive unit.
"We have to bounce back," said six-year veteran Israel Idonije. "Last year as a D-line, it wasn't our best year. Our focus is to really take over the game as a defense and the D-line is where it all starts. We have to put up big numbers, we have to take over the line of scrimmage and just dominate games."
Midway through the first week of training camp, Bears head coach Lovie Smith likes what he sees so far from the defensive line.
"We have good players on the defensive line," Smith said. "There's a lot of great competition at all the positions and that'll only make our team better."
In addition to Cutler, the Bears made another high-profile acquisition during the offseason that should have a significant impact on the play of the defensive line this season: assistant head coach and defensive line coach Rod Marinelli.
Marinelli served as head coach of the Detroit Lions the past three seasons. But in joining the Bears, he gets back to his specialty of teaching youngsters and veterans alike some nuances of line play that they may never have learned from other coaches in the past.
"First, it's mostly attitude, and two, it's an educational change, too," said defensive end Adewale Ogunleye. "Rod's really teaching. That's not a knock to a lot of other coaches in the league, because a lot of coaches think they're teaching, too.
"But from what I'm seeing, it's a whole other level. It's definitely bigger than the X's and O's. He goes deeper than that. It's a philosophy, a way to play defense, and he has the book to it."
The Bears have one of the younger defensive lines in the league -- the average age of the 10 defensive linemen on the roster is just 26.4 years old -- which allows Marinelli to mold and shape the defensive front into a stronger and more cohesive unit.
"[Ogunleye is] a 10-year [veteran], then you've got a couple of guys at seven years, a guy at five, a couple fours and a couple young guys, so it's really a beautiful blend," Marinelli said.
In essence, 2009 will be a season in which the Bears' defensive line graduates from boys to men.
"[Marinelli has] placed a lot on our shoulders and he's basically saying, 'I'm expecting this from you, but you should be expecting a lot more from yourself,'" Ogunleye said. "He treats us like men and there's no excuses.
"That's his motto, no excuses or explanations. He tells us, 'I don't want an explanation why you didn't do it, and I don't want an excuse why it didn't happen.' That being said, we've got to be like grownups and play like men."
Idonije, Ogunleye, Alex Brown, Tommie Harris, Mark Anderson, Anthony Adams and Dusty Dvoracek form the nucleus of the line. And while sack production and overall tackles by the unit slipped last season, that's not being talked about in camp this summer.
"We're focused on this year," Ogunleye said. "Last year's behind us. We've got Green Bay coming up on Sept. 13, have a new coach on the D-line and we're putting everything into we're doing. That's what our focus is about, to get better today."
Improving overall and individual statistics isn't the only reason to get better. The line's role becomes even more significant in 2009, as it must concentrate on keeping opposing offenses off the field, thus maximizing the time Cutler and the Bears' offense are on the field, with the goal of greater and longer scoring drives to eat up the clock.
"The confidence I see on the offensive side of the ball is really refreshing," Ogunleye said. "No knock to any other quarterback we've had, it's just that when you have an addition of this caliber, it just uplifts the team.
"I can see how happy they are, how confident they are on the other side of the ball and it just makes us want to do better, too, on our side."
Marinelli agrees. He knows what the Bears' defensive front has done in years past. He knows it is made up of some of the most talented players in the league, and he feels in 2009, the only way this unit can go is up.
"This defense has done a great job at getting turnovers in the past," he said. "We've got to keep that going, keep getting better at that, keep getting off the field and giving those guys [on offense] a chance to score."
One thing fans can look forward to this season from the line is versatility. Idonije can play all four up-front positions, while top draft pick Jarron Gilbert, who can play both defensive tackle and end, will likely see considerable action as Marinelli and Smith rotate players to keep them fresh.
"Gilbert's good," Idonije said. "He's unbelievably athletic, a young guy that's big and strong. Whenever he wants, he can take over the line of scrimmage, so he's going to be exciting to watch."
At 31 years old, Ogunleye is the elder statesman of the defensive line. He's taking part in his 10th NFL training camp, and sixth with the Bears.
Even with that kind of lineage, Ogunleye said he's as excited and determined to improve his play as he was when he first came into the league with Miami in 2000.
To illustrate that, Ogunleye worked out constantly throughout the offseason for the first time in his pro career. Not only did he lose a few pounds, he added a new motivation that he hopes will rub off on and inspire his linemates into similar mindsets.
"You think [training] camp gets easier with every year, but in this game, every year something new happens," Ogunleye said. "And every year you don't win the Super Bowl, it's another year full of expectations and almost regret of what you weren't able to do the last couple of years.
"This year, for me, is one of those years. We've not played the way we wanted to play the last couple years, so this camp is one that I'm going to use to try and get back to a level of play that I'm accustomed to."
Jerry Bonkowski is a columnist for ESPNChicago.com
Columnist, ESPNChicago.com
Award-winning sportswriting veteran Jerry Bonkowski returns to ESPN, having previously served as NASCAR columnist/writer for ESPN.com from 2001 to 2004. A lifelong Chicago native, Jerry spent 15 years with USA Today, where he covered all sports -- with heavy emphasis on Chicago-area teams -- and the past 4½ years as National NASCAR Columnist with Yahoo! Sports.
ESPNCHICAGO.COM'S BEARS COVERAGE

Mike Martz could be the Bears' next offensive coordinator, but he comes with a lot of baggage. Melissa Isaacson

Commentary, Features and News
Jeff Dickerson's Bears Blog
More links