Commentary
Numbers say Cubs will click
Originally Published:
June 15, 2009
By
Wayne Drehs
| ESPNChicago.com
CHICAGO -- Exactly 60 games into the 2009 season, the Chicago Cubs are 30-30, the definition of mediocrity. They're not good. They're not bad. They're just sort of there.
The offense is offensive and nobody has any answers. Manager Lou Piniella thinks his guys just need to relax. Cubs broadcaster Ron Santo wishes the players would quit trying so hard. And general manager Jim Hendry hopes that by firing hitting coach Gerald Perry -- the same Perry behind last year's offensive juggernaut -- things will turn around.
Hendry is right. Things are going to change. But I'm not sure it will have anything to do with new hitting coach Von Joshua, or any other new coach or expert. No, the Cubs are going to hit the baseball based on simple seamhead logic. They have to.
Unless a player is injured or aged, guys with track records don't just suddenly forget how to play the game. Sure, they may have a down year. They may hit .275 instead of .295, belt 20 home runs instead of 30. But a lifetime .300 hitter doesn't suddenly hit .220 over the course of an entire season.
[+] Enlarge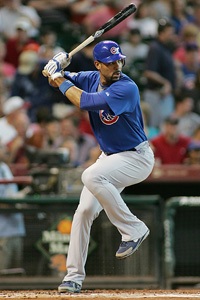 Rob Leiter/Getty ImagesDerrek Lee's hot bat is already raising his season average to .278, the second-highest on the Cubs.
Just ask Eric Karabell, the ESPN fantasy guru. It was my good buddy Karabell who told me a few years ago that May and June are the best times to trade for underperforming players with a track record. So every year around this time, I scour the rosters in my fantasy leagues, looking for former stars hitting somewhere around the Mendoza line who I can cheaply "steal." This year, I'm targeting
Milton Bradley
,
Alfonso Soriano
,
Derrek Lee
and, to a lesser degree,
Geovany Soto
. At some point, they're going to hit. They always do.
Take Bradley and his .227 average for example. Dating back to 2003, only once has Bradley finished a season with an average below .275. That was in 2004, when he hit .267 during his first year with the Dodgers. If all Bradley does this year is replicate his disappointing 2004 numbers, he will still hit somewhere around .305 the rest of the way.
The story is the same with the streaky Soriano. The left fielder is currently hitting just .229. But he's never hit below .268 in his career. Similar to Bradley, if all Soriano does is match his career-worst .268 this season, he would still hit around .306 the rest of the way.
Lee has started already, hitting .370 the past two weeks to raise his average from the .220s to .278, second-highest on the team.
The questions and concerns shouldn't be about the established superstars, but rather the guys who don't have major league track records, guys like Soto and Mike Fontenot. Maybe Soto's Rookie of the Year 2008 season was a fluke, maybe he's nothing more than the next Rick Wilkins. Maybe Fontenot is too easily exposed as an everyday player.
I understand there is panic. I understand all the forecasters who predicted this team would run away with the NL Central and the only thing anybody cared about was what they did in October. And now, a third of the way into the season, they find themselves in fourth place in the division.
But all is not lost. Despite hitting just .246 as a team, despite replacing arguably their best hitter, the injured Aramis Ramirez, with the likes of Fontenot and Bobby Scales, the Cubs are still only 2 ½ games out of first place going into this week's series against the White Sox.
They have yet to hit. They have yet to click. They have yet to play consistently good baseball. And yet thanks to a pitching staff that has the fourth-best ERA in all of baseball and a tightly packed division, all of the Cubs' preseason goals are still within reach.
Just ask the numbers.
Wayne Drehs is a senior writer for ESPN.com. He can be reached at wayne.drehs@Espn3.com. Follow Wayne on Twitter @ESPNWayneDrehs.
Senior writer for ESPN.com
Written for ESPN.com since 2000
Three-time Sports Emmy Award winner