Commentary
'I never saw it as hanging on'
As Bobby Scales and I finished up our conversation earlier this morning, his dream became a reality. A member of the Cubs' staff strolled up to the 31-year-old's locker with a smile on his face.
"All right, Bobby, it's official," he said flashing the day's lineup card in front of him, with the name "Scales" written into the No. 7 hole. After 11 long years in the minor leagues, Scales was about to make his big-league debut … finally.
"Wow, look at that," Scales said, almost afraid to believe what he was seeing. "That works."
"What's your instant reaction?" I asked, as a small smile began to appear on his face.
"Let's go," he said, breaking into an answer that any person who has ever worked day after day to attain a goal can appreciate: "This is what I've worked for. It's not like I was hoping and wishing. Just 'cause I wasn't in the big leagues, I was grinding down here. Guys are grinding trying to get here, 'cause guys go up and come down and talk about it, and you want a piece of that.
[+] Enlarge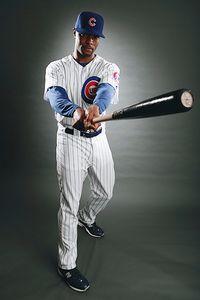 Donald Miralle/Getty ImagesBobby Scales never stopped believing that he belonged in the majors.
"People are grinding, trying to get here, for this team, for [that] team [or] whoever, and that's what it's about, that's why you play. That's why you ride all those buses, that's why you do all that work in the minor leagues. That's why you do it. Once they get here, that's why they want to stay, that's why they work as hard as they do here. Even guys who are locked in, they want to stay here and they want to make more money and they don't want to be embarrassed. That's what it's about."
As you'll be able to see from the rest of our interview, Bobby Scales is the type of person you want to root for -- he never stopped believing in himself, or that a day like today was possible.
Let's start off with the obvious question: You've played in the minors for 11 seasons -- I'm sure all the kids you graduated with are doing all kinds of other things at this point -- why hang on this long?
Bobby Scales: I never saw it as hanging on, that's the thing. I always said [if I] got to a point where I felt like I wasn't getting any better, where I was getting beat up and overmatched and dominated or embarrassed, I would stop playing, and I just never felt that way. A bigger thing for me was, as you get a little bit older in the game, you see guys you played with, you see guys you played against, and they're helping big-league teams win games -- they're contributing on big-league teams, and I felt like "God, I can play with that guy, or I'm better than that guy."
And it's not an arrogant thing, it's not a jealousy thing, that's just the way I felt, and I don't apologize for it. I always said, I feel like I can help a big-league team win baseball games and contribute in some way, shape or form. I really believe that and I still do, and fortunately for me, hopefully I'll get the opportunity to do that.
So deep down, you always knew you could make it to this point.
BS: I really felt that way. I really did. That's what kept me going -- was seeing different guys in the big leagues doing well. I always felt like I could do that too. I don't know who for, what team, fortunately, it's here for the Cubs -- a good team -- a good bunch of guys in this clubhouse, but I felt like I could do it.
Did you ever have any doubts, though?
BS: Absolutely. I'm not going to sit here and lie to you. There's no question you have doubts. You do different things, you play different places, and you're like, "Man, am I ever gonna make it? Am I gonna make it? Is somebody gonna give me a shot?" Yeah, you doubt it, but at the end of the day, it goes back to, "Do you really believe?" If you really believe then you put those doubts in the back of your mind and you just keep grinding.
When they told you it was official, you were coming up to the big club, and it wasn't a "pump fake" like last week, what did you do first when you found out?
BS: Well, even yesterday, when I got here and everything, after what happened the other day, like I said, they handled it as well as possible. I was glad they did, but until I signed the paperwork, I mean seriously until I put pen to paper, I just wouldn't let myself mentally let go of the fact that it might not work out. Call me a pessimist or whatever, but I think I'm a realist. You see too much stuff happen in this game, and in life in general, you just see too much stuff happen. So, until things were sure, for sure, I just wasn't going to let myself go mentally.
The good thing about it was, I signed the paperwork at like 4:24 and we had to stretch for [batting practice] at like 4:25, so I didn't have time to flip out or nothing like that. It was good.
People are going to read this and they're going instantly compare you to Crash Davis, the character from "Bull Durham."
BS: If they want to call me Crash Davis then so be it. I can't tell anybody what they ... how they're gonna refer to me as -- Crash Davis, fine -- but I made it ... I made it and like I said, hopefully I'll get a chance to contribute in some way shape or form, and if I don't, then I don't. But, I still have the belief that I can play and help a team win -- hopefully help this team win, because this is where I want to be. So, we'll see what happens.
I read that you've had a whole bunch of different jobs in the offseason, over the years -- a teacher, a jeweler, among others?
BS: (Laughs) Yeah, I did that one time. My wife was getting her Ph.D. at the University of Georgia, and we were living in Athens, Ga., and the substitute teaching system there just wasn't as good as it was where we were living previously. So, I had to do something, so I worked a jewelry store at the mall. It was different. I think selling's in my blood. My dad's been in sales for his whole adult life.
ESPNChicago.com photo/Nick FriedellThe Wrigley Field scoreboard: Bobby Scales' dream realized
What does he sell?
BS: My father's in insurance. He says I'm gonna do great at it, if I choose to do that, but at the time I just needed the job so I could pay my bills in the offseason, and the jewelry store was hiring, and it is what it is. I had good people to work with there. I didn't particularly care for the product we were selling, but I worked with a good staff, everybody was cool, so [that] made it fun.
What about the substitute teaching -- are you still doing that?
BS: Yeah, I plan on going back this offseason if I have to.
You'll probably be signing a whole bunch of autographs this time around.
BS: Here's what I do: I got high-school kids, so by the time second and third period rolls around -- first of all, I meant to say I've been at the same high school for like eight years now.
Milton High School, in Georgia, right?
BS: Yeah, my old high school, so most people know. Every now and then you get a new crop of kids who don't know, and by second or third period, "You play professional baseball?!?!" So class will start and I'll be like, "Listen, OK, I play professional baseball, I'm giving you guys five minutes to get all your questions out, after that we gotta get on with what we need to do."
So, I let 'em get it out of their system ... I think it's cool because they think it's cool. There's gonna come a point in time when no one's gonna care. When I'm older and not playing anymore, no one's gonna care anymore about my autograph. No one's gonna care about anything else. So, ya know, shoot, I'll take it.
But you're here in the big leagues now. A lot of people in your position would probably say, "Man, I made it, I'm not going back there.
BS: Well, I'm here, but my bank account's not ... I'm not rolling in the dough just yet. I've still got student loans out there. You know what I mean? I wasn't on scholarship at school, so I've got a student loan to pay off. So when [I get some more money], maybe we'll take a look at things again, but until then you've gotta keep grinding man, trying to get another day here. I got Day 2, [now I gotta] try to get three, that's all there is to it.
So it's safe to say you're not making it rain like Pacman.
BS: (Smiles) No, no. It's not even sprinkling.
I read that you're a big-time golfer.
BS: Love it.
You play all the time.
BS: As much as I can.
Who would be in your dream foursome?
BS: Ooof. I'd take my dad with me. I gotta take my dad golfing, wherever ... as much as I love golf, he's loves it twice as much. He's the warrior golfer. He'll play in the rain, whatever.
He's the guy hiding under the tree on the ninth fairway when it's pouring.
BS: Oh yeah. He's the guy when it's pouring, it's a torrential downpour, he's saying, "It's gonna clear up, I feel it, it's gonna clear up." So Pops is in the foursome. (Thinking) I would say ... I would like to play golf with some of the old-school guys, Lee Elder, Charlie Sifford, because what those guys went through, just for me to have the opportunity to step on a golf course or anybody's country club -- the obstacles that they overcame were just a joke. On top of it, they had to play well.
And then I'm in Chicago, adopted hometown of the president, so we gotta throw a lefty in there.
No. 44
BS: Yeah, President Obama. Why not?
I saw that you have a blog called 30 is the new 20 -- are you going to continue to blog while you're here?
BS: Yeah, why not? As long as I have good material to write about, I'm gonna write about it. People wanna know what it's like on the inside; especially for a guy like myself, who's waited this long for this opportunity. I'm not a big, social, Internet, networking guy.
You're not on Facebook?
BS: Nooooo, no. I'm actually very anti-Facebook, MySpace, all that. If I've got your number, you've got mine, then I don't need to go on Facebook to talk to you -- just call me. You know what I mean? E-mail me. Send me a text, whatever. [The blog is] interesting, it's new, I was struggling for information, for things to write about early on. I got some good material now -- that will probably take up two or three posts. It's cool; it's something fun and I'll roll with it.
So, since the name is "30 is the new 20," does that also mean that you're a Jay-Z fan?
BS: Oh, for sure. I mean, I'm from Atlanta, so OutKast is number one, but Jay-Z's a close second.
OK, as an OutKast fan, where does the Rosa Parks video rank on the all-time list then?
BS: It's up there, it's up there. You know, OutKast, their videos, as much as I hate to say it, a little weak, a little weak on the videos.
Really?
BS: I think so. Their videos are ehhh. Their music is just ridiculous. I'm a huge fan of theirs.
On a much lighter note, I read where somebody said you could do "The Carlton Dance," is that true?
BS: Nah. (Smiles) That's a dirty lie. Maybe back in my younger days. [The comment was made by] a friend of mine from high school. I got that one. You know when you're young ... see I went to high school back in the early '90s. I graduated [from] high school in '95. I had a high-top fade, so you know, that's all that's about.
You were telling me last night that everybody has been coming out of the woodwork to congratulate you -- out of all the people you've heard from, is there one that sticks out the most?
BS: So many people have just been so good to me my whole life. I'm truly, truly blessed to have the people, both my family, and some of my friends -- and all my friends -- have been in my corner from day one. I mean, I walked on at Michigan, I just got into school and I walked on, and there were people who doubted me and then there were some people who said, "You know what? If that's what you want to do, then you do it. Go at it." And I was like, "All right." Then people would always check on me and all that kind of stuff.
So many people have been so good to me that it's unbelievable; to single one out would be an injustice. Everybody -- and I appreciate it all.
What happens on Friday if they say, "Bobby, we love ya, but …"
BS: Someone's gotta pitch. (Laughs) Yeah, right. I know. It is what it is, man. I can't worry about that. I'm playing today -- and that's all you can worry about. I can't control anything else.
That's the attitude you've carried with you from the beginning.
BS: You have to. You have to. There's so many things outside your control in this game that you can't worry about it.
Chicago Bulls beat reporter
Nick Friedell is the Chicago Bulls beat reporter for ESPN Chicago. Friedell is a graduate of the S.I. Newhouse School of Public Communications at Syracuse University and joined ESPNChicago.com for its launch in April 2009.