Commentary
Low-pressure system
[+] Enlarge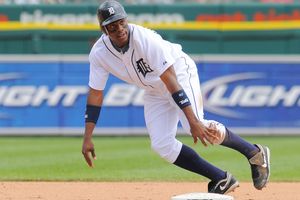 Mark Cunningham/MLB Photos/Getty ImagesCurtis Granderson gives the edge to Hawk Harrelson over Harry Caray.
Every so often an athlete comes back to Chicago to play against the teams he or she grew up watching. When that happens, we'll try to talk to each of them and ask them Windy City-related questions. In our first installment, we catch up with
Detroit Tigers
' center fielder
Curtis Granderson
. He was born in Blue Island, went to high school in Lansing, got his degree from Illinois-Chicago and lives in Chicago during the off-season. He seems like the perfect candidate to get this series off and running ...
If you had to single out your favorite part of the city, what would it be?
Curtis Granderson: I would say the number of events year-round. From the Taste of Chicago, to blues festivals, jazz festival, air and water show, all four major sports teams, all four seasons, I consider those events. Those are just a few examples of all the different things, that you always have an option to do something throughout the course of the year.
Do you ever get tired of talking about the city?
CG: Nah, you know what? I feel like I'm a marker for the city. I always pitch it to everybody 'cause I'm the only guy on the team that lives here [in the off-season]. Everyone's like "Why do you live there?" and then sure enough when they leave, they understand what I like about it so much, except for the cold, 'cause most of the guys live in warmer-climate places. But, when they see the fact that you can eat 24 hours a day, that you can eat any type of food 24 hours a day. It's supposedly cleaner than New York in a lot of people's opinion, the people are supposedly nicer here than a lot of places in the U.S. They start understanding and grasping that and a lot of players' wives always pick this trip to come on. These are all different reasons why people are like, "OK, I can see why you live here now."
What's your favorite pizza place in town?
CG: For me, I'm a Gino's East guy. I really like Gino's a lot. I grew up on the fact that the whole atmosphere of writing on the walls, and getting great pizza, and it's a combination of those two things.
Favorite hot dog?
CG: For me, [pauses] I like Portillo's a lot. Portillo's has always been a good one for me. I like the Chicago-style hot dog, but even with everything on it, I still take everything off because as soon as I bite, it's going to fall off anyways.
All right, if you've got a few hours in the city and can only go to one place -- where are you going?
CG: Always Greektown. I always make sure I stop in Greektown and get me a gyro. I remember when I first went to UIC, the first night we were hungry and looking for a place to go eat -- people brought me over to Greektown, I fell in love, and that was in 1999. Sure enough, throughout the course of every off-season, throughout the course of usually every road trip, I always make sure I go over there at least once.
Why should Chicago host the 2016 Olympics?
CG: We've got two major airports -- the fact that it is summer, hopefully the number of delays will be down. The fact that we have major sports teams, and venues to hold it, we could do that. It's a compact city, but a big city at the same time. And we have one of the most demographic, by race, cities in the U.S. so a lot of cultures will feel at home coming here.
I know you want baseball back in the Olympics, but how cool would it be to play for your country in the city you live in?
CG: It would be great. I'd love to get a chance, I got a chance to meet with the IOC this winter, in Switzerland to try and pitch baseball back in, but I find it really difficult for just baseball to get in and not softball. So, hopefully both of us get a chance to get in, especially here in Chicago, I think it'd be great throughout the summer Olympics to have both of those two playing here, where you have the home of the White Sox and the Cubs, and professional girls' softball, Depaul, UIC, great softball universities in the area, I think it'd be a great thing to have both of those sports here.
What are the biggest differences between Cubs fans and Sox fans?
CG: (Laughs) I think Cubs fans, a lot of them go to the game for the event. The fact that you have Wrigleyville, the fact that some bars open at 9 am, and the fact that after a day game you can go straight to the bar at 4 pm and stay 'til 10, 11, 12 at night. It's a whole event. I think some of the fans there may not even care who's playing. They just want to be outside and enjoy the day.
The South Side, you get people that are so intense, into the game, that no matter what the score is, no matter what the day is, or whatever the outcome is, [Sox fans say] my team is better than your team, I don't care who you are and that's what it is. Whether you win [or not] there's still something wrong with you. That's how the Sox fans are.
That sounds a lot like President Obama's answer.
CG: No, I didn't even know anything about that. Honestly, I didn't know anything about that. But, I've seen it so many times here, playing here [at U.S. Cellular Field]. I didn't notice much coming [as a kid] because I was younger, I didn't really pay too much attention to [the differences]. But, we'll be up, and a guy will hit a home run, and you're rounding the bases, [and a fan shouts] "You still suck!" (Laughs) So, you hear that one.
That never gets old for you?
CG: No, no, no, it's always fun. It's always a fun thing. I know our bullpen guys tend to kick more guys out here [at the Cell] than other stadiums. But, it always makes it fun to come here.
It's never boring.
CG: Definitely not. Unless it's cold. That's it.
If you had to choose one show to go on, would it be Oprah or Letterman?
CG: (Pauses) Oprah's great, but I feel like if I were on there I'd either gotta have the biggest grossing movie of all time or be a tragic story and I don't want to be either one of those two yet. The money would be great for a movie, like a Will Smith [movie]; he seems to always be on there. But Letterman, you can be on there for different reasons. I got a chance to crack a top-10 for the World Baseball Classic, I got a second on there. But with that being said, now I've had a glimpse on there, let's do Oprah and balance it out.
Kanye or Jay-Z?
CG: If we're talking about me buying the CD today, and the two of them were gonna drop one, [pauses] you know what? I'd probably say Kanye. And it has nothing to do with Chicago roots or anything like that, just the CD that I'd probably listen all the way through, probably closer to Kanye. But, I'm a big fan of both, man. I have a lot of their music.
Do you ever find yourself listening to "Homecoming" and going, "Yeah, this is my city?"
CG: The one that I liked was "Touch the Sky." I remember it, it was right after the end of either the '05 season or '06 season -- and I'm driving home from Detroit and I was just so happy to get home, and as soon as I crossed the Illinois/Indiana border, I pressed play on that one and turned it up loud.
Harry Caray or Hawk Harrelson?
CG: You know, it seems like everybody always has a funny story about Harry Caray. Throughout the game, throughout the seventh inning stretch, but Hawk, there's so many sayings that he came up with that we used on the field. 'Little Hurt,' 'Big Hurt,' those were two of 'em. "He gone," "Grab some bench," was a huge one we used back in little league all the time. So, where he comes up with them, I don't know, but I give him a great deal of credit for somehow mastering something that will stick. [He thinks] "Hey, let me try it," and sure enough it sticks. "He gone!" I think that one has been a huge one.
"Get up ... stretch," have you ever used that one?
CG: I've heard so many people say it. It's amazing that it sticks so much. I'd probably give the edge over to Hawk a little bit.
You've been asked this question a million times, but do you ever think about playing in Chicago at some point in your career? Cubs or Sox?
CG: If I did it wouldn't really matter too much on either one. But, it would be at the final stretch of my career, to finish up. And the reason being, right now, the pressure to play here from my friends and family would -- I think -- be just a little too much, because it's gotten better, but a lot of people don't realize, even though I'm playing baseball and it's fun, it's still a job, I gotta perform. People don't understand the requests they're asking me for. One thing I wanna say is that when people ask something, I go, "First, before you ask me, is it something that I could do at your job?" For example, I've had people say, can I come on the field with you and take a picture before the game?" "Well, can I come into your office during your meeting and take a picture?" Probably, the answer is no.
The fact that they are such Chicago fans and they know all the teams, I'm sure the requests for autographs for Jermaine Dye, Derrek Lee, [Carlos] Zambrano, [Paul] Konerko, it [would] just be constant. I've had so many of female friends [say] "Oh! I love this player and I love that player, do you know 'em, are you gonna go eat with 'em. Invite me out." That little stuff would be tough to deal with now.
People are gonna read this, though, and they're gonna say, "Come on Curtis, you know you're our favorite player."
CG: (Smiles) If it came [to me playing in Chicago], there would be so many people that would ask for different things like that. But again, [the family and friends] aren't realizing that it's not the easiest thing to do. [People ask] "It's my birthday, can I get a suite?" You know? Stuff like that.
All right, I'll get you outta here on this one: Should the Bulls re-sign Ben Gordon?
CG: I've been hearing rumors that he might go to Detroit, not 'cause I play in Detroit, I just heard that -- did he turn down a deal earlier this year?
Well, he's turned down two different deals. One came two summers ago, and the second came last summer.
CG: Is he a free agent this year?
Right.
CG: I think he's just saying, "Hey, I've got an opportunity to see what's out there. I've earned it. Let me see what I can do." Rightfully so. I hope if he does end up with someone else that the fans aren't mad at him for it ... if you've done what you're supposed to do, why not get treated for it? If the people that want you, or you feel wanted and they won't give it to you, why not go someplace else where they will give it to you.
But you know Chicago, if he leaves, they aren't going to like him very much.
CG: Yeah, I know they're gonna say something. But at the same time, if the people in charge of writing that check understand that and realize that, that he has helped them get to the point where they are today, why not sign him back. Now, again, don't go bankrupt doing it. You know what's worth it, and hopefully he understands that too. If he remains, I'm sure the fans will love it, if not, all the power and best of luck to him wherever he ends up.
Chicago Bulls beat reporter
Nick Friedell is the Chicago Bulls beat reporter for ESPN Chicago. Friedell is a graduate of the S.I. Newhouse School of Public Communications at Syracuse University and joined ESPNChicago.com for its launch in April 2009.