Commentary
Rios deal shows Williams' moxie
Sox taking on big salaries
Originally Published:
August 10, 2009
By
Jon Greenberg
| ESPNChicago.com
I didn't want to write about Kenny Williams again, but the White Sox general manager just won't quit. Won't quit trading, won't quit dreaming, won't quit the American League Central race. Heck, stoplights in Seattle don't even slow this guy down. So here I am. Here we are. Writing about Williams. Again.
[+] Enlarge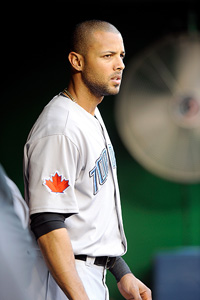 G Fiume/Getty ImagesWhite Sox GM Kenny Williams struck again, acquiring Alex Rios and becoming the talk of baseball.
I expected Williams to make a big move at the trade deadline, even when nothing looked likely. This one … I don't get it, either. Sure, Alex Rios for nothing is nice and all, but there are 61.6 million reasons why claiming him on waivers, when you know Toronto wants to dump salary, is surprising. Stranger things have happened, and when I think of one, I'll let you know. Then again, what do I know? Williams and his staff obviously have a plan in place, right?
Williams has apparently been a Rios fan for some time. I know I've read their names in conjunction, but really what does that prove? I'm sure he enjoys the work of Albert Pujols too. But when news was leaked that the Sox likely placed a claim on Rios, most figured that the Blue Jays would pull back the outfielder and try to work out a trade. That's what Williams figured too, but he underestimated the Blue Jays' fiscal reality. When the Sox's claim was initially reported, some wondered if Williams was just trying to block a trade and got busted on it.
That has happened before, as waiver wire aficionados know. San Diego got stuck with Randy Myers' remaining $12 million in 1998, when it tried to block a reported waiver claim by Atlanta. The Blue Jays gladly dumped the reliever on San Diego.
Once again, the Blue Jays were happy to wipe out a contract and receive nothing in return. Rios' deal quickly soured on general manager J.P. Ricciardi, who failed to find a trade partner for Roy Halladay, is still paying B.J. Ryan not to pitch and shelling more millions to Vernon Wells. His job status is tenuous.
Ricciardi is one of those GMs that scouts and writers derisively refer to as a "Moneyball guy" because he worked his way up as A's GM Billy Beane's right-hand man. Ricciardi has proved them right in their scorn, failing to turn the Blue Jays into a contender in the AL East while spending money at a very un-Athletic pace.
I'm a big fan of Michael Lewis' book "Moneyball," and I've always admired the philosophies behind Beane's approach. Williams, who was mocked a bit in the book, has made his mark picking up undervalued, and often cheap, parts, like Bobby Jenks in 2004, Scott Podsednik in 2005 and Carlos Quentin, John Danks and Gavin Floyd later on. Now it seems like he's going the opposite route and picking up expensive, risky players, hoping that their talent will shine through on the South Side.
The White Sox general manager continues to befuddle and amaze. For the second time in, well, a week, Williams is the talk of baseball after making another move that, depending on your point of view and ability as a soothsayer, is either genius or self-destructive.
One of the Sox's biggest assets before July 31 was their salary flexibility. The team, which had an Opening Day payroll of around $96 million, only had about $46 million locked up in contracts for 2010, not counting the arbitration raises due to Danks, Jenks and Quentin, and much less for the ensuing years as high-priced veteran contracts continue fall off the books.
But now the team has taken on Jake Peavy's $52 million (at least) contract from 2010 through his $4 million buyout in 2013 and Rios' remaining years from a seven-year, $70 million extension he signed in 2008.
Peavy is making $15 million next season, and $16 million and $17 million in ensuing seasons, while Rios is set to earn $9.7 million. Rios will earn $12-12.5 million from 2011 to 2014. Does anyone remember Williams complaining that spendthrift Sox fans were cramping his style? Those Gordon Beckham jerseys must really be selling, huh?
"Yeah, we're out on a limb a little bit with the last two acquisitions, but what we've seen in recent games at home is our fans are starting to wrap their arms around this team," Williams told reporters in Seattle after getting hit with a $56 ticket for jaywalking outside Safeco Field. "People are getting excited about the possibility. I think they can see this team being a dangerous team when we get to the playoffs and match up against anyone."
Notice Williams said "when" they get to the playoffs, not "if." These moves definitely have the air of immediacy to them. The White Sox, currently in second place in the AL Central, will never draw like the Cubs, but their fans will support a winner. But Sox fans aren't going to flock to U.S. Cellular Field to watch a mediocre team. For the Sox to remain competitive and field $100 million teams, they should be drawing upward of 30,000 fans a game. They're currently averaging 27,803 fans a game, just 17th in the majors, and 3,000 less than last season. In 2006, the defending world champions averaged 36,511 a game, ninth best in baseball.
If anything, Sox ticket reps should be busy this week while the team is away.
Peavy is rehabbing an ankle injury that shelved him since June, and skeptics wonder if his elbow or shoulder will give out soon. Rios was given an overvalued contract after a breakout 2007 season when he hit .297 with 24 homers and 85 RBIs. Those numbers are pretty good, but hardly worth the outpouring of dollars, be they American, Canadian or imaginary.
This year, the 28-year-old Rios is hitting .264 with 14 homers and 62 RBIs in 108 games. Again, good numbers. Better than Brian Anderson, for sure.
Rios could fit nicely in Anderson's old spot in center, and is likely to take some of Podsednik's time there once he joins the team, providing some defense for an atrocious outfield, Dewayne Wise notwithstanding. Podsednik, having a renaissance season at the leadoff spot, will siphon starts from the perpetually hobbled, gritty Quentin in left. Rios has mostly played right in his career, so Jermaine Dye will probably steal some DH time from Jim Thome as White Sox manager Ozzie Guillen goes into juggling mode for the last two months.
"A lot of people are [asking], 'How are we going to play all those guys?'" Guillen told reporters in Seattle. "I've already had a meeting with some of those guys. I'm going to sit down with [Rios] and talk about the situation. Everybody is going to have playing time."
Williams is probably done dealing for the foreseeable future, but if he's interested in yet another outfielder, I think Cubs general manager Jim Hendry would gladly work out a deal for some of his overpriced "talent." But even Williams isn't that crazy.
Is he?
Jon Greenberg is a columnist for ESPNChicago.com
Columnist, ESPNChicago.com
Jon Greenberg is a columnist for ESPNChicago.com. He has lived and worked in Chicago since 2003, and is a graduate of Ohio University and the University of Chicago.