Commentary
When did Vick become a nonstory?
Months after his return to the NFL, we seldom hear about the Eagles' backup QB
Updated:
November 22, 2009, 3:34 PM ET
By
Jon Greenberg
| ESPNChicago.com
CHICAGO -- Newsweek recently published a retrospective list of the top overblown fears of the past decade. It was a funny trip down memory lane. Remember Y2K? That was the top fear of the decade, fittingly enough.
Although the nonexistent computer meltdown (which was actually the deus ex machina for one of my favorite movies, "Office Space") had no effect, No. 2 on the list did: shoe bombs.
[+] Enlarge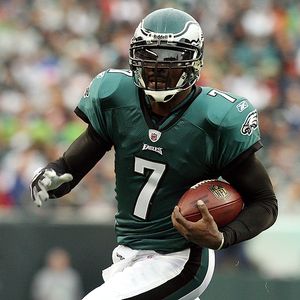 Jim McIsaac/Getty Images Michael Vick has 12 rushes for 27 yards in seven games.
An incompetent would-be terrorist, Richard Reid, sneaked a homemade bomb in his shoe onto a plane in December 2001, and we're all still taking off our shoes at the airport approximately 560 million times a year, according to the authors of "SuperFreakonomics." In a backward way, Reid succeeded in changing the way we fly.
When Michael Vick visits Chicago on Sunday with the Philadelphia Eagles, it'll be basically a nonstory. Vick's dogfighting arrest and fall from grace has to be one of the top overcovered, if not overblown, sports stories of the past decade. His arrest did a lot to spread awareness of the dogfighting subculture in urban and rural areas.
Like most scandals of this nature (steroids in baseball, the Patriots' Spygate, etc.), it's one we've all grown tired of talking about. The overindulgence of Vick news the past two years has led to fatigue and eventually disinterest. The case was covered ad nauseam, and most sports fans tuned it out a long time ago.
I was one of those who was fine with Vick's return to the NFL this year. The loss of tens of millions of dollars and having his name synonymous with pure evil is a hefty price to pay, and given the importance of forgiveness (especially in a league that employs the occasional abusive, violent, irresponsible people), I didn't think it was a crime to see him playing football again.
Vick will never be a commercial star again or, very likely, even an on-the-field regular, and he deserves the right to make a living after his time in jail. The NFL, as fans know, is no picnic. It's hard, debilitating, even crippling work. Vick, to his credit, also has worked with the Humane Society to spread awareness of dogfighting.
After an initial barrage of interest, Vick has mostly faded from the limelight with his new team. I forgot he was even on the Eagles until a local reporter asked coach Andy Reid a question about the quarterback during a midweek conference call.
Vick has completed 2 of 7 passes for a whopping 6 yards. He's rushed 12 times for 27 yards. It's no wonder I forgot he was on the team.
"I just thought he gave us another real good player at his position, and I knew it would take time get back in swing," Reid said. "He hasn't played any football the last couple years. I knew it would take some time to get back into the swing. This guy's been so diligent doing everything he possibly can to help the football team when he's called on."
Once I remembered that Vick is still in the NFL, I wondered whether I was the only one who forgot about his existence. Would people be protesting this game, aside from angry Bears fans who want to see GM Jerry Angelo and coach Lovie Smith canned?
"I haven't heard about anyone protesting. Have you?" Paula Fasseas, the chairwoman and founder of PAWS Chicago, asked me. PAWS, which stands for Pets Are Worth Saving, bills itself as the city's largest no-kill humane organization. It spays and neuters for free, helps with adoptions and has outreach operations in schools in parts of the city where dogfighting is prevalent.
"I remember a young girl in tears because her stepbrother and stepfather were involved in dogfighting, and she didn't know what to do," she said. "She knew it was horrible. The children know it's horrific. It's heart-wrenching."
Fasseas knows that Vick's fame helped bring animal abuse to the public eye, which is a boon for people in her business. It doesn't make her want to work with him, though.
"It's good he got caught and went to jail, and I'm sorry he's out," she said. "The fact that he's playing again saddens me. It's sad that he could commit those atrocities and be back on the field again. I find that very offensive."
Like Richard Reid, Vick's actions had untold consequences in Chicago and across the country.
Since being founded two years ago, the Animal Crimes Unit made up of law enforcement officers from the Chicago Police Department, the Cook County Sheriff's Office and, more recently, the United States Department of Agriculture have saved more than 150 dogs in conjunction with busts at dogfighting and puppy mills (where fighting dogs are bred). Cook County sheriff Tom Dart has been a major force in fighting animal cruelty from working undercover to serving as a public face against the criminal acts.
"The atrocities of Michael Vick, I think, shocked so many people that there is so much more awareness in our communities of what these poor animals faced," Fasseas said. "There is a lot more interest in fighting the causes of dogfighting."
In the past seven months, the unit has busted five different operations, including a dogfight in process in Kankakee County in early August. Two months ago, the unit arrested three people and rescued nine dogs at a house in suburban Maywood that doubled as a day care center.
"Kids were playing on a swing set just 10 feet away from a vicious fighting dog and blood-stained floors," Dart said in a news release. "The very equipment used to train these dogs to kill was being kept in the garage right behind the house. To be engaged in this sort of activity is disturbing enough, but to take a chance with anybody's children is reprehensible."
Cook County Sheriff's spokeswoman Lisa Gordon said there have been 13 arrests for dogfighting or puppy mills since the spring. The unit gets plenty of tips from people who see abused dogs and works with several groups to help spread awareness of the illegal culture.
"I don't know if it's because of the Vick case," Gordon said. "But it sure didn't hurt to have people calling in. No one wants to see abused animals. I know that's how a lot of cases have started. People see dogs that don't look well and they call us, and our guys investigate."
Dan Shannon works for PETA in Norfolk, Va., not far from Vick's infamous "Bad Newz Kennels." He said the outspoken animal rights group thought about working with Vick but decided against it. It's also not leading a fight against him, choosing to concentrate on animal-friendly athletes such as Atlanta Falcons tight end Tony Gonzalez, who just did a naked PSA for the group, and boxer "Sugar" Shane Mosley, who did a "Save the Seals" ad for the group.
"The truth of the matter is, he's one guy," Shannon said. "There are tens of thousands of other guys doing the same thing. We're trying to bring the focus back to those folks. At the very least, we've estimated there are 100,000 people involved in the dogfighting world, from organizing fights to making the equipment needed for it. It's an underground industry like the drug trade. It's bigger than people think, but it's not an epidemic."
Shannon said PETA usually gets calls from like-minded people when Vick plays in a new city, asking what they can do to protest or spread awareness of the issue. He said he wasn't aware of any protests at Soldier Field as of Friday.
Fasseas wasn't planning on protesting, either. Michael Vick the dogfighter is a villain in her eyes. Michael Vick the football player is a mystery.
"Has he not been playing?" she said. "Is he not doing good, is that why? I'm really hoping for karma to work here."
The Cook County Sheriff's Office asks anyone with information on dogfighting to call 708-865-4720.
Jon Greenberg is a columnist for ESPNChicago.com
Columnist, ESPNChicago.com
Jon Greenberg is a columnist for ESPNChicago.com. He has lived and worked in Chicago since 2003, and is a graduate of Ohio University and the University of Chicago.
The Highland Mint Philadelphia Eagles Michael Vick Panoramic Photo Mint Shop »