Commentary
Cubs fans need return on investment
Ricketts should focus on their on-field product
Updated:
December 9, 2009, 10:14 AM ET
By
Jon Greenberg
| ESPNChicago.com
INDIANAPOLIS -- Early in his introduction to Chicago, new Cubs chairman and owner Tom Ricketts got his first tough question.
"Will you raise ticket prices and what will the payroll be?"
Amazingly enough, the questioner was from the team's in-house organ, Vine Line. I'm not sure whether that was a planted question designed to bring the issue to the forefront or that guy was summarily fired, but Ricketts played it straight, noting the team will modestly increase prices and payroll, with one feeding the other.
"[The Ricketts] have made it very clear to me that all of the money stays here for the team development and the building, so the agenda is very clear," Cubs president Crane Kenney said at the time.
[+] Enlarge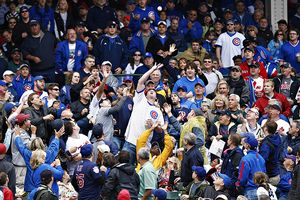 Joe Robbins/Getty ImagesSeason ticket holders are about to dig deeper into their pockets for the privilege of entering Wrigley Field. The Ricketts family needs to deliver a good return on their investment.
Ricketts made good on his first promise, as Cubs season-ticket holders got a look at the 2010 pricing structure late last week when they were invoiced. Prices will increase for the Ricketts' debut season as Cubs owners. In some places, tickets will be up just slightly; in others, fairly significantly.
In a letter to season-ticket holders, Kenney notes that half the tickets at Wrigley remain "essentially unchanged," which is "essentially" true. Although every seat section increased in price this year, if you average out all the price points, some went up only a small amount, a dollar or two.
But overall, according to information from the Team Marketing Report Fan Cost Index survey I have put together the past few years, the average Cubs ticket is up about 10 percent. For the 2009 season, tickets went up 10 percent; for 2008, they were up about 24 percent.
Here's the question: Will that money be used on payroll to build a better team? In his letter, Kenney makes sure to note, "The family has committed all profits from the team will be reinvested in the ballclub, our player development system and Wrigley Field for the foreseeable future."
Now I don't think the Ricketts family will slash payroll or operate the club on the cheap -- being a fan does have some value -- but fans who are shelling out more money than ever have a right to see it go toward the on-field product. If I have to hear about the new bathrooms one more time, I'm going to do a belly-flop in the troughs. When you go to the bathroom at a ballpark, you're not expecting a Roman palace. Keep the dank floors and pick up the speedy center fielder.
The Cubs have had one of the most expensive "average" tickets in baseball for years, as they should, given the allure of Wrigley Field and the popularity of the team in this market. And although the Cubs aren't recession-proof, or slump-proof, Cubs fans should expect ticket prices to continue to rise every year.
The average Cubs ticket this season, not counting the premium seats or the skyboxes, is going to be up about $5, $52.60 from $47.75, compared with last season. That's not a wild increase, but it is significant. A Cubs spokesman thought the percentage increase was a little high, but the 2009 numbers were verified by the team's ticketing department.
The biggest increases are for prime seating locations: the club box infield and outfield seats. Last season, the club box infield average was $86.42. Now, those same seats are $96.23. The club outfield seats are going up from $71.42 to $80.47. Only a few hundred seats behind the plate are put in the premium category, costing about $200 a game, but the rest are somewhat reasonable compared with what some other teams charge.
ESPNChicago.com baseball blog

The latest news from baseball beat reporter Bruce Levine. Blog
The Red Sox, the Cubs' closest peers, sold "home plate" and "dugout"seats for $325 the past two years, and nearly 4,000 "field box"seats went for $125. The Red Sox are also raising prices this year.
The White Sox have pricey sections, such as the $227-a-pop scout seats (which come with amenities), but most of their lower bowl tickets run between $40 and $56.
One reason for the Cubs' increase is the influx of platinum dates. The Cubs introduced this fourth pricing tier last year, and have increased it from 14 games to 26. This is a trend I see continuing. The Cubs lowered the number of games in the middle two pricing tiers and added one more to the bronze, i.e., cheap tier. Instead of a 5-28-34-14 breakdown from cheapest to most expensive, it is now 6-19-30-26. The Cubs also are creating a pricey new 80-seat club area out of six skyboxes, a popular setup at other parks.
A Cubs spokesman noted that the team has some more enticing home dates this season, with the Cardinals at Wrigley Field for three series (last season, it was just two), the Phillies coming in for a weekend series and the Los Angeles Angels coming to town.
Another, more important reason for the increase in platinum pricing, according to Kenney, is the rise of the secondary market, as Cubs fans tend to sell a plethora of tickets on MLB's official reseller StubHub. Kenney said in an interview with the Chicago Tribune that 25 percent of platinum tickets last year ended up on the site.
"We understand our season-ticket holders in particular use the secondary market as a way of underwriting their ticket purchases," Kenney told the Tribune last week. "It's a fact of life. We're over that. That's fine. So we did the $5 [average] increase on those premium games as a way of trying to push the burden of our ticket price increase on those games, leaving the ticket prices flat for most of our games, for most of our seats."
For a team that started its own scalping business, and was unsuccessfully sued by its own fans under old management, which included Kenney, it's probably impolitic to complain about the ills of the secondary market. Especially when you run a team that was so unwatchable down the stretch, thousands of tickets were given away or went completely unused.
A friend of mine, a combination season-ticket holder (54-game plan) who has a master's in sports administration, was incensed with that reasoning.
"What about the September games?" the ticket holder wrote to me. "I literally could not give my tickets away for free! Seriously. I posted them for free on my Facebook page, to about 500 friends, and no one really wanted them. And that makes them think that they can raise the prices by an average of almost 8 percent per game?"
Then again, with 120,000 people on the team's waiting list, I don't foresee too many fans jumping ship, regardless of how many cold fall nights, and National League pennants, pass by without them. Fans want winners, but they also just love the Cubs.
My message to Cubs fans is simple: Don't get suckered by the clean bathrooms and better food. Demand a winner. You're paying for it.
Jon Greenberg is a columnist for ESPNChicago.com.
Columnist, ESPNChicago.com
Jon Greenberg is a columnist for ESPNChicago.com. He has lived and worked in Chicago since 2003, and is a graduate of Ohio University and the University of Chicago.