Commentary
It's a great life in Charm City
Suburban native, Notre Dame alum enjoying NFL
Updated:
December 18, 2009, 2:53 PM ET
By
Jon Greenberg
| ESPNChicago.com
CHICAGO -- Tom Zbikowski isn't superstitious. But he is sentimental.

When he was young, he would lay out his entire football uniform the night before a game. Then he would wake up early, put the uniform on and wait.
[+] Enlarge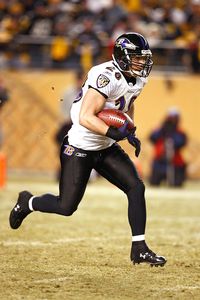 Joe Robbins/Getty ImagesImprovising on a tradition he's held since he started playing football, Tom Zbikowski still lays out his clothing the night before he plays.
For the past six seasons, Zbikowski has walked into a locker room to find his uniform hanging in his locker, first at Notre Dame, now with the Baltimore Ravens. But that doesn't mean he let traditions disappear.
"I still lay out something, maybe it's a long-sleeved shirt I'm going to be wearing, it could be just a pair of socks," he said. "I'm not really superstitious. But this has become a superstition, because I've been doing it so long."
Zbikowski's mental preparation begins in full the day before a game.
"I'm not pleasant to be around before games," he admitted in a 25-minute phone conversation Thursday. "I just stop talking. I feel bad, because my family barely gets to see me and they come in and I'm just sitting around. I tell them to keep talking, because they're not going to get much out of me. The day of the game, I'm always happy. I'm in a good mood, because it's another day I get to play football."
Zbikowski, in his second year as a backup safety and special-teams ace for the Baltimore Ravens, isn't a star like he was at Buffalo Grove High School and Notre Dame. But that doesn't make him love football any less.
The Bears have been so depressing this year, from Jay Cutler's personality and performance to the travails of the offensive line to the nagging questions about the future of the franchise, it's nice to talk to someone who looks they're enjoying playing football.
"I'm getting paid to play what I've been playing since I was 5 years old," Zbikowski said. "That's a pretty good job, I'm not going to lie. No school, just football. I couldn't be happier."
Zbikowski, a kick returner/safety/professional boxer in college, was taken in the third round of the 2008 draft by a team renowned for its hard-nosed defense.
He has picked up things here and there from safety Ed Reed, for whom he's made two starts in the past two weeks, and linebacker Ray Lewis.
"To be on one of the most vaunted defenses of our generation, and play with two of the best players at their positions of all time; it doesn't get much better," he said.
Zbikowski has an interception in each of his two starts, a stat he says is a little misleading because last week "I caught an overthrown pass in a blowout."
Mostly he's just happy he got some game reps and the confidence to know he can start in the NFL. He's listed at 215 pounds, but he's around 200 right now at the advice of his position coach, former Bear Mark Carrier, so he can show his athleticism at free safety.
"I've got Mark Carrier as a coach and he played at 197 and said he wanted me down to 200, minimum," Zbikowski said. "After OTAs I was at 208, and I wanted to make sure I came back at 200, so for the six weeks I was at home, I was watching what I was eating and not drinking too much. I really focused on that this year and it helped me lose a lot of weight."
Losing weight by not drinking? Was he on the LenDale White no-tequila diet?
"Ha, I was never much of a tequila fan," he said. "But my dad always kept a case of Miller Lite around."
Zbikowski had bulked up so much in recent years, it's easy to forget he was a high school quarterback who accounted for 34 touchdowns in his senior year and returned three punts for touchdowns in college. He moved to strong safety in college because that's where the coaches slotted him, and he came to enjoy the brutality.
"Once I started tackling, taking on blocks and having fun, you're almost like a linebacker at that position," he said. "It suited my aggressive side. But I think I can play free safety."
Making that switch isn't so simple. In an earlier interview this week with the Sun-Times, Zbikowski said he wanted to prove "I wasn't just another good-tackling, white safety who understood the game, but a playmaking safety."
ESPNChicago.com Bears blog

Get the latest from ESPN Chicago.
Bears blog »
50 Greatest Bears

Zbikowski doesn't want to be John Lynch or Chuck Cecil, and he certainly doesn't want to be Adam Archuleta. Not because he doesn't respect the position, but because he thinks he can do more.
"I ran track and played quarterback and free safety in high school," Zbikowski said. "If you're a boxer, people think you can hit hard. Honestly, I can't hit that hard. I'm a solid tackler, but I'm more of a free safety. I get the John Lynch comparisons, because he was a hard hitter and a strong safety. I don't hit anywhere near as hard as he does."
I noted that it's similar to comparing one black quarterback to another, even if they have different skills, and Zbikowski agreed, pointing out his teammate, backup quarterback Troy Smith, the former Heisman winner from Ohio State.
"I'm close with Troy and I see how there might be a lot of stigmas he deals with," Zbikowski said. "Not from coaches, but from fans or media. He's a solid drop-back quarterback, but just because he's athletic you don't want to put him in the Wildcat."
Zbikowski is one of the more famous Notre Dame alums in the NFL, so he's gotten a lot of Irish questions during this tumultuous season. He said he knows nothing about new coach Brian Kelly, though Kelly's former players have told Zbikowski that the coach is good at developing talent, which he's happy to hear. He said he passed along words of encouragement to Charlie Weis through an intermediary.
"I know how I feel when I lose a game," Zbikowski said. "He got fired, which is a lot worse. I know he's getting a lot of calls and I didn't want to be bothersome. I understand the university felt they had to make a change, and I think he knew that, too."
While his career is beginning to take off, Zbikowski is expanding his horizons. opened his own training business, Tommy Z's PureSpeed Sports Clinic, at the World Gym in Palatine, the very place he trained. He wants to make sure budding athletes learn how to train correctly. He said he and close friend Jeff Samardzija have talked about opening up a multi-sport facility that trains kids in football, baseball and boxing. He's also hosting a Baltimore radio show with fellow Chicagoan, ex-Bear Brendon Ayanbadejo. But mostly he's worried about football.
His teammates are likely oblivious to his spate of Chicago media requests, not to mention the times he sang the seventh-inning stretch at Cubs games. ("I told them I'm infamous in Chicago," he said. "Not famous.") But a decent rooting section will be in Charm City to root him on.
Zbikowski has about 15 to 20 guests coming in, he said, friends and family, and they'd better be rooting for the Ravens, who are fighting for a playoff spot.
"I've got a lot of pride from where I came from," he said. "It made me who I am. I hope the same people who cheered for me at Notre Dame and in high school cheer for me regardless of where I'm playing."
Jon Greenberg is a columnist for ESPNChicago.com
Columnist, ESPNChicago.com
Jon Greenberg is a columnist for ESPNChicago.com. He has lived and worked in Chicago since 2003, and is a graduate of Ohio University and the University of Chicago.
ESPNCHICAGO.COM'S BEARS COVERAGE

Mike Martz could be the Bears' next offensive coordinator, but he comes with a lot of baggage. Melissa Isaacson

Commentary, Features and News
Jeff Dickerson's Bears Blog
More links
Nike Men's Home Elite Jersey Chicago Bears Jay Cutler #6 Shop »