Commentary
Stoking the flames
Fans were excited enough about the Bears, but then baseball went flop
You can smell it in the air. And if you can't, then maybe the pollen count is even higher than they say.
It is the smell of football season in Chicago, a pungent combination thick with hope and optimism and excitement and anxiety. Oh, the possibilities.
We just can't seem to help ourselves. Every year, we do it. And this year is a little easier than the rest with lofty expectations for the NFC North and high hopes for the Bears.
11-5? 12-4? An NFC championship berth? A Super Bowl appearance? Sure, why not? How about the whole package? A championship this season with a dynasty on the side.
The Bulls and Blackhawks? We are prepared for whatever they may hand us. The Cubs and the White Sox? That's a bad dream not to be dealt with right now. And why should we? It's FOOTBALL SEASON!
It's a real quarterback and a great running back, both of whom better not get hurt. And actual tight ends to be used and enjoyed. And a better offensive line that might not be too old. And OK, receivers that we're hoping Jay Cutler "elevates." A defensive line that we're confident is going to be better, we just can't say why for sure except that they have a new coach whom they really like. A linebacking corps that sure looks good on paper. And, well, yes, a secondary that currently looks scary in person and even worse on paper.
But Charles Tillman is back -- we think -- practicing on Monday and presumably starting against the Packers, against whom he has made game-altering plays in the past. So what if he was touchy when asked about playing this Sunday, calling it "a flip of the coin?" And the fact that if he does, he has missed the entire preseason after offseason shoulder and back surgeries and isn't likely to be very game-sharp?
Bears coach Lovie Smith said it helps just having him out there. Kind of like osmosis.
"Charles has helped us win lot of games around here, so it gives the entire team more confidence to know we're getting one of our guys back out on the football field," Smith said. "Plus, he's fresh. His muscles aren't hurting or anything like that. And again, we know what kind of player he is."
[+] Enlarge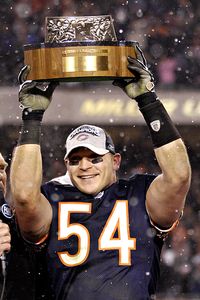 Al Messerschmidt/Getty ImagesJay Cutler's arrival has Bears fans thinking another Super Bowl trip.
And we know about special teams, which is promising. Placekicker
Robbie Gould
didn't miss a field goal in the preseason and is the third-most accurate placekicker in NFL history among players with 100 field goals or more. Punter
Brad Maynard
is to directional kicking what
Danieal Manning
and
Devin Hester
potentially can be to the return game, which is to say dynamic.
So everything is looking great. Really, it is. Just great.
We'll even tell ourselves we are sort of prepared for the Bears to begin the season at 0-2 after losses to the Packers at Green Bay and the defending champion Steelers at home.
While we're at it, we should also get ready for Cutler to become surly, even if we don't blame him for whatever goes wrong this season. And for the quarterback to slip up at some point and hint that the defense needs to hold up its end of the bargain. Oh, and the first time he throws up three or four interceptions in one afternoon and the Bears drop a tough one because of it?
It can happen.
Rashied Davis said he doesn't know if the dismal end to baseball season in Chicago has heightened expectations for the Bears.
"I think it's just because it's football season. 'One City, One Team' is the drill, right?" Davis said of the team slogan. "No matter what's going on with baseball or anything else, you get the same thing from everybody about us."
Yes, you do. Unrealistic expectations and disproportionate criticism, that's us.
The window is always closing around here. Brian Urlacher is not getting any younger and neither are Tommie Harris' knees. But add up the ages of Cutler and Matt Forte and throw in the receiving corps, and they're still not as old as Brett Favre.
Anything is possible. Last season was the 13th consecutive in which at least five NFL teams made the playoffs who had not qualified for the postseason the season before. The NFC had its eighth different Super Bowl representative in as many years.
The NFL trots out these statistics to make teams like Detroit feel good. Wonder if they're buying it.
If not, we will.
Columnist, ESPNChicago.com
Melissa Isaacson is a columnist for espnW.com, ESPN Chicago and ESPN.com. The award-winning writer has covered Chicago sports for most of her 31-year career, including at the Chicago Tribune before joining ESPN in 2009. Isaacson has also covered tennis since 1986.
ESPNCHICAGO.COM'S BEARS COVERAGE

Mike Martz could be the Bears' next offensive coordinator, but he comes with a lot of baggage. Melissa Isaacson

Commentary, Features and News
Jeff Dickerson's Bears Blog
More links