Commentary
Sharing the love
Start of Hawks season suddenly a hot topic in Chicago
CHICAGO -- Used to be, not so long ago, that the start of Blackhawks season came and went while inspiring less enthusiasm than the all-consuming question of whether Cade McNown or Shane Matthews was going to leading the Bears to another mediocre finish.
[+] Enlarge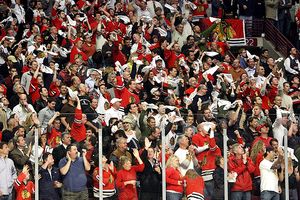 Jonathan Daniel/Getty ImagesChicago sports fans are sharing their ample love with the resurgent Blackhawks.
Now -- just the Hawks' luck -- they finally have a product to sell and Jay Cutler comes to town.
"Obviously the Bears are the Bears," said Hawks star Patrick Kane. "They're always going to be adored in this city, and we have to deal with that."
The difference is that the Hawks have stopped trying to compete and have figured out how to share the ample love Chicago sports fans have for their teams. And for the first time in more than 30 years, the city's major league hockey franchise has a legitimate presence here.
Jay Blunk, senior vice president for business operations and third in the chain of command behind Blackhawks chairman Rocky Wirtz and president John McDonough, said when he came to the team from the Cubs in January of last year, the first thing he and McDonough had to do was establish "a reference point" for the team.
"Because they hadn't been on television," Blunk said. "It wasn't that people looked poorly on the brand -- the brand was totally irrelevant. An entire generation, maybe two, had no reference point to the Blackhawks."
Instead of relying solely on their own product, however -- which certainly had plenty of potential with young stars like Kane and Jonathan Toews -- the next step was to take the Blackhawks brand and "attach it to things with credibility," Blunk explained. Their TV deal with WGN Radio was key.
"Because we didn't have credibility, it reached people that normally wouldn't have sampled our product," Blunk said. "And it told the corporate community that it was safe to come back and invest radio and TV dollars."
The next thing the Hawks did was form alliances with both the Cubs and Sox, figuring that with six million baseball fans -- and Chicago sports fans -- attending baseball games in the city, they could attract them by advertising Blackhawks hockey at ballparks, having their players throw out first pitches and sing the seventh-inning stretch, and generally continuing to attach themselves to established brands.
"Our overarching idea is to make the Chicago Blackhawks part of mainstream Chicago," Blunk said. "So if Patrick Kane, Jonathan Toews and Dustin Byfuglien are walking down Michigan Avenue, they would be recognized."
[+] Enlarge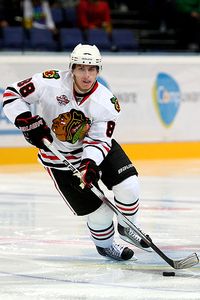 Richard Heathcote/Getty ImagesPatrick Kane doesn't mind it when people wave at him during dinner. He takes it as a compliment.
The age-old measure of Chicago celebrity, the Michigan Avenue test, might be more reliable if it was Diversey Avenue, but Kane said the Hawks are getting there.
"People love the Blackhawks these days," Kane said. "You could be walking down the street and people say 'Hi' or 'Great season,' things like that. For me, when you're walking down the street and someone says 'Patrick,' I'm still looking to see if I know the person. You could say that for any players in the room. Top to bottom, we'd all say the same thing."
Kane, of course, presents the next stage of attracting and keeping new fans, and that's surviving controversy. His arrest this summer and subsequent guilty plea with a cousin to misdemeanor charges of noncriminal disorderly conduct in an altercation with a Buffalo cab driver sent shock waves through the Hawks' organization and fan base.
Coupled with the removal of Dale Tallon as general manager and circumstances surrounding the departure of 2008-09 team MVP Martin Havlat and the signing of Marian Hossa, and suddenly the team with the golden touch had a PR problem.
A new season, particularly if it is a successful one, will dull memories and smooth over the roughest of edges, as it always does.
Blunk and McDonough are steadfast, saying the right decisions are not always the most popular ones. And Blunk said if fans appear to be giving Kane the benefit of the doubt, it may well be because "they saw the real him all these years, because he was accessible. I think that probably did help the situation."
Hockey players have always understood how to market their teams better than athletes in any other sport, and the Hawks' front office has not let up in its demands because of its long history and reputation under previous chairman Bill Wirtz of alienating fans (by keeping home games off TV) and even their biggest stars.
"Because of what happened here before, we're always going to have to make this franchise more accessible, and our players are going to have to always do more in the community, more speaking engagements and do more interviews than other teams in town," Blunk said.
"We have some momentum right now, but now's the time when we really have to work harder because we have bigger opportunities than we did two years ago."
At 20 years old, Kane is forthcoming about the added pressure he has to help right any backsliding he may have caused in the team's marketing machine.
"I think I was probably doing pretty good up until the thing that happened this summer," he said. "I think people thought I had a pretty good personality, and I think a lot of people were maybe on my side. But unfortunately things happen, and yeah, you're going to have to rebuild your reputation a little bit, and that's fine with me, whether it's playing well on the ice or doing things off the ice to help it."
Fortunately for the Hawks, Kane has taken the attitude he has, which is what endeared him to fans in the first place.
"You walk into different restaurants and you see people looking at you or waving at you now. It's a cool feeling," he said. "If I'm out to dinner, people say 'Doesn't that bother you?' I'm like, 'Would you rather not have them waving at you?' You want that."
That they do. And in return, Kane and his mates are also enjoying perks like movie premieres and an upcoming commercial starring Kane and Devin Hester.
"That's fun for me," Kane said. "You meet different people. We were doing the commercials for the [team slogan] 'One Goal' thing the other day and you end up meeting the makeup lady who says she can get you to be an extra in a movie. It's cool things like that."
Cool things like walking down a Hollywood-style red carpet for their Saturday home opener as they did last season.
Kane is hoping to maybe get to a Bears game sometime. That would be cool, too. And winning a Stanley Cup. That might be even cooler than Jay Cutler.
Melissa Isaacson is a columnist for ESPNChicago.com
Columnist, ESPNChicago.com
Melissa Isaacson is a columnist for espnW.com, ESPN Chicago and ESPN.com. The award-winning writer has covered Chicago sports for most of her 31-year career, including at the Chicago Tribune before joining ESPN in 2009. Isaacson has also covered tennis since 1986.
ESPN FAN SHOP