Commentary
Where has this been all season?
Bears' win proves more were possible this season
The question is asked each week of Bears head coach Lovie Smith with variations on the theme. But always, it gets the same response.
Nine times this season, it has been, "What went wrong and why?" On Tuesday, it was "What went right and why?" and more specifically, which ingredient in the Bears' overtime victory over Minnesota was missing in those nine other games?
"Someone else has to be an expert on that," Smith said. "If we knew those things, every team would be undefeated each week. It's a little bit harder than that. Last night it was there. We're going to build on that."
Who will be doing the building is the key question, and not simply an annoying one as Smith saw it Tuesday when, asked about his future, he said repeatedly that his sole focus is on the Detroit Lions and nothing else. Period. End of story.
[+] Enlarge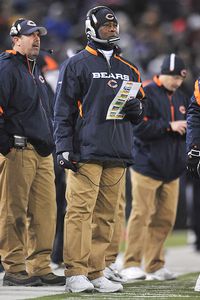 Larry French/Getty ImagesWhile coach Lovie Smith said the Bears would build off their Monday victory, who will be doing that building remains a key question.
"You can continue to ask that question," said Smith. "I'm going to continue to go down this path."
Examining the missing ingredients this season also merits a more thoughtful look and deserves a more thorough answer, because based on Monday night, the Bears were capable of more than six or seven victories this season.
Danieal Manning, who still can't earn a starting safety spot even when he's the last guy left on the depth chart, but showed the kind of gifted athlete he is with kickoff returns of 57 and 59 yards, was candid as always when he said many players simply wanted to leave a good impression on fans and on film.
In other words, there is a lot to be said for motivation like auditioning for the entire league on "Monday Night Football."
Was that behind the apparent extra effort from, say, Tommie Harris and the entire offensive and defensive lines? Or did Smith have them cranked up as a statement to management that they are behind their coaches?
Strange things often happen at the end of bad seasons by teams with a little something to prove and an ax or two to grind. You haven't had to listen all that carefully to the Bears this past week, for example, to detect the lines being drawn in the proverbial sand.
Veteran center Olin Kreutz made a point of defending Smith and sticking it to management after the Bears' loss to Baltimore last week. And Smith made a point to defend Kreutz after the Bears' win on Monday night.
ESPNChicago.com Bears blog

Get the latest from ESPN Chicago.
Bears blog »
50 Greatest Bears

On Tuesday, Smith once again voluntarily praised Kreutz for his leadership "from the first day I got here."
Why does that sound like a farewell speech for both of them?
The trouble with seasons like this one is that you don't know what to believe the last few weeks. Do great games on national television in the end portend great performances in the future? Do evaluations by a head coach whose general manager won't guarantee his job security mean anything at all?
"Just about everybody who played [Monday night] had moments where they stepped up and showed flashes of what they can be in the future, especially some of our younger players," said Smith, speaking of Gaines Adams.
But Adams was a lightning rod for the apparent disconnect between general manager Jerry Angelo, who spent a second-round draft choice on the third-year defensive end, and Smith, whose staff didn't see the benefit of getting Adams onto the field in any substantial way this season.
And what about little-used wide receiver Devin Aromashodu, who, given the chance, has only proved what quarterback Jay Cutler has been saying about him since last spring? Why should it matter if Smith thinks Aromashodu deserves a starting position in 2010, as he finally acknowledged Tuesday, if he might not be the one making the decisions?
Smith, 51-44 as head coach of the Bears, was asked if Monday's victory in some small way "validated" his program.
"I think our program is validated for what we've done here," he said. "We've been disappointed in our play this year, but we've been a good football team for a long time. We're doing things the right way and better days will be ahead for us."
How he knows this for sure is anyone's guess.
Melissa Isaacson is a columnist for ESPNChicago.com
Columnist, ESPNChicago.com
Melissa Isaacson is a columnist for espnW.com, ESPN Chicago and ESPN.com. The award-winning writer has covered Chicago sports for most of her 31-year career, including at the Chicago Tribune before joining ESPN in 2009. Isaacson has also covered tennis since 1986.