Commentary
Bulls closer to pretenders than contenders
Ben Gordon's absence will be felt acutely on West Madison
Originally Published:
October 21, 2009
By
Scoop Jackson
| ESPN.com
One week from today, the truth about who they are will begin to become exposed.
The Chicago Bulls. The team that, when it walked off the court after Game 7 against the Celtics last season, had this entire city believing that this season -- with a couple of savvy/smart summer moves -- it (along with Orlando, Cleveland and Boston) was going to be the creme de la East of the NBA.
Now the time is here and no one is sure whether that feeling we all thought we'd be having right now is actually the feeling we all have right now.
Contender or pretender?
This is where we are. This is the simple question we won't find the true answer to until April. But going in -- as with any investment, because if you think about it, that is all sports really is from a fan perspective, a personal, emotional, financial, psychological investment -- we need to know where the Bulls stand and where we are willing to stand with them. (Hell, we've stood with the Cubs do or die for the past three years -- and look where that has gotten us.)
Are the Bulls the same team we saw last season, or are they going to be something different?
[+] Enlarge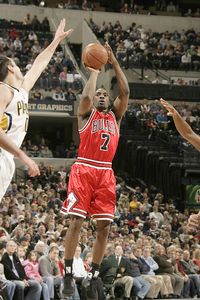 Ron Hoskins/Getty ImagesThe Bulls will acutely feel the absence of Ben Gordon this year.
And where the Bulls stand -- if we are being overtly honest -- is closer to pretenders than the opposite. Not that that won't change as the season goes on or by the time the playoffs begin, but real talk, it's going to be hard to "contend" when the Bulls are going to have to "pretend" that not having Ben Gordon in a Bulls uniform (and the organization's not doing anything significant to replace him) isn't going to have any effect on them.
We can look at it 4,000 different ways, cut it up like something celebrity chef Rick Bayless would serve us at Xoco -- as it stands right now, that is the main reason we don't have the same feeling going into this season that we did at the end of the last one. The BG's Gone Factor has not been dealt with. And it's hard to think the Bulls are going to go through this season pretending that when it comes to that, everything is going to be all right. Nature's not that naughty.
Because it's not all right, but it's not all bad, either. Far from that. If you talk to team insiders, people who have seen them every day and viewed every practice, or talk to any of the players, they will tell you that this team is far superior defensively to the one that walked off the floor against Boston defeated but with heads held high.
They will tell you that the key to the Bulls' success this season will rest in the fact that they can and will make stops they couldn't and didn't make last season. Yes, having Luol Deng back and having Jannero Pargo come off the bench will be huge, as will having everyone on the squad inherit a better feel and sense for what his night-in/night-out role is. Plus, the rookies (Taj Gibson and James Johnson) have looked good; Joakim Noah is poised to have a mini-Danny Granger-type of season; Vinny Del Negro is a year wiser to the game; and, if the Bulls play their cards right, they can use Jerome James and his swollen Knicks contract as part of a package deal to answer other unanswered questions as the season goes along.
[+] Enlarge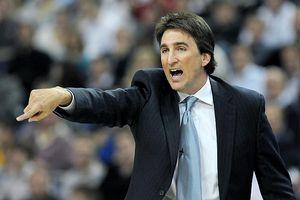 CARL DE SOUZA/AFP/Getty Images Coach Vinny Del Negro is a year wiser, and his experience will be a key for the Bulls this year.
If they are real, if the Bulls are going to be contenders in an Eastern Conference that (barring another KG- or Elton Brand-level injury to a player) is convincingly better than it was last season, the proof will be proved in the first two games and the month of November. Chicago faces an opening two-game schedule that features San Antonio then Boston, then an 11th month that has the Bulls facing Miami and Cleveland on the road in the same week, followed by Denver, all before the circus comes to town.
Ten of their first 15 games are on the road; 11 of those games are against teams that made the playoffs last season.
Yet there are two unforeseen intangibles that will override all that promise and all that November drama. Something beyond the statistical loss and cold-blooded daggers that disappeared when Chicago let Gordon walk: (1) fear and (2) confidence.
Because now that "he's" gone -- if you talk to players around the league -- teams no longer are afraid of the Bulls in the fourth quarter. Yes, they have talent in almost all positions and Derrick Rose is about to be the Eastern Conference version of Chris Paul, but last year, teams -- not just individual players -- feared the Bulls when the time got Nestle. Other teams knew Chicago had one dude who, if he wanted to, could single-handedly win a game -- any game. And knew there was no defense or anything they could do about it or to stop him. That can't be replaced. Not even if the Bulls acquired Carlos Boozer.
But that's the fear factor side of the coin. The other side (and probably just as important) is how the confidence level of the team will be affected by that fear factor's no longer being out there. Can the Bulls fool themselves into believing they will be better or the same without BG? Especially in a seven-game series with a team that is evenly matched or better on paper than they are? Not just Boston or Orlando or Cleveland, but now (because they also got better this summer), what about the Hawks and the Wizards? Quiet as kept, the presence of Gordon gave the Bulls a swag, and we are going to have to wait and see whether it left along with him.
And the swag factor at this stage is just as vital as the fear factor. Imagine the Yankees without Mariano Rivera. In close games. In the eight and ninth innings. Even if he doesn't pitch. Think their confidence as a team would be the same? Hard to say, but easier to say, "We doubt it."
And with the Bulls, even as this new season jumps off, doubt is already beginning to set in.
Scoop Jackson is a columnist for ESPNChicago.com and Page 2 at ESPN.com.
ESPN.com columnist
Columnist for ESPN.com and ESPN The Magazine
Wrote for Slam, XXL, 6 years with NBA; 4 years with Nike