Commentary
As good as it gets?
Even at their best, the Bulls have become just another Chicago underachiever
Updated:
December 16, 2009, 1:17 PM ET
By
Scoop Jackson
| ESPNChicago.com
They showed signs of what could be. For 3½ quarters.

This is the team they were supposed to be all season long. For 3½ quarters.

If you called Tuesday's game against the world champion Los Angeles Lakers a statement game, what statement was really made? That the Chicago Bulls are good enough to compete with the NBA's best for 85 percent of a game? Or that there is only a nine-point difference between the Bulls and the best team in the NBA?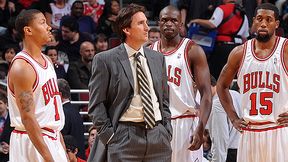 David Dow/NBAE/Getty ImagesVinny Del Negro's Bulls are averaging 12 points less per game this season compared to last season.
Or should we just be asking if there is a difference between a moral victory and an immoral loss?
It was just weeks ago when I could walk around the city and the first question I'd get asked after "When are you going to be back on 'Waddle & Silvy'?" was "Whassup with them Bulls?"
That question came with general excitement in people's voices, with a sense of belief that once the Bulls came home from their annual -- and infamous -- circus road trip, things would fall back into divine order, and they would be back challenging the Cavs and the Bucks (really?) for divisional superiority.
Now no one asks about the Bulls anymore. It's as if whatever answer I would give them they didn't want to hear or ... they already know.
DOWNER DUO
John Salmons and Brad Miller injected life into the Bulls last season after they were acquired from Sacramento. But this season, the duo has struggled to make the same impact.
| Player | 2008-09 | 2009-10 |
| --- | --- | --- |
| John Salmons | 18.3 ppg, 47.3 FG% | 13.8 ppg, 38.5 FG% |
| Brad Miller | 11.8 ppg, 47.8 FG% | 7.9 ppg, 42 FG% |
They know -- even after the Bulls probably played their best game of the season in the loss to the Lakers -- that the Bulls at their best have (so far) become the Bears. Maybe even the Cubs. They've joined the ranks of Chicago squads that have become disappointments for reasons many believe have a lot to do with underachieving.
Twenty-three games in, seven games under .500, what do we know about the Bulls? What have we learned? Use this period as the point to diagnose the team and ask, "Is there going to be a reversal of fortune after the trade deadline like last season, or is this it?" Is this first third of the season what we have to accept for the rest of the season?
Are they who we thought they weren't ?
Although Luol Deng's and Joakim Noah's numbers are up from last season, John Salmons' and Brad Miller's are down. No Tyrus Thomas (with the exception of four games this season). And I've been instructed not to mention "He-Who-Plays-For-The-Pistons" by name in a column about the Bulls again this season, so disregard the sentence about "him" (initials BG) I was about to write.
Every offensive set is beginning to look more like an octagon than a triangle each time down the court. Last season: 102 points a game; this season, 90. And for a team that at the beginning of the season was said (including by this columnist) to have grown defensively, the fact that the Bulls are giving up three more points per game than they did last season is a problem.
But does all of that add up to a reason or an excuse for this team to lose to the Celtics at home by 26 but then serve notice to the Lakers that victories against the Bulls won't come easy?
But if we looked close enough we could see the end coming when coach Vinny Del Negro made the comment about the media. Once he said, "It's easy to sit back on the sidelines and everyone has these great ideas [but] people think they know what they are talking about. But until you live it and do it, no one has an idea," and went down that road, that's when you know the end is near. Not for the coach, but possibly for the entire season.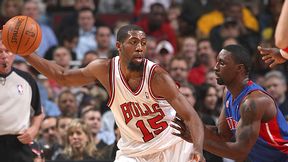 Gary Dineen/Getty ImagesJohn Salmons has struggled to find his shooting touch this season after moving from small forward to shooting guard.
It's like saying author Taylor Branch had to at one point be a politician or a civil rights activist to write about Bill Clinton or Dr. King. Or that Newsweek's Fareed Zakaria has to have been on the front lines in combat in order to have a creditable and accepted opinion or criticism of the war.
It's a cop-out, a sign that one can no longer hold the water in one's hands. And when those words came out of Vinny's mouth after the Celtics game, everyone around him could sense that the frustration had reached a point of possibly no return, and more importantly, the team had no idea of how to stop the bleeding.
Over the past few weeks the headlines from the Tribune and Sun-Times seem to tell the story. Each day is less cryptic than the one before:
"BAD DAY AT THE MAUL" after a 32-point home loss to the Raptors
"EMBARRASSING.NET" after the two-point loss to the team (the Nets) that is on pace to go down as one of the worst in NBA history
"ILLUSIONS OF GRANDEUR" after Saturday's loss to the Celtics, a game that gave no indication that these are the same two teams that just months ago played in one of the most evenly matched playoff series in NBA history.

The photo on the back page of Sunday's Sun-Times of Del Negro with his hands on the sides of his face, eyes closed, gave what seems to be an accurate frozen moment of what life has become for not only him, but the entire city.

The Bulls are at the edge of their self-made precipice. They are looking down. It doesn't look good.

At the end of the Lakers game, WGN's Stacey King put the Bulls and the season in brutal perspective.

"If they come out with that same focus and energy we saw tonight," he said, "they'd beat the teams they are supposed to beat."

And at this point, that's all we can really ask for. But still less than what we expect.

Scoop Jackson is a columnist for ESPN.com.
ESPN.com columnist
Columnist for ESPN.com and ESPN The Magazine
Wrote for Slam, XXL, 6 years with NBA; 4 years with Nike