Commentary
Illinois' Benn focused only on winning
Not worried about touchdowns or touches, just victories
Originally Published:
July 28, 2009
By
Scott Powers
| Special to ESPNChicago.com
[+] Enlarge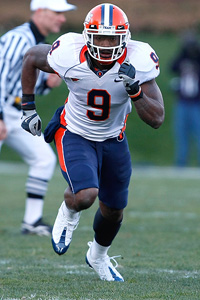 Scott Boehm/Getty ImagesArrelious Benn is focused only on winning this season.
CHICAGO -- Illinois junior wide receiver Arrelious Benn was dealt a lot of different questions Tuesday, but all of his answers were nearly the same.
For two hours at the Hyatt Regency during the second of the Big Ten media days, reporters sat around Benn and asked him about a wide range of topics. He was questioned about his lack of touchdowns. He was asked about possibly entering next year's NFL draft. Reporters wanted to know whether Illinois would have enough footballs to go around with its talented wide receiver group.
Benn answered each inquiry with politeness and thoughtfulness, but ultimately his answer always came back to one thing: winning.
"I love the game so much," Benn said when asked about the possibility of sharing receptions. "I love the game of football so much that those type of things do not frustrate me. I just want to win. I've been playing this game since I was 6, and I love it. Any and everything I got to do to help to win, that's what I'm going to do. There's enough touchdowns to go around to everybody."
Benn, who is also known as Rejus, gave the same sort of answer when asked about having just five receiving touchdowns over his first two seasons.
"I'm here to do any and everything to help win a game," he said. "If I got to block or whatever, that's what I'm going to do. … I'm not saying I don't like touchdowns. I like touchdowns. But that's not the kind of thing I'm focusing on right now. I'm focused on getting the ball in the end zone any way I can."
Benn delivered the kind of statements reporters often hear. Many players say winning is what is most important, but not all mean it. Illinois coach Ron Zook reassured Benn's answers weren't just for show.
"I think that's what makes Rejus the guy he is," Zook said. "He has enough self-confidence in himself that he can be as good as anybody in the country, whether it be catching the ball, running the ball, blocking, whatever, special teams, but he also understands the importance that the more games we win, the better it's going to be for him as well."
Up until last season, winning was pretty much all Benn knew. He couldn't remember a season at any level losing more than three games before 2008. Last year, the Illini went 5-7.
"That was like a slap in the face," Benn said.
Looking back on the disappointing season, Benn believed it was due to the team's lack of chemistry and focus. Heading into this season, Benn knew that had to change, and in the spring he showed he was willing to do anything to make that happen -- even if it meant upsetting his teammates.
"During spring ball, there was a list of bars down in the weight room that we can't go to," Benn said. "Me and Juice [Williams] went to check the bars to see who went there. I went there at like [1 a.m., 2 a.m.] and caught some guys. I wrote them down."
After the next day's practice, he delivered the list to Zook and expressed his concern over the problem.
"Man, we have to set the tone right now," Benn said. "We can't wait until the beginning of the season or end of camp. We got to start letting people know, 'Hey, we're serious. We got to buckle down. If we say something, we got to be on the same page and agree on it.' I set out to do that, whether my teammates love me or not.
"That was a big turning point. I think now a lot of guys look at me as a leader, look to me to say something or do certain things. I think I gained a lot of respect from the guys to do that."
Zook felt the message had more power because it did come from Benn.
"I don't know if there's anybody on our football team who's going to question Rejus," Zook said. "He's not a guy who talks a lot. He's not a guy who's boisterous or anything like that. But when he speaks, people listen."
The bar raid wasn't the first time Benn and Williams got together on something. From their on-field relationship as wide receiver and quarterback to their off-field friendship, the two have developed a strong bond.
"Me and Rejus, we connect better than the average duo," Williams said. "We're always around each other. He stays in the same complex as me. We're always talking football. Our girlfriends are very close, so that makes us closer. We have the type of chemistry I think every quarterback and wide receiver should have. We're able to connect on a lot of plays. We're able to understand what each other thinks. We both want the same goals, we want the same things for this team, which is to win. That alone says a lot about our relationship."
With the addition of Jarred Fayson, a transfer from Florida, Williams will have a second big-time receiver to target. Although Benn doesn't mind defenses focusing on him -- he enjoys the challenge -- Fayson should give him more room to roam.
As a freshman, Benn had 54 receptions for 676 yards. Last season, he caught 67 passes for 1,055 yards. As a junior, many expect those numbers to improve even more and put him in position to leave early for the NFL.
Williams certainly believes that.
"He's dedicated to excellence," Williams said. "He's big, strong, fast, explosive. He has great, soft hands. You only dream from that in a receiver, and he has them all."
Benn, though, won't touch a question about the NFL. Of course, his answer returns to winning.
"I'm just focused on Sept. 5," said Benn, referring to the team's season opener against Missouri. "That's here nor there. I'm 100 percent about Illinois."
Reporter
Scott Powers is a general reporter for ESPNChicago.com. He is an award-winning journalist and has been reporting on preps, colleges and pros for publications throughout the Midwest since 1997.