Commentary
Cats' backfield competition central
Simmons named starter for Saturday
Originally Published:
September 3, 2009
By
Scott Powers
| ESPNChicago.com
NORTHWESTERN (0-0) vs. TOWSON (0-0)
When: 11 a.m.
Where: Ryan Field, Evanston
TV: Big Ten Network
Radio: WCPT-820 (AM), WGNradio.com, WNUR-89.3 (FM)
What you need to know: The Division I-AA Tigers shouldn't present any sort of challenge for Northwestern, but this game still has plenty of importance to the Wildcats, especially on the offensive side. All eyes will be on new starting quarterback Mike Kafka and his young offense as they try to prove they're capable of putting points on the board after Northwestern lost a number of key players to graduation. Freshman running back Arby Fields is wearing Tyrell Sutton's old number and hopes to produce some similar magic as Sutton once did in his first collegiate season. Defensive end Corey Wootton will also be looking to prove he's still a dominant player as he returns to action after tearing his ACL in last year's Alamo Bowl game.
Scott Powers' prediction: Northwestern 41, Towson 10
Northwestern running backs coach Matt MacPherson had one word on the white board waiting for his players when they first met this season.
That lone word was "compete."
With the graduation of Tyrell Sutton, one of the program's most prolific running backs, Northwestern's backfield found itself with a vacancy for the first time in four years. MacPherson's message to his players that first day was simple: All of them were being considered for the position.
"If they weren't ready to compete, they were in the wrong place," MacPherson said.
Junior Stephen Simmons certainly was prepared for it. Although he was the most experienced returning back and the early leader for the top spot, it was that idea that every play and every practice were part of a competition that motivated him.
"When we compete, it makes everyone better," Simmons said, who had 62 carries for 178 yards and two touchdowns last season. "It brings that amount of talent out of you. I just pushed myself to find ways to stick out. Where someone makes a play, you got to turn around and make a better play or a similar one."
Simmons was named the starter for Saturday's season opener against Towson, but the position is far from being definitely filled. Freshman Arby Fields is listed second on the depth chart and is expected to get plenty of reps. Scott Concannon, Jeravin Matthews and Jacob Schmidt also will get their chances to shine.
What MacPherson will be looking for Saturday is consistency in his backs. One 15-yard run won't decide the battle, but a handful of them could. Of course, if someone breaks out for 150 yards and two touchdowns, MacPherson's job would be a lot easier come that second week.
"That would be a great problem to have," MacPherson said. "If we have a problem like that on Saturday, I'll deal with it with a smile on my face. If someone separates himself, then someone separates himself. Otherwise, we'll continue doing running back by committee."
Sutton distinguished himself in Northwestern's season opener as a freshman in 2005. He rushed for 104 yards and two touchdowns. He added three 200-plus rushing yards games later in the season, proving his debut wasn't a fluke.
Of Northwestern's stable of backs, Fields is the one drawing the greatest comparison to Sutton. It is easy to do, given that Fields wears Sutton's former number, 19, and -- at 5-foot-9 and 200 pounds -- has a similar build.
[+] Enlarge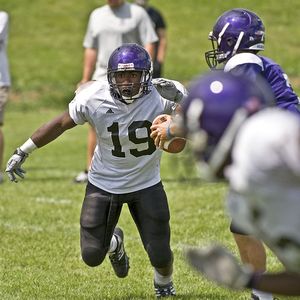 Courtesy Stephen J. CarreraArby Fields doesn't want people to compare him to former Northwestern standout running back Tyrell Sutton.
Fields would prefer if people didn't do that.
"No matter how much I resemble him off the field or on the field with No. 19, I've done nothing on a Big Ten football field yet," said Fields, who also excelled at baseball and was selected in the 34th round of the amateur draft by the Atlanta Braves. "Tyrell's a great guy, great running back. I hope I do half of what he did."
Having said that, Fields does want to be Northwestern's main guy as a freshman. He's just as competitive as Simmons and the other backs. Here's his pitch:
"I think I proved to coach I'm not afraid," Fields said. "College football is something I'm definitely ready for. He can trust me in a Big Ten football game as a true freshman. I'm not hiding behind anyone, looking for someone else to do the job."
The competition has been fierce for the position throughout the spring and into the fall. It hasn't divided the running backs, though. It certainly hasn't affected their senses of humor.
Simmons and Fields took light jabs at each other after Wednesday's practice.
"Arby, he's a midget," said Simmons, who is 5-8. "He's cool, though. He reminds me of a lot of myself in a way. He's not as fast as me."
Fields responded, "He's pretty self-conscious because he's the smallest guy on the team.
"He's shorter than me, and I'm faster than him, and I'm just a freshman. It sucks for him."
Scott Powers covers high school and college sports for ESPNChicago.com and can be reached at spowers@espnchicago.com.
Reporter
Scott Powers is the Blackhawks beat reporter for ESPNChicago.com. He is an award-winning journalist and has been reporting on preps, colleges and pros for publications throughout the Midwest since 1997.