Commentary
On the run
Illinois running back LeShoure finally breaking through
Originally Published:
November 5, 2009
By
Scott Powers
| ESPNChicago.com
University of Illinois sophomore running back Mikel LeShoure had a touchdown celebration already planned if he got into the end zone against Michigan last Saturday.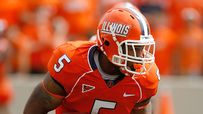 Scott Boehm/Getty ImagesIllinois' Mikel LeShoure rushed for 150 yards in a 38-13 victory over Michigan on Saturday.
He and roommate Ashante Williams had come up with the idea of LeShoure drawing an imaginary bubble in the air and then popping it with his finger.
LeShoure created an opportunity to showcase their creativity in the third quarter. He received a handoff, burst through a hole up the middle and sprinted his way for a 70-yard score. When he arrived in the end zone, he tossed the ball to the official and joined his teammates in an ordinary celebration before jogging off the field.
That was it. The excitement of it all had burst his plan to burst a bubble.
"It slipped my mind," LeShoure said. "I was just too happy. I didn't think about it."
It was understandable. The moment was the peak of his college career. After appearing in the news last season for having his jaw broken by a teammate and earlier this season for being suspended a game for an undisclosed reason, LeShoure finally was making an impact on the field. And in a win.
"Sometimes you just make mistakes and stuff like that," LeShoure said. "You always learn from that. You move on. People can see the positive you can do. For me, it's good to hear that good talk going on about me now."
Even the week before, he was pleased that he had rushed for 122 yards, which was then a career-high, but he couldn't enjoy it too much as the performance came in a crushing loss to Purdue. He found it much easier to be happy after rushing for 150 yards and beating Michigan 38-13.
"Personal success is all good, but I'm more of a winner," LeShoure said. "I'll take a W over 150 yards anytime."
Just a few weeks ago, rushing for 150 yards didn't seem like a possibility for LeShoure. He opened the season with 38 yards against Missouri, was suspended for the Illinois State game and then had to work his way out of the doghouse.
He had four carries against Ohio State, none against Penn State and three against Michigan State. He had a total of 163 yards in the Illini's first five games.
His situation began to improve against Indiana on Oct. 17. He had a career-high 12 rushes for 78 yards against the Hoosiers. The following week he was given the ball 15 times against Purdue. Against Michigan, he had 21 carries.
"They noticed it was hard for guys to have success without getting into a rhythm," LeShoure said of his coaches. "Once you got into a rhythm, you were out of the game. I definitely felt like I was getting into a rhythm [against Michigan]. There were a couple plays where I got 4 or 5 yards. Those plays become 15-20 yards, and eventually you can pop one."
The 70-yard pop was his longest since his high school days at Champaign Centennial.
"I haven't had that much room since high school," said LeShoure, who leads Illinois in rushing with 435 yards. "To see the open field like that, it lights your eyes up. You think about what you're doing to do when you score."
Sometimes you forget, though, as LeShoure knows.
Scott Powers covers high school and college sports for ESPNChicago.com and can be reached at spowers@espnchicago.com.
Reporter
Scott Powers is a general reporter for ESPNChicago.com. He is an award-winning journalist and has been reporting on preps, colleges and pros for publications throughout the Midwest since 1997.
MORE COLLEGE FOOTBALL HEADLINES