Commentary
They don't know drama
The Illinois-Northwestern rivalry has been mostly subdued the past five years
Originally Published:
November 13, 2009
By
Scott Powers
| ESPNChicago.com
Illinois and Northwestern may be in-state rivals, but their games don't often create much television drama.
Just twice in the past five years has an Illinois-Northwestern game been decided by a touchdown. That was back in 2004 when Ron Turner was coaching Illinois, and Noah Herron was the Wildcats' leading rusher.
The 2009 version has the makings of a good game, but don't be surprised if one team runs away with it.
Here's a look at how the teams have fared during the past five years of their rivalry.
2008
On a cold 26-degree day, Northwestern fans ran out onto the field to celebrate with the players after the Wildcats defeated Illinois 27-10 and notched their ninth win for the first time since 1996.
Northwestern quarterback C.J. Bacher threw two touchdown passes, and Brendan Smith returned a punt for a 51-yard touchdown in the win.
The defeat closed what was a disappointing season for the Illini after reaching the Rose Bowl the previous year.
[+] Enlarge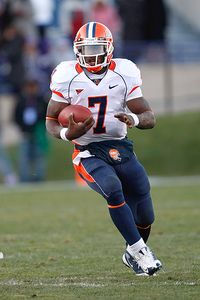 Scott Boehm/Getty Images Illinois quarterback Juice Williams, then a junior, had 94 yards rushing and 212 yards passing in a 2008 loss to Northwestern.
Illinois finished the season 5-7 overall and 3-5 in the Big Ten.
Illinois quarterback Juice Williams had 94 yards rushing and 212 yards passing in the loss.
The game marked the final time the teams would play for the Sweet Sioux Tomahawk as the two teams decided to follow an NCAA directive to stop using Native American imagery. The trophy had been part of the game since 1947.
2007
Illinois headed to the Rose Bowl after defeating Northwestern 41-22 in Champaign in the final regular-season game.
Sophomore quarterback Williams had a big day, running for 136 yards and two touchdowns and passing for 220 yards and a touchdown. Running back Rashard Mendenhall also assisted in the victory, rushing for his 16th and 17th touchdowns of the season, a school record. Wide receiver Jeff Cumberland had 131 yards receiving and a touchdown.
Illinois' offense accounted for 541 yards and 32 first downs.
Northwestern quarterback C.J. Bacher was 29-of-49 for 310 yards, two touchdowns and two interceptions.
2006
This game ended two woeful seasons. Northwestern won 24-16 in Evanston to finish the season with a 4-8 record. Illinois dropped to 2-10 overall and 1-6 in the Big Ten.
Wildcats sophomore running back Tyrell Sutton rushed for 110 yards and a touchdown in the win. He finished with 1,000 yards on the season after running for 1,474 the year before. Northwestern quarterback Bacher completed 22 of 30 passes for 269 yards and a touchdown.
Illinois' Mendenhall had an 86-yard touchdown run and finished with 113 yards on five carries. Freshman quarterback Williams was 4-of-18 for 65 yards.
It was the fourth consecutive win for Northwestern over the Illini.
2005
Northwestern's offense was too much for Illinois as the Wildcats won 38-21 on the road.
Northwestern quarterback Brett Basanez passed for 240 yards and a touchdown and ran for 85 yards and two touchdowns. Freshman running back Tyrell Sutton rushed for 212 yards.
The Wildcats totaled 596 yards and 36 first downs.
Illinois running back Pierre Thomas had 97 yards and a touchdown in the loss.
2004
In the most exciting game of the past five years, Northwestern edged Illinois 28-21 in overtime when Basanez hit Jonathan Fields for a 7-yard touchdown pass.
For the Wildcats, it was their fourth overtime game of the season. They finished 3-1 in overtime games.
It was Turner's final game as Illini coach. Illinois finished the season 3-8 overall and 1-7 in the Big Ten.
Northwestern's Herron had 97 yards and two touchdowns. Illinois' Pierre Thomas ran for 131 yards and two touchdowns.
Scott Powers covers high school and college sports for ESPNChicago.com and can be reached at spowers@espnchicago.com.
Reporter
Scott Powers is a general reporter for ESPNChicago.com. He is an award-winning journalist and has been reporting on preps, colleges and pros for publications throughout the Midwest since 1997.