Commentary
On his way
NIU coach Kill believes sophomore safety Wilson has NFL potential
Updated:
December 21, 2009, 6:10 PM ET
By
Scott Powers
| ESPNChicago.com
DEKALB, Ill. -- Northern Illinois sophomore safety Tracy Wilson isn't impressed by his team-high 86 tackles. The way he sees it is a tackle is something he's expected to make. Whenever an opponent is in front of him, he's supposed to put that person to the ground.
[+] Enlarge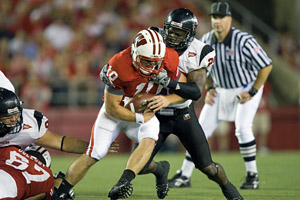 Scott Walstrom/NIU Media ServicesNIU sophomore safety Tracy Wilson is a perfectionist who still is trying to realize his big-play potential.
"If I didn't make those tackles, I wouldn't be on the field," Wilson said.
The numbers where Wilson truly measures his season's success are in forced fumbles, interceptions and pass breakups, which he describes as the big plays. Without a forced fumble or an interception and just three pass breakups in the regular season, Wilson wasn't satisfied with his "big-play" production.
"I don't feel like I did as much as I could have done," Wilson said. "I don't feel like I made any big plays. I don't look at it as a great year. I feel like I had a pretty good year. I don't feel like I was a dominant player."
Of course, Wilson does have one more opportunity this season to correct that when the Huskies face South Florida in the International Bowl in Toronto on Jan. 2.
"Coach [Jay] Sawvel, our position coach, tells us we're playmakers," Wilson said. "If I'm a playmaker, I'm supposed to make big plays. I've got to prove it, though."
Northern Illinois head coach Jerry Kill would love to see Wilson make as many plays as possible, but he was pleased with Wilson's season. He does understand where Wilson is coming from, though.
"I think anybody who wants to be the best is going to be tough on themselves," Kill said. "I'm sure he wishes he had made a play there or here, but overall he played very well for us, and he'll get better. But he's a perfectionist. He spends a lot of time in the film room, and he wants to be the best he can be."
As a freshman, Wilson played in all 13 of Northern Illinois' games, started in one and finished with the year with 43 tackles. It was a good start to his collegiate career, but Wilson again wasn't happy. He didn't feel he was as comfortable on the field as he could have been.
In the offseason, Wilson spent more time watching film and trying to grasp the Huskies' defense. When this season arrived, he was ready.
"You can be a great athlete, but not a great football player," said Wilson, who played in high school at St. Francis de Sales in Chicago. "You got to have some sort of ability, but you got to be mentally prepared, too."
Kill saw Wilson take those steps in his game from his freshman to sophomore season, but he anticipates even larger ones in the future.
"We feel like he'll be an NFL player," Kill said. "He's a guy who played pretty good last year. We felt like he would make an emergence this year. He's a very, very good safety, good tackler, plays the pass very well. His best years are only ahead of him. He's only a sophomore. We expect a lot out of him the next couple years."
Scott Powers covers high school and college sports for ESPNChicago.com and can be reached at spowers@espnchicago.com.
Reporter
Scott Powers is a general reporter for ESPNChicago.com. He is an award-winning journalist and has been reporting on preps, colleges and pros for publications throughout the Midwest since 1997.