Commentary
Stronger for the journey
Wootton believes recovery from injury a growth process
Updated:
December 29, 2009, 10:10 PM ET
By
Scott Powers
| ESPNChicago.com
There was a time Northwestern defensive end Corey Wootton couldn't stop himself from thinking about the 2008 Alamo Bowl.
He allowed his mind to wander to the day, the game and specifically the single moment that changed his football future. He was running after Missouri's quarterback late in the fourth quarter when Wootton made a quick move and his leg buckled. He fell to the ground and soon discovered he had torn the ACL in his right knee. The injury required surgery, kept him out of the NFL draft and returned him to Northwestern for a senior season.
[+] Enlarge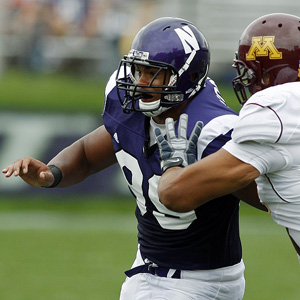 Jerry Lai/US PresswireOne scout has Northwestern DE Corey Wootton going as high as the second round in the NFL Draft.
Now almost a complete year has passed, and Wootton is preparing for another bowl game -- the Outback Bowl against Auburn on New Year's Day. While he still isn't 100 percent and didn't have the season he hoped for, Wootton is feeling the best he has in a year and believes he's grown in a number of ways because of the process.
"I feel like it's made me a stronger person just being able to fight through the beginning of the season barely being 70 percent to now where I feel 90 percent," Wootton said. "I just know my best football is ahead of me. It just made me a stronger person mentally, just facing the adversity, not feeling like myself, not being where I want to be."
The season was trying for Wootton due to that. He pushed himself to get back on the field and was able to play in all 12 Northwestern games, but it wasn't until Week 10 that he participated in his first full week of practices. He was rewarded on that Saturday when he nailed Iowa quarterback Ricky Stanzi in the end zone, caused a fumble and a teammate recovered the ball for a touchdown to key the Wildcats' upset win in Iowa City.
Wootton knew from that play he was getting better.
"Not [that] I'm fully back, but I'm headed in a good direction," he said.
The following week, he had two tackles for a loss in the win over Illinois. In the final game of the regular season, he felt his best and had a sack and four tackles against Wisconsin.
"I didn't fully expect this," Wootton said. "I expected to be back to my old self earlier. I try to strive for perfection. I was kind of realistic with myself. This is an injury that takes a long time to come back from, and I had to be honest with myself. I didn't question whether I could be the same player. It was just when. I wanted to come back sooner.
"Just coming on these last couple weeks, it's felt great. I'm looking forward to being 100 percent for this bowl. I'm feeling a lot more comfortable, just feeling healthier. The knee feels great nowadays."
NFL scouts will be glad to hear that. While Wootton had to wait a year, ESPN Scouts Inc. college football and NFL draft analyst Steve Muench believes he still will be a second-round pick in the upcoming draft.
"Wootton's production is down this year and the knee injury as well as an ankle injury clearly affected him, but it would have been a surprise had the knee injury been a nonissue," Muench said. "It just takes time for most players to get over reconstructive knee surgery, and he showed some toughness by starting 10 of the 12 games he played in this year. While NFL front offices are still going to check out the knee and make sure that it's structurally sound, I think his quickness and lateral mobility have bounced back to where they were before the injury. Not great, but good for a 6-foot-7 and 280-pound prospect."
There is plenty that makes him an attractive player to NFL teams.
"We still like his ability to set the edge against the run," Muench said. "He gets his hands inside an offensive tackle's frame, locks arms out, locates the ball and can shed blocks in time to make the play. He doesn't show great closing speed in pursuit, but he takes sound angles to the ball and he never stops working.
"He's never going to be a dominant edge rusher because he's not quick enough to consistently beat tackles around the corner. He's also a bit stiff in the hips, which limits his ability to redirect inside after starting outside and vice versa. He is, however, a powerful bull rusher who can push offensive tackles back into the lap of the quarterback. He'll also make some plays with his second effort."
Wootton has thought about his draft prospects, but he has tried to focus on enjoying his final college football game.
"It's in the back of my mind because people mention it to you all the time," Wootton said. "You try not to think about it too much because we still have one more game, one more opportunity. After the season, I'll focus on that.
"[This season has] been great just being with my teammates, being with this group of seniors. It's been amazing. I'm looking forward to stepping on the field with them one last time."
Scott Powers covers high school and college sports for ESPNChicago.com and can be reached at spowers@espnchicago.com.
Reporter
Scott Powers is a general reporter for ESPNChicago.com. He is an award-winning journalist and has been reporting on preps, colleges and pros for publications throughout the Midwest since 1997.
MORE COLLEGE FOOTBALL HEADLINES