Discussion
Russell issues direct challenge to MJ
Updated:
September 15, 2009, 5:21 PM ET
ESPNChicago.com
Bryon Russell took it as a compliment that Michael Jordan called him out during his Hall of Fame acceptance speech, and Russell responded on Tuesday with a direct challenge.
"Mike, if you want this, come get it," Russell said on the "Waddle & Silvy" show on ESPN 1000. "I'm out here in Calabasas (Calif.). You have the private jet, come on and fly out here.
"The second game can take place in Chicago. I'll fly out there. Let's make a nice, little challenge, have some fun with it ...

Read full story
Basketball Hall Of Fame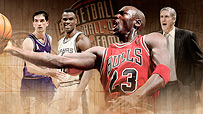 Four of the greatest NBA figures ever were enshrined in the Hall of Fame on Sept. 11, 2009.
ENSHRINEMENT NIGHT
MICHAEL JORDAN
DAVID ROBINSON
JOHN STOCKTON
JERRY SLOAN
VIVIAN STRINGER
MORE