Commentary
Kenny Williams loves to make a splash
GM quickly improves White Sox, diving into free-agent market to snatch Adam Dunn
Updated:
December 3, 2010, 11:50 PM ET
By
Jon Greenberg
| ESPNChicago.com
CHICAGO -- Kenny Williams will walk into his hotel Sunday in Disney World as the most talked-about general manager in baseball, this side of Brian Cashman anyway.
He loves that feeling. He might play it cool, but he lives for that moment. But for Trader Kenny, or, I suppose in this case, Big-Contract Kenny, the happiest place on earth isn't the Magic Kingdom. And it's not Market or a comedy club.
No, it's his own bed. The man lives for that post-contractual moment.
"I love waking up in the morning after getting something done," he said. "It's not easy to get things done, to get better, in this league. A lot of things have to fall your way."
The dominoes seem to fall Williams' way more often than not, don't they. Haven't we been here before?
The White Sox are broke, the band is breaking up and the outlook is dire. And then, poof! Here's $56 million to give Adam Dunn. Poof! Here's $8 million for A.J. Pierzynski. Poof! Here's money to sign Paul Konerko.
I never buy the gloom and doom vibe. Once again, the Go-Go-Spend White Sox had a plan and executed it. They always seem to have a plan.
[+] Enlarge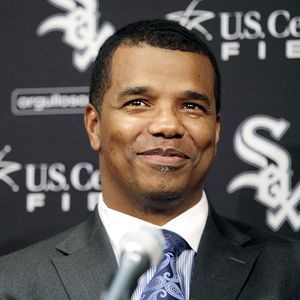 AP Photo/Nam Y. HuhWhite Sox general manager Kenny Williams was all smiles Friday after signing Adam Dunn.
"Funny thing about Chicago, there's a lot of leaking out there," Ozzie Guillen said. "That's why Kenny do stuff very quiet."
Once again, Williams is the talk of baseball. And whether you agree with his moves or not, you can't say Williams isn't the Adam Dunn of general managers. Williams, a weak hitter as a player, sure takes big cuts as a general manager.
Will these moves work? Well, Jim Thome never won a World Series in Chicago. Jake Peavy might not, either.
The Sox find themselves constantly trying to reinvent the magic of 2005 and annually coming up wanting. But you can't fault them for trying. And boy, do we have fun watching them try.
In a deal first reported Thursday, Dunn on Friday officially signed a four-year, back-loaded contract for $56 million and came to U.S. Cellular Field for his dog-and-pony show. Pierzynski's two-year, $8 million deal, also back-loaded, to return as Sox catcher and chief antagonist was announced as well. He was at home in Orlando, Fla., probably staring at his iPad and …
Wait a second. The Tribune Company isn't milking profits for this team, so why were these back-loaded?
Simple. To sign Konerko.
In case you missed it, the White Sox put the onus directly on their reigning captain to re-sign, by publicly announcing that Dunn and Pierzynski took less salary up front to make room for him. (Williams said he will meet with Konerko's agent, Craig Landis, on Monday at the winter meetings.) And if you don't think Konerko is touched by that, you don't know him.
But that doesn't mean he's a slam dunk.
"The difficult part of that is you're having dialogue with other people," Williams said. "At the same time, you're hopeful that the guy that you want -- and have stated publicly now that you want -- matches up time-wise with their process before the player that's next on your list gets scooped up by someone else or puts pressure on you to make a decision on a given day. That's where it's hairy."
If you're like me, you're wondering, where is all this money coming from? Every year, multiple times a year, we hear that the Sox are at their spending limit. But then you see Alex Rios, Peavy, Edwin Jackson, one expensive month of Manny Ramirez.
"We're already looking under couches, the cup tray, everything," Williams said. "We'll have the guys in spring training passing the hats. You think we're kidding. We're looking under couches."
No, seriously.
While Dunn was just an outright expenditure, planned and executed after the miserable year had by part-time Sox designated hitters, Pierzynski's deal was made possible by Williams' most difficult move, getting rid of Scott Linebrink's $5.5 million salary. He was traded to the Braves, along with $2.5 million.
"

I think Kenny, since I got this job, has put a good product on the field and given me the opportunity to win games. Today they showed people we want to win games.

"

-- White Sox manager Ozzie Guillen
Williams should get a plaque at Cooperstown for getting the Braves to pay Linebrink $3, let alone $3 million. Nice guy, but he's about through.
Second-tier in Chicago among tourists and casual fans, the Sox drew only 2.19 million this past season, an average of just more than 27,000 a game, good enough for 17th best in baseball while competing for the division after that 25-5 run. The Cubs drew more than 3 million despite being consistently awful. Sox VP of communications Scott Reifert said the team has received "a significant number of phone calls" about season tickets since the Dunn deal was leaked, so hopefully attendance will be up.
And in that regard, the Sox are raising ticket prices a bit again, but not much. Brooks Boyer's Silver Chalice Ventures, a growing digital technology consulting firm that is owned by the Sox, makes some coin, sure, but not enough. Williams said it took a combination of clever accounting, sponsorship sales and Jerry Reinsdorf's own number-crunching to get the Dunn deal, well, done.
The answer is clear: Reinsdorf is intoxicated with getting back to the World Series. He's won more in basketball, sure, but baseball is his life. And Williams knows how to sell it to him.
"Well, there will be very few people who have spent as much as I have before Christmas," Williams said. "Fortunately Jerry is the one that has to pay for it. I love this time of year. This is the time of year where you put together a ballclub. You're optimistic all the pieces of the puzzle are going to fit together and you're going to be competing for a championship."
Williams admitted the Sox need to do more than other teams, like, say, the Cubs, to get fans excited. That's very true. The Sox fan base is notoriously fickle and doesn't buy hope.
Sox fans have tasted a World Series and they want to go back, just like Williams, Guillen and Reinsdorf.
"As I've explained to people, you're either all-in or you're not," Williams said. "If you're not, send that message to your fans. Tell your fans, be straight and say, 'I don't think we're going to do very much, and here's the plan going forward.' But if you are in it, stand up and show you are."
Landing Dunn, as consistent a power hitter as there is in the game, is a clear sign Williams wants to win now. Then again, this is a guy who deals away young pitchers like he's trading options at the CBOE. I'm not sure patience is one of Williams' virtues.
Honesty, however, is, according to Dunn anyway.
"He's great," he said. "You don't meet a lot of people that are straight shooters. He told me some things I probably didn't want to hear, and I'm fine with that. You can't fault a guy for being honest and truthful and speaking his mind."
What did Williams say?
"I told him flat-out I was after Paul Konerko, and a couple of other guys, and what that would do is probably minimize his playing time at first base," Williams said. "He might only play over there once or twice a week. That'll be up to Ozzie. I told him if I lose out on you by telling you this directly, so be it. But you're not going to come here and then know me as a liar because I wasn't upfront and honest with you. I'll lose you to somewhere else before I'll let that happen."
That's real talk, Kenny Williams style. And it worked.
Guillen was a little thrown back the Sox got Dunn. Not that he minds having the second-most productive home run hitter (282) of the past seven years, behind only Albert Pujols.
ESPNChicago.com White Sox blog

The latest news and notes on the White Sox. Blog
"I was sitting with [Williams] having dinner [this week], talking about the ballclub, and he said, 'We might do this; be prepared,'" Guillen said. "And I started sweating and said, 'Well, we've got money now.' But I was very, very surprised."
Some wondered whether the signing of Dunn, a prototypical power hitter, meant that Williams won a power struggle over his manager. After all, Guillen liked having a rotating DH, and Williams' candor at wanting Jim Thome back last year was well known.
"A lot of people said it was my team last year, but it's been my team since 2004," Guillen said. "I'm the one running it. I think Kenny, since I got this job, has put a good product on the field and given me the opportunity to win games. Today they showed people we want to win games."
Williams' and Guillen's sparring was well-reported, and not fictional. But the two were happy to greet each other Friday. Maybe winning will cure everything. I hope so. I like these guys too much. You never know what's going to happen.
While the Cubs mourned the sad, sad death of legend Ron Santo, the White Sox celebrated an early start to 2011 on a cold day on the South Side of Chicago.
"It's funny; I was in Chicago yesterday, and we was the worst organization on earth," Guillen said. "All those geniuses out there. This morning I wake up, Kenny's a genius and Ozzie's going to have fun. When I say we're like the weather, that's the reason. One day we're hot; the next day we're cold."
Jon Greenberg is a columnist for ESPNChicago.com.
Columnist, ESPNChicago.com
Jon Greenberg is a columnist for ESPNChicago.com. He has lived and worked in Chicago since 2003, and is a graduate of Ohio University and the University of Chicago.