Commentary
Cubs deal prospects to improve theirs
Tough to lose young talent, but proven pitcher Matt Garza can help team contend now
Updated:
January 8, 2011, 1:22 AM ET
By
Jon Greenberg
| ESPNChicago.com
I was thinking about the Chicago Cubs and their trade for Matt Garza, and a line from "Wall Street" popped in my head. Probably because I had been watching it on Friday afternoon.
No, it's not "Greed is good." That didn't work too well for Jim Hendry and the Cubs a few years back, did it?
No, I'm thinking about the line, "Don't get emotional about stock."
If you're looking for a quick guide on how to feel about the Cubs likely trading a handful of prospects (the deal was leaked, but not formally announced Friday) to Tampa Bay for Garza, a No. 2 starter with ace stuff, my advice would be to forget about the stock and think about the big play.
Don't pretend that you've seen Chris Archer pitch or Hak-Ju Lee field. As with every other prospect, ever, there will always be other pitchers, other infielders. Prospects are stock to traders like Hendry. Some you keep, but most you trade.
Archer and Lee are the top Cubs prospects that are slated to head to Tampa Bay. Archer, the organization's 2010 minor league pitcher of the year, was supposed to compete for a roster spot this season, while the 20-year-old shortstop Lee is behind Starlin Castro at shortstop.
These are good prospects, to be sure, but if you're a Cubs fan, be happy your team is playing for the present. Be happy your team gives a damn, because for a while I was wondering if they were serious about winning in 2011.
Garza (42-44, 3.97 ERA in his career) has tremendous ability, Cy Young caliber, and would be under the Cubs' control until 2013. He will get a significant raise on his $3.35 million salary from last year, and if his agent Nez Belelo is smart, they will begin negotiating a multi-year deal, before those flyballs Garza likes to give up start landing on Waveland Avenue.
This move surprised me, because the Cubs don't peddle in good news so much anymore. Since the 2008 postseason ended with a broken water pipe in Los Angeles, the team has been unlikable, unwatchable and mired in a traditional morass.
[+] Enlarge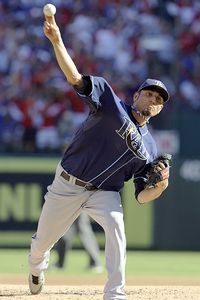 AP Photo/Tony GutierrezMatt Garza was 15-10 with a 3.91 ERA for the Tampa Bay Rays in 2010.
Going into the 2011 season, the only question was: Are the Cubs competing or conceding?
This deal makes it official: Competing. But to be fair, there were signs of the latter, going back to the Tribune Co.'s bankruptcy and continuing during the first year of the Ricketts era.
The Cubs had a fire sale of veterans last season, and didn't add much this winter, quietly deferring Carlos Pena's $10 million, one-year deal over three years and inking Kerry Wood to a one-year, hometown-discounted deal starting at $1.5 million.
At the winter meetings at Disney World in Orlando, Fla., Hendry, who famously closed the Ted Lilly deal from an ambulance a few meetings ago, was like a down-on-his-luck gambler checking the slots for lost quarters.
Going back to last fall, the Ricketts family has been stressing the team's improving farm system. I think Tom Ricketts has a shrine to outfielder Brett Jackson in his tony suburban home.
When you hear owners talking about how great the farm system is or touting a "young, hard throwing" pitching staff, that's code for "we stink and we're not spending any money to get better."
For the first time in years, there is a tangible malaise over the fan base. Fans are so "done" with principles on this team, I almost sense that a good portion would rather blow it up and spend years rebuilding. But, really, why would you want that, especially at these prices?
I'm not surprised the early reviews on the deal posted on Twitter and blogs are mostly negative, because Cubs fans are tired of big names and quick fixes. But I don't see why anyone would be down on this move.
Yes, the Cubs have supposedly made strides with their farm system, and the unknown is always exciting, but the only thing you can count on is the present. So I don't disagree with Hendry's decision to go for it now. It's not like the Cubs are competing with powerhouses in the NL Central. This division can be had.
In the past months, fans have been treated to a Bizarro World, where the White Sox, which struggle to draw 30,000 fans a game, have been outmaneuvering and outspending the Cubs, which typically draw around 40,000.
The Milwaukee Brewers gave away a package of prospects to get Zack Greinke. Acquiring Garza doesn't carry the same excitement, or perhaps polished ability, as Greinke, but he's not too shabby. Despite pitching one of, what, two dozen no-hitters last year, he had a down year as far as strikeouts and home runs allowed, but still finished with an ERA of 3.91 and a WHIP of 1.251.
He gets ripped for his overemotional antics, and he and Carlos Zambrano make a mercurial, but possibly dominating duo. But what's wrong with a little personality, anyway? This team could use a little inspiration. Just like Zambrano, you want to see him balance fire and cool. And hey, that's new pitching coach Mark Riggins' problem anyway.
Season-ticket sales have apparently been soft for the Cubs, with the Cubs offering up pre-Christmas packages of mostly horrible dates. And season-ticket holders are getting rare offers to buy up more season tickets, waiting list be damned.
The Cubs Convention, which convenes next weekend, is not sold out. In years past, it would sell out in an hour. Tickets have been on sale since November.
But forget about sales and marketing, the team itself isn't as bad as you remember from a 2010 season that saw it spend zero days above .500.
It's reasonable to expect bounce-back seasons from Aramis Ramirez and Alfonso Soriano, not to mention Pena, who should benefit from playing at Wrigley Field and working with hitting coach Rudy Jaramillo.
Expect solid efforts from Marlon Byrd and Geovany Soto, and hope that Castro and Tyler Colvin avoid sophomore jinxes. Castro has had good success in the winter leagues.
Wood's addition stabilizes the bullpen, along with mainstays Sean Marshall and Carlos Marmol.
Garza, the 2008 ALCS MVP, joins Zambrano, who ended a tumultuous season on a high note, and Ryan Dempster to form the guts of the rotation. Randy Wells, Carlos Silva, Andrew Cashner and Tom Gorzelanny will likely fill the other two spots.
I think it's fair to say this is a contending team, if everyone plays to form.
ESPNChicago.com Cubs blog

The latest Cubs news from ESPN Chicago. Blog
So, in that sense, this was a necessary move. The aim of a major league club isn't to develop talent, it's to win. And when your payroll is north of $100 million and your tickets are expensive, you shouldn't be in the business of selling patience.
Did the Cubs give up too much for Garza?
Possibly. But when it comes to prospects, the only thing that's fair trade is the coffee.
I almost forgot about my favorite part of this deal, and that's the inclusion of 27-year-old outfielder Fernando Perez, who takes Stanford Sam Fuld's spot as the organization brainiac.
Perez, who earned a degree in English at Columbia University, was on Tampa Bay's 2008 World Series team with Garza and Pena. He struggled with injuries the past two seasons, and played all of 2010 in Triple-A. But the New Jersey native, known for his defense and speed, could make the club as a fifth outfielder. He would easily be the best writer in the clubhouse, and that includes the beat reporters.
Perez's essay "The Fabulous Bastards" was published in the spring 2010 issue of literary magazine "The Southern Review," and it's fantastic. Seriously, buy it online just for that story. His poetry has also been published, which probably makes him unique on the team. He's also probably the only big leaguer with a Tumblr page.
Does that make Archer's departure easier to swallow? No.
But if the Cubs shock the world this year, we know someone on the inside who could write the story.
Jon Greenberg is a columnist for ESPNChicago.com and ESPN 1000.
Columnist, ESPNChicago.com
Jon Greenberg is a columnist for ESPNChicago.com. He has lived and worked in Chicago since 2003, and is a graduate of Ohio University and the University of Chicago.