Commentary
Beyond Pitiful
The BP Crosstown Cup is as impressive as its ill-fated sponsor leads you to believe
Updated:
June 11, 2010, 11:42 PM ET
By
Jon Greenberg
| ESPNChicago.com
CHICAGO -- Koyie Hill was stumped.
Had he ever seen a trophy get booed before?
"No, I don't think so," he said. "Can't say I've … No, I haven't."
It happened today at Wrigley Field, where championship dreams go to die. (Except for the Florida Marlins)
Trophy-booing sure as hell didn't happen in the Loop, or at the Hyatt or whatever restaurant, bar, alehouse, or tavern the party-happy Blackhawks took it. (And for the record, God bless those drunk hockey players. They deserve it.)
[+] Enlarge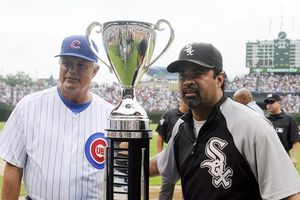 AP Photo/David BanksChicagoans were treated to a rare sight on Friday: A trophy inside Wrigley Field.
The Cubs and White Sox are joint partners in the marketing disaster that is the BP Crosstown Cup, victimized more by time and bad luck than simple avarice.
When the trophy was unveiled, fans started booing. Loudly booing. Maybe some thought the Stanley Cup could be magically transported from downtown to the North Side in time for the first pitch. Maybe some are socially responsible and maybe some just were in the mood to boo a lame-looking trophy.
There was a lot of different things at the park that time forgot: At-bat music, a Toyota sign, a new pregame for routine for Randy Wells (which he hates), the sight of national baseball writers and general columnists, Lou Piniella ripping Steve Stone by name and a jazz singer doing the seventh-inning stretch.
Old things: Wells getting hit in the first inning, a quick Piniella postgame interview and oh yeah, bad Cubs baseball.
While the city revels in Blackhawks mania and hundreds of thousands of people (or two million, as was reported) gathered downtown to watch the parade, Chicago baseball fans are stuck in neutral.
But hey, the White Sox's magic number to take the Cup is now three after taking the opener of the interleague series 10-5 in front of a bipartisan crowd of 41,129. Sox fans seemed to enjoy themselves much more, that's for sure.
A.J. Pierzynski and Alex Rios each had four hits and a home run to back Jake Peavy's seven innings. Alfonso Soriano hit his 300th homer in the first inning to back up Wells, who continues to struggle early in games.
Sox reliever Tony Pena let the Cubs back into it with a bad eighth inning -- against an AL lineup, it would've been worse -- and Ozzie Guillen was forced to use Bobby Jenks in the ninth, but all in all, it was a pretty good day for the Sox.
Though you have to wonder how much they'll downplay the BP Cup should they win.
I have a feeling both teams will stuff it with old jock straps and stale Big League Chew. If not, they should.
I don't want to rail any more on the BP Cup, but like Piniella talking about Stone, I can't help myself.
Aside from providing a nice check, and I understand and support sponsorships and aggressive marketing, why does a mid-season interleague series deserve a trophy? The Blackhawks wouldn't even touch the Clarence Campbell Bowl after winning the Western Conference.
This isn't college football, where teams have been playing for pigs and barrels for decades. You don't need to hype this series up. Cubs-Sox is a purely fun series because, for instance, it gives White Sox fans a chance to cheer in Wrigley Field and Cubs fans a chance to boo Pierzynski. See, it's a win-win.
As for the Toyota sign: Talk about your stupid controversies. The sign was not intrusive, it didn't ruin anyone's trip to the park and it should've been up months ago without some of the concessions the city wrestled from the team. I know you can make parallels to Toyota's problems to the BP fiasco, and that I'm being a little hypocritical, ripping one sponsor while praising another, but there's precedence for having signage in a park or stadium, and Wrigley has less than everyone.
Ask Blackhawks fans if the Lemonheads scoreboard race or the ComEd power play rubs them the wrong way? Sorry, they're too busy buying championship T-shirts.
But as Lou would say, "let's talk about baseball."
OK, forget that. Let's talk about two 60-something baseball lifers argue on who knows more about the game.
"I've won over 1,800 games as a manager and I'm not a damn dummy," Piniella said in a pre-game rant aimed at his media critics, including Comcast's Dave Kaplan and most notably Stone. "There are only 13 others that have won more games than me, so I guess I think I know what the hell I'm doing."
Piniella ripped Stone for making disparaging comments about his managing this week on TV.
"And Steve Stone, he's got enough problems doing what he does with the White Sox," Piniella said in the home dugout before the game, with his voice raising. "What job has he had in baseball besides talking on television or radio? What has he done? Why isn't he a farm director and bring some kids around? Why isn't he a general manager? Why hasn't he ever put the uniform on and be a pitching coach? Why hasn't he been a field manager? There are 30 teams out there that could use a guy's expertise like that. I'm tired of some of these guys, I really am."
Stone was a lot calmer in his response when I caught up with him on a ramp going up to the pressbox. But he still zinged Piniella.
"He's right. I've never managed. I've never been a general manager. I've never been a pitching coach. But I'm in my fifth decade in this game. I think I have the right to have an opinion."
Stone also pointed to the time he spends watching baseball , particularly young players at the Arizona Fall League and in spring training.
"I've seen more baseball players than Lou has," Stone said. "I just haven't managed them."
The Sox had fun beating up on their NL rivals and the Cubs will surely strike back. But the way this season is going, I wouldn't count on any parade preparation for October.
In fact, if someone really wanted to punish Stone, that's what they do: Let him manage one of these teams.
Jon Greenberg is a columnist for ESPNChicago.com.
Columnist, ESPNChicago.com
Jon Greenberg is a columnist for ESPNChicago.com. He has lived and worked in Chicago since 2003, and is a graduate of Ohio University and the University of Chicago.