Castro call-up could be near
Updated:
April 28, 2010, 9:45 PM ET
By
Bruce Levine
| ESPNChicago.com
Chicago Cubs prospect Starlin Castro's ascension to the major leagues could be right around the corner, according to a major league source.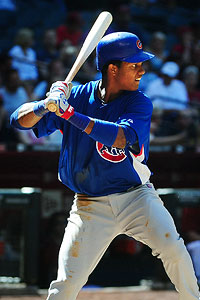 Mark J. Rebilas/US PresswireStarlin Castro may spend a short amount of time at Triple-A before making his Cubs debut.
The 20-year-old shortstop is being monitored on a daily basis by the Cubs organization to determine when the time will be to start his major league career.
Castro is playing solid defense and batting .377 with a home run and 18 RBIs in 18 games at Double-A Tennessee.
There are more than a couple of issues involved in promoting Castro. One is moving current shortstop Ryan Theriot to second base, and the other is deciding to move one of their backup infielders, either Chad Tracy, Mike Fontenot or Jeff Baker.
Before the Cubs decide to promote Castro, they wants to make sure a game plan is in place for playing him at least five or six times per week. Manager Lou Piniella and his staff will be a part of that process and will help general manager Jim Hendry and his staff make that determination.
The Castro-Theriot combination would give the Cubs more range and better defense up the middle. Theriot has done a solid job of manning shortstop since 2007, however, skills-wise he doesn't have the arm or range of an exceptional defensive player like Castro.
A certain amount of adjustment will be a key for Castro being a successful major league player. The organization feels that the young shortstop has the baseball IQ and intelligence to deal with a certain amount of failure that goes along with seeing big-league pitching on an everyday basis.

Assistant general manager Randy Bush is with the Tennessee team, making some evaluations that could help Hendry decide when to sit down with Piniella and his staff to make this move. It could be determined that Castro should go to Triple-A for a short period before going to the majors.

Bruce Levine covers baseball for ESPNChicago.com.
Chicago baseball beat reporter

Bruce Levine has covered sports in Chicago for over 28 years and hosts "Talkin' Baseball," heard Saturday mornings on ESPN 1000.