Carlos Zambrano warned about bats
Updated:
June 1, 2011, 3:32 PM ET
By
Bruce Levine
| ESPNChicago.com
CHICAGO -- Chicago Cubs manager Mike Quade told pitcher Carlos Zambrano not to break bats over his knee any longer, one day after Zambrano splintered a bat at Wrigley Field.
[+] Enlarge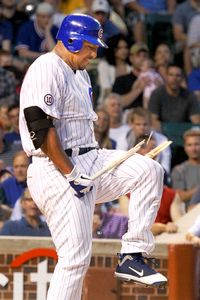 AP Photo/Charles Rex ArbogastCubs manager Mike Quade hopes he has seen the last of Carlos Zambrano breaking a bat over his leg, as he did Tuesday.
After striking out in his third at-bat against the Houston Astros on Tuesday, Zambrano -- one of the top slugging pitchers in the game -- broke the bat over his knee. With three-fifths of the Cubs' rotation finding its way to the disabled list at various times this season, the last thing Quade wants to see is another injured pitcher.
"I told him next time you're frustrated, come up and whack me upside the head with the bat," Quade said Wednesday. "We can survive if I'm injured, but we don't need him hurting himself.
"Everybody focuses on Z, but players snap and players do stuff that irritate you and only because of the possibility of injury."
After Quade's media session, Zambrano, who is 6-foot-5, 270 pounds, demonstrated to reporters the proper way to break a bat without getting injured. He showed the correct angle of impact to snap it and the area of the bat that can cause injury.
During his postgame media availability Tuesday, Zambrano talked being a weightlifter, and being able to absorb that type of impact.
"It's not the first time [he broke one]," Zambrano said Tuesday night. "I work hard on my legs. They are strong.
"I know I have to be careful, but if you guys want to know how I break this bat, come tomorrow and see me lifting weights."
More On The Cubs

Can't get enough Cubs information? ESPNChicago.com has all the latest from the North Side. Blog
Zambrano was asked Tuesday about Quade's concern.
"It's OK," he said. "If he didn't like it, he didn't like it."
Quade didn't like it, and he talked to the pitcher about it Wednesday.
"I believe some things were said about that," Quade said. "I'd like to not to see that as a regular occurrence, and yes, I talked to him a little about it."
Bruce Levine covers baseball for ESPNChicago.com and ESPN 1000.
Chicago baseball beat reporter
Bruce Levine has covered sports in Chicago for over 28 years and hosts "Talkin' Baseball," heard Saturday mornings on ESPN 1000.