Commentary
Bulls' dynamic duo can't do it alone
James Johnson's fourth-quarter boost was the spark Bulls needed in late rally
Updated:
October 31, 2010, 1:22 AM ET
By
Jon Greenberg
| ESPNChicago.com
CHICAGO -- The pretty blonde in the newsboy cap was right: The Bulls needed a little James Johnson in the second half.
"Did you see," she said after the game, with a light high-five and a smile. "I was right."
That woman is Cecilia Rhode, winsome artist, former beauty queen and amateur NBA prognosticator.
You might know her better as Joakim Noah's mother.
At halftime, Rhode predicted to a couple schlubby reporters that Johnson, her son's close friend and protégé, could be the difference-maker to spark a sluggish Chicago team, and he proved her right.
Johnson gave the Bulls the spark they were lacking for much of the game, scoring six points and grabbing eight rebounds in the fourth quarter as the Bulls outscored Detroit 34-9 to steal a 101-91 win.
[+] Enlarge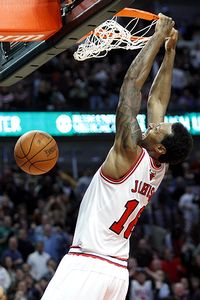 AP Photo/Nam Y. HuhThe Bulls' James Johnson stepped up his game late, scoring six points and pulling down eight rebounds in the fourth quarter.
Derrick Rose was fantastic, tying a career high with 39 points, and Noah had another monster double-double with 15 points and 17 rebounds. But they can't do it all by themselves, hard as they may try.
With Chicago expatriate Ben Gordon going off for 21 first-half points (he had a Luol Deng-like zero in the second), the Bulls' lack of production alongside Rose and Noah was exposed more than your average Luvabull.
With Deng (2-for-10 shooting, nine points) struggling to find a groove and Taj Gibson in foul trouble for much of the night, it was looking like Brian Scalabrine would be the top bench scorer, and that's not how you draw it up.
But while Kyle Korver and C.J. Watson both had off nights -- this time getting outscored by Scalabrine (six points in 20:26) -- they scored all seven of their combined points in the fourth as the Bulls cut into, and eventually erased, a 15-point deficit.
Gibson scored seven of his 11 points in the fourth. But it was his fellow second-year teammate Johnson who hit the shot of the game.
With 5:02 left and the Bulls down by three, Rose drove the lane and kicked it out a wide-open Johnson in the corner. Johnson, who made just 15-of-46 3s last season, calmly buried it to tie the game at 86-86.
Johnson didn't play in the opener but played the entire fourth quarter, a sure sign that new coach Tom Thibodeau is feeling out his team.
Rose and Noah are both big Johnson fans, and after a rough rookie season, he was looking like a wasted first-round pick. And given the vagaries of an NBA season, we might not see another night like that from Johnson for weeks or months. But then again, maybe there's a reason the team stars are high on him.
"He's been great," Rose said. "He played good in the preseason and to have the coach to tell you he doesn't think you're going to be in the rotation because we have so many great players on our team, it hurts as a player. But he stayed ready and he showed growing as a player and he came out and played excellent."
Thibodeau got the game ball from Rose, and he was effusive in his praise for Johnson. You can bet Johnson will get more turns in the rotation.
"He was terrific," Thibodeau said. "His defense, his energy and his rebounding, getting to loose balls, hustle plays. He and Omer [Asik] provided a great spark for us. That is what got us going."
While Johnson turned some heads from the chorus, there's no denying Rose, who added seven assists and six rebounds, was the star of the show.
I'm seriously thinking about quitting my job and becoming a full-time Rose missionary. A Derrick Krishna, if you will.
Even if you don't believe in a higher power, Rose on the break is pretty spiritual. He saved at least 20,000 United Center souls Saturday night.
"Derrick was phenomenal," Thibodeau said. "There wasn't anything he wasn't doing out there."
I think I might have a fellow acolyte.
With Carlos Boozer on the shelf and the new Bulls struggling to jell, Rose put up 31 shots in a season-opening loss to Oklahoma City.
Against the Pistons, he hit 13 of 27, also making 10-of-13 free throws.
Before the game, Rose said it wasn't a bad thing that he was taking that many shots, because he wants to win. Humble as he is, he knows he's good and his supporting cast isn't there yet.
"I'm just taking shots they're giving me," Rose said. "If they're giving me jump shots, I'm going to shoot them. My teammates know I can hit them; they trust me and have confidence in me.
ESPNChicago.com Bulls blog

The latest news from Bulls reporter Nick Friedell. Blog
"The shots I took in the first game, 31 shots, that was basketball, where I wanted it too bad. Like when you're in the mode, where you don't want to lose and you're trying to do anything to win the game. It wasn't my night. Tonight you saw the difference, I was trying to do the same thing, and things came out good for us."
Here's why the Bulls won this game: Rose didn't force the issue in the fourth.
He said the offense was out of whack in Oklahoma City because of unfamiliarity and blown assignments, but he seemed more sure of his teammates late in the game and they backed up his trust.
Starting with a Gibson layup on a Rose feed with 7:12 to play, the Bulls used an 18-3 run to put away Detroit. Rose was involved in almost every play.
In that span, he had four assists, hit four free throws and two of his misses, coming on nifty drives, were followed with trailer dunks. That's 17 points, and that's why fans were chanting MVP when Rose was at the line late in the game.
"This shows the character of our team, we didn't give up," Rose said. "We kept playing through it. There was no doubt in my mind that we weren't going to lose to this team. I told everybody at halftime that we've got them, even though we were down 20 points."
From Joakim's mom to Rose, it seems like everyone had confidence Saturday night.
Amid the Carmelo rumors and the typical civic browbeating, maybe a little faith isn't a bad thing.
Jon Greenberg is a columnist for ESPNChicago.com.
Columnist, ESPNChicago.com
Jon Greenberg is a columnist for ESPNChicago.com. He has lived and worked in Chicago since 2003, and is a graduate of Ohio University and the University of Chicago.