Commentary
Defense could take Bulls far
When shots don't drop, Tom Thibodeau's playoff-ready defense pulls team through
Updated:
March 8, 2011, 9:22 AM ET
By
Jon Greenberg
| ESPNChicago.com
CHICAGO -- The Chicago Bulls' offense on Monday night was best defined by Kyle Korver, who was left to pantomime a proper 3-point stroke after a timeout in the fourth quarter.
He couldn't make the shots he was actually taking, so maybe some imagination was necessary.
Korver missed all four of his 3-point attempts and the Bulls went 4-for-20 from behind the arc in an ugly shooting night that came on the second night of a back-to-back after an emotional, season-defining win over the Miami Heat on Sunday afternoon.
But guess what, they won. Again.
Chicago pulled out an inartistic 85-77 victory over the New Orleans Hornets, improving to 9-3 when scoring fewer than 90 points -- a telltale sign this team can win those grueling playoff contests in which each possession is a battle unto itself.
Not that the Bulls were aware of that statistic.
[+] Enlarge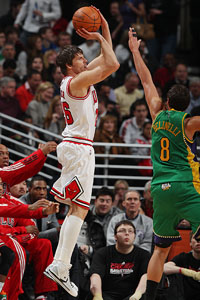 Gary Dineen/NBAE/Getty ImagesKyle Korver and the Bulls struggled offensively on Monday, but their defense carried them to a win over the Hornets.
"When we score under 90, we have a good record?" a confused Joakim Noah asked. "Well, I'd rather score 100. There's no question we'd rather score a lot and other teams not score a lot."
Yeah, but that's not always possible, as the Bulls have been proving lately. They've scored fewer than 90 in five of their past six games, but they're 4-1 in that span.
The reason, obviously, is that the team defense is playing at a postseason level.
Chicago has held teams under 90 points in seven straight games and 18 of its last 22. The Bulls are 6-1 and 18-4 in that span. It's trite to say defense wins championships, but this group is playing with such confidence defensively, you can see how it is a legitimate candidate to challenge any team in the league late in the spring.
"A good team finds different ways to win," Bulls coach Tom Thibodeau said. "Sometimes you have to be able win to with a low pace. It was a grind-it-out game. Both teams were playing good defense, so you're going deep into the clock. Sometimes you can score more and you have to win that way also.
"But I think the big thing is when you're not going well offensively, you have to be able to count on your defense and your rebounding. I thought the fact we always keep our turnovers down, that was big for us as well."
And Thibodeau, who has been known to chew out Korver for his defense, wasn't angry about the missed shots.
"I didn't mind his shots at all," Thibodeau said. "Actually I was pleased with his shots because they were the right plays."
Derrick Rose led the Bulls with 24 points, on 8-for-24 shooting, and nine assists. He ended his 3-point drought at 19 shots when he made a 3 in the third quarter. Carlos Boozer had a very efficient 19 points, while Luol Deng suffered through a 2-for-12 night to score 10. They have a word for this type of game in the Bulls' locker room.
"We think of ourselves as a grimy team that fights through everything," Rose said. "So that's how we have to play."
Along with the Hornets, who were missing Chris Paul, the Bulls have beaten the Lakers, Magic, Heat and the Mavericks twice when scoring in the 80s.
Chicago came into the game leading the NBA defensively in field goal percentage (42.9) and 3-point percentage (32.7), and second in points allowed (91.8) and rebounds per game (44.3).
As Noah said, you want to score 100 and put on a show, but there's a reason those thrill-a-minute teams are rarely playing in June. The Bulls' identity now is in their defense.
The "Remember the 80s" defensive streak, and Thibodeau's coolness with typical offensive struggles, is why he's a favorite to win coach of the year.
Before the game, Thibodeau was asked why the offense has been so stagnant of late, if you look at it like that.
"That's a good question," Thibodeau said. "Defensively, I like what we're doing. Offensively in the last 10, I think, we're averaging 96 or 97 points. I'd like to see it up more than that. But a lot of it, too, is that we're playing better defense, and when you're playing more defense, you're going to make the opponent use more clock. So there's not many possessions in the game."
Paul was walking around the United Center before the game after a scary head injury Sunday night, so it's good that he's doing OK. But you could see the effect his absence had on New Orleans. Hey, sometimes a lockdown defense isn't enough. You need luck too.
The Hornets shot 36.3 percent and had a paltry 10 assists. And when it mattered most, the team was clueless.
Without Paul, New Orleans was a much easier team to cover, but you know how those things go in the NBA. Opposing teams often lose focus when a superstar is out and someone else steps up. Jarrett Jack had 23 points in relief of Paul, but only three assists to five turnovers.
ESPNChicago.com Bulls blog

The latest news from Bulls reporter Nick Friedell. Blog
Jack scored the team's final basket, a layup to tie the game at 77-77 with 3:19 left to play. In that final span, the Bulls got two offensive rebounds, including Noah's defining putback of a Rose miss, and New Orleans missed its next four shots and committed a turnover before Rose hit two free throws with 35 seconds left.
"We've been pretty consistent all year long," Thibodeau said. "I think guys are comfortable playing with each other now, so there's a trust."
The Bulls are no strangers to back-to-back sets -- the centrally located team leads the league in that scheduling quirk -- but they don't use those as an excuse. Thibodeau moved Monday's shootaround to the late afternoon at the United Center. He's showing his prowess as a head coach by curtailing practices in lieu of walk-throughs and his team is rewarding him.
"Back-to-backs are part of what we do," Noah said. "They're not easy but we came through with the right mindset tonight. We played hard and it feels good to get a win. The city is excited about this team and it should be."
He's not lying. Fans were chanting "MVP" at Rose after he missed a free throw. It's getting a little silly in that regard, but it's fun too.
The Bulls are 44-18 and in second place in the Eastern Conference. Another game and another win is off the schedule. The playoffs are approaching and the Bulls know that time, and their defense, is on their side.
Jon Greenberg is a columnist for ESPNChicago.com.
Columnist, ESPNChicago.com
Jon Greenberg is a columnist for ESPNChicago.com. He has lived and worked in Chicago since 2003, and is a graduate of Ohio University and the University of Chicago.