Commentary
The Bulls' next best hope
The also-injured Luol Deng kept Chicago alive with a gutty offensive performance
Updated:
May 9, 2012, 10:29 AM ET
By
Jon Greenberg
| ESPNChicago.com
CHICAGO -- With the Chicago Bulls on the brink of a season-ending collapse, Luol Deng stepped up and showed he has more than enough ligaments to shoot with.
If you're unfamiliar with the Tom Thibodeau Coaching Robot's mantra, "We've got more than enough to win with," you probably didn't laugh at that joke. If you're sick of hearing Thibodeau say those words after the soul-crushing loss of Derrick Rose and a mind-numbing three-game losing streak, you probably winced at it.
But ThibsBot doesn't lie. Or if he does, he believes it. The losing streak is over and despite another late Ankle Moment, the half-dead Bulls are still alive in their first-round series against the Philadelphia 76ers after a non-artful 77-69 win at the United Center on Tuesday night.
Just when everyone had finished their obituaries.
[+] Enlarge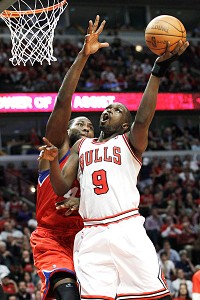 AP Photo/Nam Y. HuhLuol Deng scored a game-high 24 points to lead the Bulls to a win in Game 5 on Tuesday.
Deng, hampered for more than half of the season with a torn ligament in his left hand, has battled through pain to try to erase any lingering, if not misguided, notion that he's a soft player. But it wasn't just about Deng's reputation. He wanted to play, rather than have surgery, because Deng knew this was going to be a special season. And it almost was. Though the O'Brien Trophy is out of reach, the Bulls want to keep playing out of stubborn pride. Forget the beach, give them Philly and then Boston or Atlanta.
Deng, whose arrival in Chicago signified a return to relevance, definitely doesn't want to start resting his wrist for the London Olympics. He had been limited offensively for most of this series, but finally broke through when the Bulls needed him most. He led all scorers with 24 points -- nine in the first quarter and in the fourth -- as the Bulls cut their series deficit to 3-2.
A 77-69 win isn't something to put on a highlight reel, but the Bulls will take it and go to Philadelphia for a Game 6 with the pressure back on a Sixers team that can't shoot straight.
"We're in a situation where we know if we lose, we go home," Deng said. "After tonight's game, they are going to feel some pressure."
Besides Deng and Carlos Boozer, who had 19 points and 13 rebounds, the rest of the Bulls had trouble shooting. So did everyone on the Sixers. The most scoring anyone did at the United Center was on the Kiss Cam. Chicago shot 41.5 percent and the 76ers shot 32.1.
As entertainment goes, the basketball being played ranked behind the Luvabulls' traditional fourth-quarter dance to a really dreadful Ke$ha song. But the Bulls' effort was formidable, and Deng was one who gave both scoring and effort. He had eight rebounds, two steals and two blocks.
Deng's scoring was key for a team missing Rose and Joakim Noah's offensive rebounding and low-post presence. He looked for his shot early and, more importantly, the Bulls looked for him as he cut to the paint. He also hit four of five 3-pointers, three coming in the fourth quarter with the shot clock winding down. Those are the kinds of shots the Bulls have missed while letting leads slip away the previous two games.
Deng's 24 points equaled his offensive output over the Bulls' three-game losing streak. After scoring 17 in the opener, he shot a combined 10-for-30 in the next three games. Over the previous four games, he had made only four of 12 3-pointers.
"I felt like I didn't shoot the ball enough," he said of the previous three games. "Tonight, I was more aggressive. Sometimes when having Derrick out, we're just playing a little differently. When Derrick is in the game, I'm less aggressive. And tonight, I just wanted to be more aggressive from the start."
But as Deng noted, the Bulls have started games fine this series, the finishing was the problem. And when Taj Gibson, who sparked the team off the bench once again, went down with 2:06 to play in the third, Deng admitted he thought, "Not again." He said he almost willed Gibson to get up. After going to the locker room, Gibson limped back onto the court. Trainer Fred Tedeschi cleared him, of course. You get the feeling Fred would clear a guy with a peg leg and an eyepatch, but that's for later.
Eastern Conference Playoffs


Get all the news and commentary on the Bulls-76ers matchup on ESPN.com's matchup page.
• Predictions: Simulator | SportsNation
• More: TrueHoop | Schedule | Bracket
• Bulls Report | ESPN Chicago
While Gibson's return helped, it was Deng's late-game shooting display that made sure the Sixers didn't rally.
It's tough to remember the days when Deng never shot 3-pointers. Of his fourth-quarter 3s, one he aimed like a golfer wishing on a long putt. Another was a shot-clock-beating dagger from the corner. The third was an off-balance swish with the shot clock at 2, that earned him a smack on the butt from an excited Scottie Pippen near midcourt.
Deng's other 3-pointer came at the end of the first quarter, a 25-footer with 1.7 seconds left that gave the Bulls a 17-16 edge.
As the most senior member of the Bulls, and the one who has been through the ups and downs of some unique situations, the onus is on Deng to lead his teammates through tough times.
Can he do it? As the Bulls like to say, they look only as far as the next game. If Deng can close out another one like he did on Tuesday night, the Bulls have the edge to win the series.
That's a far cry from the team's goals at the start of this series, but two injuries later, all the Bulls can do, as Thibodeau likes to say, is their jobs.
Deng did his with ligaments to spare.
Columnist, ESPNChicago.com
Jon Greenberg is a columnist for ESPNChicago.com. He has lived and worked in Chicago since 2003, and is a graduate of Ohio University and the University of Chicago.
2012 NBA Finals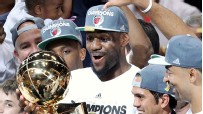 Follow the NBA on ESPN:
Twitter / Facebook / Google+
LATEST CONTENT
FINALS FEATURES
AUDIO/VIDEO
FINALS PAGE