Commentary
A happier, healthier Deng
Trip to his native Sudan and new coach have given Bull new outlook on game, critics
A year ago, it would have been met with a bristle. This time it was with a smile.
Then again, a year ago the observation would not have been made.
"You seem like you're in great spirits," I said to Luol Deng earlier this week.
"Why does everyone say that?" he said with a laugh.
But he understood.
"I want to be positive," Deng said. "No matter what, I want to stay positive the whole year."
[+] Enlarge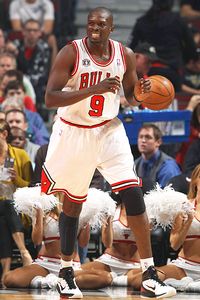 Gary Dineen/NBAE/Getty ImagesLuol Deng is an overlooked talent, according to coach Tom Thibodeau, who says there is still plenty of room for improvement for the 25-year-old forward.
Seldom has that been easy for a player who went the better part of the last three years feeling like he was letting everyone down. It seems far simpler now for a man who truly knows what positive means.
This past summer, Deng returned to his native Sudan for the first time since he fled the country in the middle of the night with his family at age 5 to escape the civil war. What he found, he said, was "the real world," and he came back to his world a changed man.
"The whole trip was really a wake-up call," Deng said. "Some parts were worse, but the biggest surprise was that people were happier than people here and they have less. I can't explain that, but maybe because they have less, they have less problems. Their issues are everybody's issue."
Deng's issues were everybody's business, that much can be said. But his contract demands, his injuries, his motivation, they were also seldom what appeared on the surface.
When he turned down a five-year, $57.5 million contract during the 2007-08 season, he was greedy. When he signed his six-year, $71 million deal and his level of play fell, he was spoiled. And when he sat out with an injury the following season that the team termed mild inflammation, he was a loafer.
The criticism stung. Not just because he is one of the most charitable-minded athletes around and his injury turned out to be a stress fracture -- he still averaged 17 points and 6.3 rebounds in '07-'08 -- but more what it suggested about him as a person. And so, the guy who was christened the NBA's next superstar after '06-'07, did indeed seem fairly miserable to fans and media for much of the next few years.
"There are a lot of things that you don't want to happen, but I'm a big believer everything happens for a reason," Deng said when asked if he would do anything differently. "I just think as long as you don't quit, as long as you keep being true to yourself, keep working hard, I think later on down the line, you'll realize why things happened that way. If you just give up and give in to it, you'll never know.
"I went through some injuries, I went through some tough times, but I never really changed my love for the game or how hard I worked or how I approached it."
He points out that he is the only Bull -- player or coach -- remaining with the organization since his rookie season. He has had four coaches since then, if you count interim coach Jim Boylan. But that's OK too, now.

"Since my rookie year, I've seen a lot of people come and go," he said. "I've seen a lot of good players go, and I've seen guys that didn't get their jobs done who went. So I understand fully that it's a business. ... I mean, I know guys who have been with a different team every year of their careers, and that's got to be tough."

No one has ever questioned Deng's raw skills, his ability to slash and nail the mid-range jumper. He averaged 17.6 points and 7.3 rebounds last season, 18.8 points, five rebounds per game in the playoffs. But this preseason, he flashed much-improved 3-point shooting skills and said he is finding the room to operate that seemed to elude and frustrate him at times with Ben Gordon and then Derrick Rose on the court.

"Our spacing is great and Coach really understands how to fit all of us in," Deng said. "I feel like we have a very unselfish team. I think that's what it really is. When you have a very unselfish group of guys, I think you enjoy what you're doing a lot more.

"It's just like anything. If you're working in an office and you get along with everyone there and everyone is on the same page as you, you enjoy going into work and you're going to have a good time with guys, and I think that's really what's happening."

His fourth coach, Tom Thibodeau, seemed surprised at Deng's baggage when he arrived from Boston, and gave him ample praise during the preseason.
ESPNChicago.com Bulls blog

The latest news from Bulls reporter Nick Friedell. Blog

"I always felt he was a guy who could do a lot of damage to you," Thibodeau said. "We were always concerned about him having a big game because of all the things he does away from the ball. I don't understand sometimes why he has been overlooked the way he has. And I think he's still very young and can improve and get better. Right now, he's playing with a lot of confidence, and I want him to continue to do so."

With no specific digs at any former coaches, Deng swung the praise back to Thibodeau, saying he's "a great teacher and a great communicator, and I really like that."

The 25-year-old small forward seems to be liking a lot of things right now, a good thing for the Bulls. Ultimately, a very good thing for him.

"I'm very blessed," he said, "I'm very thankful, I work hard, and as bad as things seem some times, there are a lot of people out there who have it worse. It's not that bad."

Melissa Isaacson is a columnist for ESPNChicago.com.
Columnist, ESPNChicago.com

Melissa Isaacson is a columnist for espnW.com, ESPN Chicago and ESPN.com. The award-winning writer has covered Chicago sports for most of her 31-year career, including at the Chicago Tribune before joining ESPN in 2009. Isaacson has also covered tennis since 1986.