Commentary
Much too close for comfort
Despite 2-0 lead, the Bulls don't appear in control of their series with the pesky Pacers
CHICAGO -- With all the enthusiasm of a motorist emerging from rush-hour gridlock, the Chicago Bulls tried to act happy to arrive at their 2-0 lead over the Indiana Pacers in their best-of-seven first-round playoff series.
But honestly, they looked thoroughly worn out by the trip. And really. Now what?
There was a point Monday night, with five minutes left in the third quarter, when the Bulls seemed not merely on the brink of taking control of Game 2, but of potentially influencing Game 3. About to finally put a dent in the Pacers' confidence and lessen the likelihood that going back to Indianapolis would only further embolden their opponent.
If only it was that easy. Once again, trying to overtake the Pacers had to feel like swimming with their clothes on. And despite another escape, this time with a 96-90 victory, the Bulls appear to have a series on their hands.
[+] Enlarge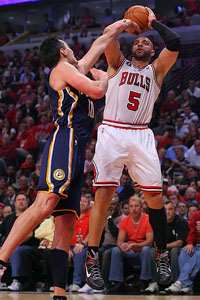 Dennis Wierzbicki/US PresswireThe Bulls' Carlos Boozer finished Game 2 with 17 points, but disappeared for parts of the second half.
And don't they know it.
For the second straight game, the Bulls more often than not looked out of sync and sloppy offensively and ineffective and unimposing defensively. They were slow to loose balls, shot poorly and did not resemble a playoff team, much less a team predicted to march to the NBA Finals.
"A win is a win, but to be a good team, to get to where we want to get to, we have to be honest with ourselves and look at the mistakes and try to get better," said Luol Deng, who finished with 14 points and three of the Bulls' 21 turnovers. "But at the same time, we did the job. Not the way we wanted to, but still we were able to put it together and get the win."
They got the win in a manner reminiscent of Game 1, somehow hanging around despite shooting 35 percent through three quarters until Derrick Rose bailed them out with 14 fourth-quarter points, Kyle Korver hit a timely 3 with just over a minute remaining, and Deng and Ronnie Brewer each drained two free throws in the final 17 seconds.
Swarmed by a variety of bigger defenders, Rose surfaced from the muck with 36 points, eight rebounds and six assists, but he also had six turnovers and a foolish, potentially fatal foul on A.J. Price with 23.4 seconds remaining in regulation. Price was attempting a 3-pointer with the Pacers trailing 90-85, and he made all three foul shots to close the gap to two.
But, after Deng hit two free throws for a four-point cushion, Mike Dunleavy missed a 3-pointer with 14.8 seconds left, and Brewer's foul shots (plus two by Rose) sent the United Center faithful home sweaty but grateful once again.
"We played, I think, our worst," said Rose, "and we're blessed to get these two wins. But when we get things rolling, we're going to be tough."
But are they? It was the kind of game that felt like neither team deserved to win until you remembered that the Pacers played the second half without floor leader Darren Collison, who sprained his ankle shortly before halftime.
And while the Bulls were somehow hanging tough despite their awful shooting and turnovers, the Pacers nearly won despite being hammered on the boards 57-33 and not shooting much better (41.6 percent) than the Bulls (38.6).
ESPNChicago.com Bulls blog

The latest news from Bulls reporter Nick Friedell. Blog
"We're standing toe-to-toe with this team," Indiana coach Frank Vogel said. "I'm proud of our guys. We'll take this back to Indy and see what happens."
The Pacers once again controlled the action in the first half as solid interior passing led to far-too-easy baskets. The Bulls looked for and largely found Carlos Boozer inside, resulting in 13 first-half points. But Boozer, appropriately criticized after a Game 1 performance in which he made Pacers forward Tyler Hansbrough look like Larry Bird, disappeared offensively for much of the second half, at one point going more than 16 minutes in the third and fourth quarters without a field goal attempt.
On one hand, it was easy to reason that if the Bulls could stay competitive and even win Game 1 playing so poorly, that when they ultimately turned things around it would get very ugly, very fast for the Pacers.
Trouble with that theory is that there is no compelling evidence that they are turning things around.
"We have to make better decisions and take better care of the ball," Deng said, "but every game is going to have a different story to it."
The Pacers are counting on it.
Melissa Isaacson is a columnist for ESPNChicago.com.
Columnist, ESPNChicago.com
Melissa Isaacson is a columnist for espnW.com, ESPN Chicago and ESPN.com. The award-winning writer has covered Chicago sports for most of her 31-year career, including at the Chicago Tribune before joining ESPN in 2009. Isaacson has also covered tennis since 1986.