Commentary
Bulls' vacancy has much appeal
Regardless of the free-agent market, the Bulls need a coach who commands respect
The pressure on the Chicago Bulls right now is a given -- who they will hire as their next coach as much as who they will sign to a whopping free-agent contract.
How much does the first part of that equation have to do with the second?
Players will tell you it's a significant part, though many are solely concerned with the numbers of commas and zeroes on their contracts.
Miami Heat president Pat Riley, who claimed he was "definitely sure" he was done with coaching two years ago, said earlier this month that if the right free agent asked, returning to the sideline was not out of the question.
"I'll do whatever is in the best interest of building the team here. Period," Riley said in a postseason news conference, thus throwing the South Florida and New York media outlets into still another Riley coaching frenzy. "Whatever it takes, OK? I'll let you fill in the blanks. … If some free agent were to say, 'I will come here but you must do this,' well, hell, if that happens that day, then I might have to give it some thought."
[+] Enlarge
Howard Smith/US PresswireAttracting a top free agent, such as Chris Bosh, is important. But the Bulls need a strong leader.
Of course he would, which only feeds his reputation of being self-obsessed. But why shouldn't he? Some wonder if Riley is only using that speculation as a tactic to attract free agents. But other than it being a creepy thing to do to current coach Erik Spoelstra, why shouldn't he do that too?
This is what equates to the Bulls' competition this summer, and if it should tell them anything, it's that the competition is going to get nasty.
Let's hope the Bulls are not waiting for free agency to begin to choose a coach, if only because all the good ones will be taken. Just get someone qualified whom all the players, current and future, will at least respect.
Whether you liked Vinny Del Negro or thought he was a great coach or even that he deserved better, consider the sort of kidding that went on after he was ejected from a game in March.
"Just try to win it for Vinny," was the rallying cry from Kirk Hinrich in the huddle afterward, a story repeated mockingly the next day by Joakim Noah.
"Everybody just started laughing," Noah said.
It's up for interpretation whether Noah was making fun of Del Negro or laughing with him, but either way it's tough to imagine, say, Riley being mocked like that.
This is not to say the Bulls need to hire a coach who's 60-plus years old. While credentials are certainly important, players will generally respect a coach's knowledge of the game as much as his résumé. That's why I wish Scott Skiles would have been allowed/encouraged to ride things out a little longer with the Bulls.
But they also need a coach who truly wants to be here.
One NBA insider was shocked that Kevin McHale is expressing interest in the Bulls job, as McHale told ESPNChicago this week. In both turns as interim coach for the Timberwolves (going from GM to replacing Flip Saunders in February of '05, and from VP of basketball operations to Randy Wittman's successor in December of '08), McHale seemed decidedly less than enthusiastic.
"The chances of me doing this long term are slim to none," McHale told Sports Illustrated in '05. "I just don't think I'm cut out to be a career coach."
McHale, a member of the NBA's 50th Anniversary All-Time Team, expressed a strong dislike for the coaching grind, saying after his first game that he was not looking forward to the team's road trip to Denver and hourlong bus ride to the hotel.
But in a New York Times story in March of last year, McHale's players said they did not detect any resentment on his part.
"You feel that he wants you to do good," said point guard Sebastian Telfair. "Guys want him back. I feel when he came in, we started playing basketball the right way."
Of course, most teams get the kind of midseason-coaching-change bump the Wolves experienced right after McHale took over. And his judgment was continually questioned in the front office.
McHale was not asked to return to the Timberwolves as coach this season, did TV work instead and, for whatever reason, is now clearly itching for another try, practically bubbling with excitement when describing the Bulls to ESPNChicago.com reporter Nick Friedell.
"I think Chicago is a great job," McHale said. "Derrick Rose, love him. Taj Gibson, love him. Joakim Noah, love him. You've got Kirk Hinrich, love him. They're tough guys, they play really hard and they get after it defensively and I think they're all just going to get better."
[+] Enlarge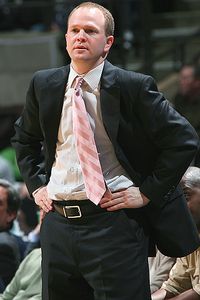 Jesse D. Garrabrant/NBAE/Getty ImagesLawrence Frank's tenure in New Jersey was up and down.
For all those reasons, the Bulls' job might be the most enticing to all the contenders.
Indications are that Lawrence Frank and Dwane Casey top the list (ironically, McHale hired Casey in the summer of 2005 and fired him midway through the 2006-07 season) with Mo Cheeks also in the running. (It should be noted that those who know Bulls chairman Jerry Reinsdorf, know that he would love to hire someone no one else is looking for.)
Too bad Reinsdorf isn't likely to go back on his decision of a couple years ago regarding Doug Collins. At that time, the Bulls chairman said that their close relationship would make it too difficult for him to potentially part ways with Collins again one day and jeopardize that friendship. And Collins is not the type to try to talk him out of that.
Still, while Collins, who coached the Bulls for three seasons from 1986 to '89 (with a record of 137-109), understood Reinsdorf's concerns, he wanted the Bulls' job badly two years ago and it's not a leap to say that he would still jump at the chance if available. Nobody the Bulls will eventually settle on is likely to know the city, the organization or the team better than Collins. And no one would be more capable of removing any residual heat still left on John Paxson.
Ultimately, GM Gar Forman must bring someone to Reinsdorf who has the chops, who excites him and, most importantly, excites the players.
As we were saying, pressure's on.
Melissa Isaacson is a columnist for ESPNChicago.com.
Columnist, ESPNChicago.com
Melissa Isaacson is a columnist for espnW.com, ESPN Chicago and ESPN.com. The award-winning writer has covered Chicago sports for most of her 31-year career, including at the Chicago Tribune before joining ESPN in 2009. Isaacson has also covered tennis since 1986.