Commentary
Top 10 shots in Bulls history
Jordan, Pippen highlights rekindle memories of a dynasty
Updated:
January 22, 2010, 10:54 AM ET
By
Peter Newmann
| Special to ESPNChicago.com
I remember the shots, the jaw-dropping moments, the buildings shaking. I remember the noise decibels reaching outrageous proportions.
Those memories inspired this challenge.
[+] Enlarge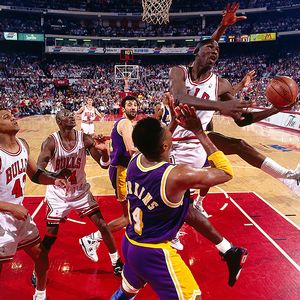 Andrew D. Bernstein/ NBAE/ Getty ImagesDid he really need to switch hands? Regardless, Michael Jordan's layup against the Los Angeles Lakers was unforgettable.
The thought of coming up with a list of the greatest shots in Chicago Bulls history is daunting. I started with a list -- a big list. I narrowed it down. I narrowed it down some more. Then I thought that instead of being shots I remember, these should be shots I'll never forget. It is these 10 shots that as a native Chicagoan I feel are the most unforgettable shots in Bulls history. I remember them, but more importantly, I'll never forget them.
As the Bulls visit the Phoenix Suns on Friday night, it seems like the right time for this list. The Suns were the foil for the Bulls' third title, and Suns president Steve Kerr was once a key player in Chicago, and his most famous shot is on this list.
10. Michael Jordan vs. Celtics (First round: Game 2 -- April 20, 1986 in 2OT) Michael Jordan dribbles between his legs against defender Larry Bird, driving and pulling back before nailing a mid-range jumper on his way to an NBA postseason record 63 points. "He is the most exciting, awesome player in the game today," Bird said after the game. "I think it's just God disguised as Michael Jordan."
9. Michael Jordan vs. the Knicks (First round: Game 3 -- April 30, 1991) Perhaps the most memorable dunk in Jordan's career came against the Knicks in the playoffs. Jordan seemed trapped in the corner, spun out on the baseline, passed two defenders and rose up on Patrick Ewing. He slammed it down and glared at Ewing as the New York center pleaded for an offensive foul.
8. Toni Kukoc vs. the Knicks (Conference semis: Game 3 -- May 13, 1994) All you need to say is 1.8 seconds. Bulls fans remember. Phil Jackson drew up a play for Kukoc during a timeout with 1.8 seconds remaining in regulation. Scottie Pippen, who clearly was the team's star during Jordan's first retirement, grew furious that the play wasn't designed for him and refused to go into the game. Kukoc caught the inbounds pass from Pete Myers and nailed a long jumper to give the Bulls the win.
7. Scottie Pippen vs. the Knicks (Conference semis: Game 4 -- May 15, 1994) Pippen flew in the air and dunked on Ewing. On his way down after the dunk, Pippen gave a slight shove to Ewing, then walked to the sideline and taunted Knicks fans, for which he received a technical foul.
[+] Enlarge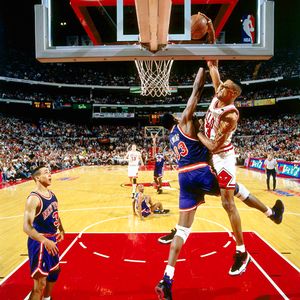 Nathaniel S. Butler/Getty ImagesScottie Pippen's dunk over Patrick Ewing was followed by a little taunting and a technical foul.
6. Michael Jordan vs. the Lakers (Finals: Game 2 -- June 5, 1991) Everyone remembers Marv Albert's famous call: "Oh, a spectacular move by Michael Jordan." Jordan took a pass from Cliff Levingston, drove the lane with his left hand, shifted the ball to his right as he went into the air, then switched back and finished with a left-handed layup. Chicago Stadium never seemed so loud.
5. Michael Jordan vs. the Cavaliers (Conference finals: Game 4 -- May 17, 1993) He did it again. And again it was against the Cavaliers. Gerald Wilkins, the so-called Jordan stopper, had Jordan one-on-one. But it didn't matter. Jordan backed in against Wilkins on the right wing, turned and nailed a fadeaway as time expired. Game over. Series over.
4. Steve Kerr vs. the Jazz (Finals: Game 6 -- June 13, 1997) Kerr, one of the best pure shooters in NBA history, hit his most memorable shot in Game 6 of the NBA Finals. Kerr and Jordan worked out a plan that if the defense rotated to Jordan, Kerr should be ready for the shot. That's exactly what happened as John Stockton came off Kerr to double Jordan. "I'll be ready," Kerr had said in the huddle before the play. MJ found Kerr with five seconds left, and Kerr nailed a 15-footer to break a tie at 86. The shot helped the Bulls clinch championship No. 5.
3. John Paxson vs. the Suns (Finals: Game 6 -- June 20, 1993) Jordan took the ball in the backcourt and passed it to Pippen, who drove the lane. Pippen found Horace Grant, who swung the ball out to Paxson. With the Bulls down two, Paxson nailed a 3-pointer to give the Bulls a 99-98 lead. Grant then blocked Kevin Johnson's last-gasp attempt as the Bulls won their third straight NBA title.
[+] Enlarge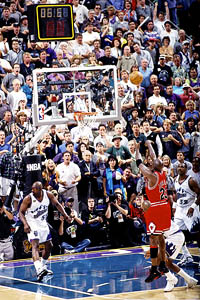 Scott Winterton/NBAE/Getty ImageThere is only one choice for the greatest shot in Bulls history.
2. Michael Jordan vs. the Cavaliers (First round: Game 5 -- May 7, 1989) It's known simply as "The Shot." Craig Ehlo had just made a terrific layup off an inbounds play with three seconds left. The Bulls called timeout. Jordan took the inbounds pass from Brad Sellers in the frontcourt, and took two dribbles before nailing a 15-footer at the foul line as time expired. Jordan jumped in the air and pumped his fist in celebration.
1. Michael Jordan vs. the Jazz (Finals: Game 6 -- June 14, 1998) It was Jordan's last shot as a Chicago Bull. It was the last shot of six titles in an eight-year span. After a basket with 37 seconds left, Jordan stole the ball from Karl Malone to set up the final shot. Jordan, isolated against Bryon Russell, faked a drive right, pulled back and sank a 20-foot jumper to give the Bulls the lead with 5.2 seconds left. Jordan held his follow-through for just a moment in an image Bulls fans will remember forever.
Peter Newmann is the NBA researcher at ESPN. He can be reached at peter.d.newmann@espn.com.