Sources: Bulls to free up cap space
Updated:
June 25, 2010, 12:46 AM ET
By
Ric Bucher
| ESPN The Magazine
The Chicago Bulls have a deal in place that would move Kirk Hinrich and the 17th pick to the Washington Wizards, freeing up enough cap space to pursue two maximum-salary players in this summer's free-agent market, sources with knowledge of the Bulls' plans said Thursday.
More From ESPNChicago.com

The Bulls have put themselves in position to get two great free agents, even if one isn't named LeBron, writes Melissa Isaacson. Story
• O'Connor: Bulls leapfrog Knicks
The Bulls would receive a future second-round pick, The Associated Press reported, citing a person familiar with the negotiations.
The deal can't officially be consummated until July 8, when the Wizards will have room under the salary cap to absorb Hinrich's $9 million contract without having to send back anything of similar value.
With the 17th pick, the Bulls drafted Kevin Seraphin, a 20-year-old forward who last played in France. He may not be ready to play in the league for a year or two.
Bulls general manager Gar Forman issued a statement on the selection.
"This evening we selected Kevin Seraphin with the 17th overall pick of the NBA Draft," Forman said. "At this time, we are currently in discussions to trade our draft rights to Kevin Seraphin; however, we will not be able to complete a trade until after the moratorium period concludes on July 8.
"With that said, we are not at liberty to identify the team that we are talking to or reveal any other specifics of potential trades. Therefore, we will have no comment on this selection until we have completed all trade discussions."
Since the Bulls and Wizards have a good-faith deal for the time being, there remains a chance it could fall apart. But according to one source, the Sacramento Kings are prepared to make a similar deal with the Bulls in the Wizards' stead if that were to happen.
Either way, moving Hinrich and the pick would push Chicago's space under the cap from $20 million to more than $30 million. That puts the Bulls on equal footing with the Miami Heat in pursuing not just one but two members of a free-agent class that is expected to include LeBron James, Dwyane Wade, Chris Bosh, Carlos Boozer, Amare Stoudemire and Joe Johnson.
"We see it as a real opportunity," Forman said. "Obviously, the free agent class this summer is probably as attractive as there's ever been in the history of the league. We wanted to create the flexibility, and with that flexibility, we think there's going to be opportunities for us this summer. Obviously, we want to be very aggressive this summer as far as trying to improve our team."
But if they don't get one or two of the top players?
"There's a lot of different ways we can improve with the flexibility," Forman said. "We've put ourselves in a position where we have a real opportunity, and in doing so, we're going to obviously be very aggressive with it."
Along with all that cap space, the Bulls also boast one of the NBA's top young point guards in All-Star Derrick Rose, a rich tradition and a sports-mad city. After back-to-back 41-win seasons and first-round playoff losses, the Bulls are looking for more.
Firing coach Vinny Del Negro and replacing him with longtime NBA assistant Tom Thibodeau, the mastermind behind a dominant defense that helped Boston reach the NBA finals two of the past three years, was a preliminary move. The same goes for the trade.
Hinrich averaged 13.4 points in seven seasons with Chicago and figures to give the Wizards a reliable veteran to go with No. 1 pick John Wall and Gilbert Arenas, but trading him puts the Bulls in position to make several big moves.
They have a chance to become instant championship contenders and ignite the fan base the way the Blackhawks just did on their way to the Stanley Cup. Or, the way Michael Jordan and Scottie Pippen did while leading the Bulls to six championships in the 1990s.
"We think the future is extremely bright, and our hope is, we think it's going to be a very attractive place that guys are going to want to come play," Forman said.
Ric Bucher covers the NBA for ESPN The Magazine. Information from The Associated Press was used in this report.
NBA Reporter, ESPN The Magazine Senior Writer
Senior writer for ESPN The Magazine
Co-authored "Yao: A Life in Two Worlds"
Full-time beat writer/NBA analyst since 1992
2010 NBA Draft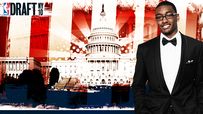 Follow ESPN's NBA coverage on Twitter
LATEST DRAFT CONTENT
NEWS
TRADES
FEATURES
VIDEO
AUDIO