Derrick Rose 'whole package'
CHICAGO -- NBA Commissioner David Stern joined the chorus of Derrick Rose admirers Wednesday night, calling him "a role model to all," before presenting him with the league's Most Valuable Player award before Game 2 of the Chicago Bulls' second-round series with the Atlanta Hawks.
More On The Bulls

Can't get enough NBA news and notes? ESPNChicago.com has all the latest on the Bulls. Blog
"He couldn't be better," Stern said. "He's the whole package. He has a family that watched out for him and he made it through difficult times and he's very valuable, not just to the league but to his teammates. ... It's very exciting.
"He's a very nice, grounded young man and it's a pleasure to have him here."
To a rousing pregame ovation, Rose thanked the fans. "This is for the city of Chicago more than anything," he said.
Asked if Rose could one day serve as "the face of the league" much like the Bulls' last MVP, Michael Jordan, and Stern said he hoped so, but added that he would hope the same for "many players."
"I'm not going to be like one of those journalists who starts doing color commentary and then becomes a basketball expert," he said. "I've only been doing this for 40 years and I'm not expert enough to tell you about potential.
"I do know that he is the youngest MVP, that he deserves the award that he's getting tonight. He had a heck of a season, he brought his team with him and he's a great teammate. So you can check it all off. He's a heck of a player and I think if we can keep him healthy, he's going to have some career and there are a lot of other players who would like to not have him get this trophy next year.
"And that's a wonderful thing because you could probably name four or five of them off the top of your head and that's why this league is doing so well right now."
Melissa Isaacson is a columnist for ESPNChicago.com.
Columnist, ESPNChicago.com
Melissa Isaacson is a sportswriter and author who has covered Chicago sports for the last 22 years of her 29-year career, most recently as an award-winning columnist and feature writer for the Chicago Tribune.
2011 NBA FINALS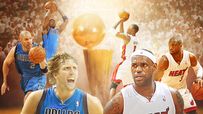 Follow the NBA on ESPN: Twitter / Facebook
LATEST CONTENT
MUST-READ
FEATURES
SERIES PAGES
adidas Men's Chicago Bulls Stacked Logo Tri-Blend Grey T-Shirt Shop »