Derrick Rose plans on driving more
Updated:
May 21, 2011, 12:36 PM ET
By
Nick Friedell
| ESPNChicago.com
DEERFIELD, Ill. -- Chicago Bulls guard Derrick Rose and coach Tom Thibodeau have spent plenty of time over the past few days breaking down tape, trying to find driving lanes in the Miami Heat defense.
[+] Enlarge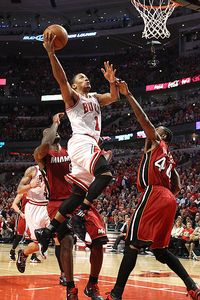 Jonathan Daniel/Getty ImagesDerrick Rose knows that by getting to the rim, he'll help open up shots for teammates on the perimeter.
After losing Game 2 of the Eastern Conference finals, evening the series at 1-1, the Bulls know the way to regain homecourt advantage is to get Rose to the rim.
"It comes with us just making shots," Rose said after Friday's practice. "If we make shots, there's no way they can help off anybody, especially when [Luol Deng] got it going, Kyle [Korver] got it going, Keith [Bogans] got it going.
"It's tough. Just keep driving. I know it's going to be hard because they've got shot blockers back there like Chris [Bosh] and [Joel] Anthony, but I just got to find a way to get there."
The key in Thibodeau's mind is that Rose and his teammates need to do a better job finishing at the hole. They shot just 34 percent from the field, missing several close looks at the rim.
"This is the playoffs, everything's hard fought," Thibodeau said. "We have to do a better job. We got to execute and set better screens.
"Teams have loaded up on him all year long. He knows what he has to do. He'll study. He's prepared. He's got to be aggressive. He's got to finish better, and usually that's one of his strengths. He's a great finisher, and we missed some."
Thibodeau knows the Bulls become a whole new team when Rose gets to the rim.
"It puts a lot of pressure on the defense because of what it leads to," Thibodeau said. "Not only when he's scoring, but it leads to open threes. It leads to the second shot. It leads to foul trouble for their bigs. So the more aggressive, the better.
ESPNChicago.com Bulls blog

The latest news from Bulls reporter Nick Friedell. Blog
"A lot of that's tied to our defense, our ability to get stops and get him out into the open floor so he can attack. And then he's got to rebound a little bit better, too. When he's rebounding and busting out with the ball, those breaks are impossible to stop. Those are guaranteed layups and usually he comes up with three or four of those."
Thibodeau knows those layups won't be easy to come by if Miami plays defense the same way it did in Game 2.
"You got to give their defense credit," he said. "It's 73-73 with 4:36 to go and it's a make-or-miss league, so we just got to be aggressive. We got to play with more pace.
"Defensively, I thought we were better in the fourth quarter, it was hard fought. And Derrick had some shots that he normally makes. We have to execute a lot better. We have to screen better. We got to keep the ball moving. But we got to get some easy baskets, too."
In order to do that, Rose knows he has to get to the rim early and often, something that did not happen on Wednesday night.
"We miss shots that we normally hit, too," Rose said. "Wide open threes, layups, floaters, all that stuff. We were just missing them. If anything, I think in the next game they should fall."
Nick Friedell covers the Bulls for ESPNChicago.com and ESPN 1000.
Chicago Bulls beat reporter
Nick Friedell is the Chicago Bulls beat reporter for ESPN Chicago. Friedell is a graduate of the S.I. Newhouse School of Public Communications at Syracuse University and joined ESPNChicago.com for its launch in April 2009.