Commentary
Illinois college basketball rankings
Northwestern vaults over Illinois for top spot
Updated:
January 27, 2010, 3:47 PM ET
By
Scott Powers
| ESPNChicago.com
[+] Enlarge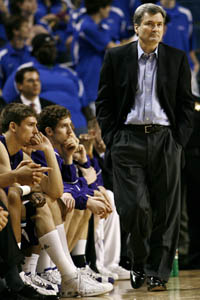 AP Photo/David CrenshawBill Carmody and the Wildcats picked up a big win Saturday against Illinois.
1. Northwestern (14-6): The Wildcats likely saved their season with Saturday's 73-68 home win over Illinois. Had they lost, they could have been headed to a 2-7 Big Ten record, as they travel to Minnesota and Michigan State this week. On Tuesday, they had their chances against Minnesota but couldn't finish and lost 65-61. The most impressive aspect of Northwestern's win over Illinois was that it was able to hold its ground while Michael Thompson sat on the bench in foul trouble for most of the first half. Coach Bill Carmody received quality minutes from a number of subs. (Previously ranked No. 2)
2. Illinois (12-8): The Illini have reached a fork in the road. If they head the right way, they could salvage the season and possibly still end up in the NCAA tournament. If they go the other way, it's time to start looking at next season. The Illini have lost their past three games, and it's not so much whom they have lost to but how they have lost. They continue to drop games in the same fashion -- lack of leadership, absence of a go-to player, freshman inconsistencies. Penn State, Indiana and Iowa are next, so this could be the time to turn things around. (1)
3. Illinois State (14-6): The Redbirds dropped into a four-way tie for third place in the Missouri Valley with their 81-80 overtime loss at Southern Illinois on Saturday. Illinois State was leading 80-77 with two minutes remaining but couldn't score again. Osiris Eldridge had a rough day, missing three shots in the final minute and shooting 5-for-21 overall. The next two games are key for the Redbirds as they travel to Wichita State and host Bradley. (3)
4. Bradley (10-9): It's hard to definitively say that the Braves are completely back on track, but they are getting closer. They have won their past three Missouri Valley games and stand in a four-way tie for third place in the conference. Their next three games could decide their fate as they host Creighton and Drake and travel to Illinois State. All three teams also are 5-4 in the conference. (4)
5. Northern Illinois (8-9): The Huskies saw their six-game winning streak snapped at Central Michigan on Saturday. The game featured 54 fouls and 70 free throws. Northern Illinois' top two scorers, Jake Anderson and Xavier Silas, fouled out. The Huskies are approaching a key MAC East stretch. (5)
6. Southern Illinois (12-7): The Salukis are headed back in the right direction. Following an overtime win over Illinois State, Southern Illinois stepped out of conference and defeated Western Kentucky on Monday. Carlton Fay and Kevin Dillard have played well the past two games. (8)
7. Loyola (12-7): Coming off their near upset of Butler, the Ramblers fell apart against Valparaiso on Saturday, losing by 19 points. They have lost five of their past six and are in ninth place in the Horizon League. They now have to travel to Detroit and Wright State, two of the conference's top teams. (6)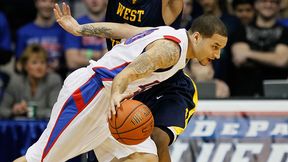 Jonathan Daniel/Getty ImagesWill Walker scored a career-high 35 points against Notre Dame on Saturday.
8. DePaul (8-12): The Blue Demons' first Big East regular-season win in 25 games was followed by a 10-point loss to Notre Dame and a 16-point one to West Virginia. In the Notre Dame defeat, Will Walker scored a career-high 35 points. DePaul now hosts No. 4 Syracuse. (7)
9. UIC (5-14): The Flames' losing streak reached six with an 84-55 home loss to Butler on Saturday. Jeremy Buttell and Zavion Neely combined for 26 points and were the only UIC players to score more than six points. (9)
10. Eastern Illinois (11-9): The Panthers jumped on Tennessee-Martin early and were able to break their four-game losing streak with a 60-46 win. Tyler Laser scored 21 points in the victory. (10)
11. Western Illinois (8-11): The Leathernecks knocked off Southern Utah, the Summit's last-place team, with a 67-54 win Saturday. Ceola Clark had 23 points and five assists in the win. (11)
12. Southern Illinois-Edwardsville (3-17): The Cougars' winning streak ended at one as they lost to Tennessee-Martin 68-52 on Monday. Mark Yelovich and Aamir McCleary combined for 38 of the team's 52 points. (12)
13. Chicago State (5-16): The Cougars endured one of their tougher losses of the season on Saturday. Their losing streak reached nine as they fell to New Jersey Institute of Technology 66-37. Chicago State trailed 40-16 at halftime. (13)
Scott Powers covers high school and college sports for ESPNChicago.com and can be reached at spowers@espnchicago.com.
Reporter
Scott Powers is the Blackhawks beat reporter for ESPNChicago.com. He is an award-winning journalist and has been reporting on preps, colleges and pros for publications throughout the Midwest since 1997.
Nike Men's Illinois Fighting Illini Orange Basketball Player Performance T-shirt Shop »
MORE MEN'S COLLEGE BASKETBALL HEADLINES