Commentary
Cole emerges as Illini leader
Forward steps up game after peers vote him captain
Updated:
February 13, 2010, 4:55 PM ET
By
Scott Powers
| ESPNChicago.com
Bill Cole was accustomed to being a star player when he came to Illinois as a freshman. He had been the go-to guy for most of his high school career, and he quite enjoyed that.

Remember, it was Cole who led Richwoods High School to the state championship as a junior and nearly prevented Derrick Rose from winning his first of two titles at Simeon.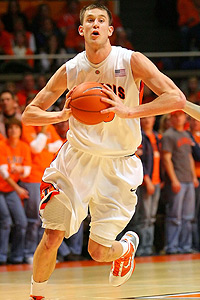 Dennis Wierzbicki/US PresswireBill Cole passes the ball during the second half against Northwestern at Assembly Hall on Dec. 30, 2009. Illinois defeated Northwestern 89-83 in overtime.

So, when Cole found himself spending the bulk of his time seated in his warm-up gear during his first two seasons for the Illini, he struggled with his new role. He wanted to score as he once did. He wanted the double-doubles he once pulled in on a nightly basis. He wanted to be that star he once was.

It took some time for Cole to grasp it, but now in his third year he understands where his game stands. He's never going to be Illinois' most athletic player, its No. 1 scoring option or its star. He's realized, though, that he can still have a purpose.

On a team desperate for leadership, Cole has stepped forward in recent weeks along with fellow junior Demetri McCamey and provided the Illini with that key ingredient. With each of them delivering leadership in their own way -- McCamey becoming an unstoppable offensive weapon and Cole leading by example on and off the court -- Illinois has gone from the brink of disaster to vying for a Big Ten title. "It's so major," Illinois coach Bruce Weber said of leadership. "I think, and I'll argue with anybody, you can have all the talent in the world, but if you don't have leadership, you won't win. I think it's the difference between being a really good team and an average team. I'm not around [North] Carolina, but you hear stuff on TV, and it sounds like it's what they're going through a little bit."

It's strange to think as recently as Jan. 23, Illinois, which is now 9-3 in the Big Ten, appeared to be a sinking ship. It was then following its 73-68 loss at Northwestern that Weber was so disgusted by his team's performance and lack of communication that he banned his players from the media following the game.

"Until they start talking and taking leadership, they're not talking to anyone else," Weber said after the loss. "I don't know when it will end. I hope it ends soon. Somebody's got to take this team and go with it, but right now it's not happening."
NO. 16 OHIO STATE (19-6) vs. ILLINOIS (17-8)

When: Sunday, noon
Where: at Assembly Hall, Champaign, Ill.
TV: CBS
Radio: WIND (560 AM)
What you need to know: Illinois and Ohio State are the hottest teams in the Big Ten. Both are riding five-game winning streaks, and both are tied with Michigan State for first place in the conference. Ohio State's Evan Turner and Illinois' Demetri McCamey, former high school teammates, have been two of the most dominant players in the country in recent weeks, sharing the Big Ten Player of the Week award on Monday. This game might just be decided by everyone else's play if Turner and McCamey cancel each other out. Illinois center Mike Tisdale and Ohio State guard William Buford are coming off strong performances.
Scott Powers' prediction: Illinois 71, Ohio State 68
Weber had already turned to nearly every psychological trick he had learned throughout his coaching career. He was running out of ideas.
As Weber pondered his next move, his players finally took the initiative. Organized with a text message by Cole, the team held a players-only meeting.
"It was everyone talking and saying what they held back before in front of Coach," McCamey said.
What needed to be said was said. Everyone expressed that McCamey, the team's floor general and most gifted player, had to be more of a force on the floor. Illinois would only go as far as he took it. There was also a push that the team needed to become tighter and more family-like. Everyone seemed to be going in their own direction and that had to change, they realized.
With the situation improving, Weber stepped in and decided to allow his players the opportunity to choose their captains. Before their next game -- versus Penn State on Jan. 27 -- the Illini voted for Cole and McCamey.
McCamey was the obvious choice with his already large role on the team. Cole was more of a surprise, but it showed what his peers thought of him. Unlike his first two years, Cole had come to terms with his place on the team, and his continued effort in practice proved that.
"I think they appreciate how hard he plays," Weber said. "On the play-hard chart, he's one of the leaders. I think the kids appreciate it. He's also taken a role in the hotels making sure they're on time. He just appreciates being a part of it, playing and he wants to win. He's a smart kid. I think when you don't have an agenda or worry about being an NBA player or not having enough shots and that kind of thing, it helps you realize the reality of the team. I think he helps that."
"He always plays 110 percent," McCamey said. He comes every day and works hard. That's what you want no matter what." Being voted captain was a bit surreal for Cole, and it helped digest what his first two years were.
"It was a special moment for me to be voted captain, especially since the last two seasons were tough for me," Cole said. "It was a proud moment for me to hear that from my teammates.
"[What changed] was me getting used to not playing and trying to keep a positive attitude. I've learned to deal with tough times. It's not easy coming in, and you're used to high school where you're playing all the time. You have to adjust to what your team needs you to do, and I think I've adapted pretty well."
As further reward, Weber has made Cole a permanent fixture in Illinois' starting lineup. During the team's current five-game winning streak, Cole is 9-of-16 on field goals and averaged 5.8 points and 4.0 rebounds in 26.2 minutes a game.
He's also continually been looked to as one of the team's vocal leaders. Having not done that since high school, Cole needed a few games to knock off the rust.
"At first, I wasn't used to it," Cole said. "I wasn't used to people looking up to me in games and people asking my input. Now, it's my job. It's expected out of me when the team is in a rut or we're struggling to score."
As of late, Illinois has been in the fortunate situation in which it hasn't been in a rut as often. Weber prays that it stays that way.
"There's usually a turning point in a team in a season," Weber said. "I hope we made the right one."
Scott Powers covers high school and college sports for ESPNChicago.com and can be reached at spowers@espnchicago.com.
Reporter
Scott Powers is a general reporter for ESPNChicago.com. He is an award-winning journalist and has been reporting on preps, colleges and pros for publications throughout the Midwest since 1997.
Nike Men's Illinois Fighting Illini Grey Basketball Pullover Performance Hoodie Shop »