Commentary
Sifting through the fallout
Chicago Public League Coaches Association president welcomes DePaul's Purnell
Updated:
April 9, 2010, 8:23 PM ET
By
Scott Powers
| ESPNChicago.com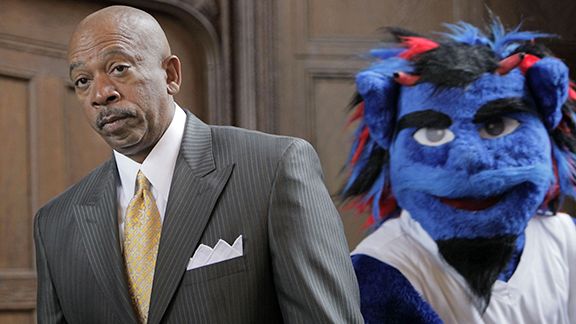 AP Photo/M. Spencer GreenDePaul's hiring of Oliver Purnell generated a lot of buzz among Chicago Public League coaches.
Chicago Public League Basketball Coaches Association president Vince Carter has stayed busy reading about his fellow coaches on the Internet over the last few days.
From news stories to columns to message boards, Carter has clicked all over the Web since Tuesday's DePaul hiring of Oliver Purnell to read what Public League coaches have said about Purnell and how others have reacted to those comments.
Carter saw that Simeon coach Robert Smith said, "If they don't keep Tracy Webster, they can't come over here to recruit my kids." He also read that Whitney Young coach Tyrone Slaughter said, "Nothing against him, but wow. Wow. Not am I only surprised, but I'm extremely disappointed. That's disappointing."
From there, Carter perused columns and message boards that took shots at the Public League over those comments. Such words as "entitlement," "babies," and "arrogant and rude" were associated with the league's coaches.
While Carter, who is also the Von Steuben coach, didn't necessarily agree with everything that his peers said about Purnell and the hiring, he did believe it was unfair the way journalists and others took those comments and brushed a broad stroke over the entire Public League.
"Are we boycotting somebody or blackballing somebody?" Carter said on Friday. "It's not like we have some emergency board meeting. It doesn't happen. We don't get together and say, 'Hey, no one send anyone to Loyola.' That's the furthest thing from the truth.
"I may not be happy with the coach at Northern [Illinois] right now, the but the coach at Julian may think he's the best coach in the world. I'm not going to say, 'Don't send your kid there.' We don't operate like that. I think that's how people think we do."
Carter didn't believe the word 'entitlement' was true, either.
"It's not that we're entitled to anything," Carter said. "I think the word entitlement should be turned to respect. That's what we want. We'd like to be respected.
"In our quest to be respected, if that sometimes comes off as arrogance, fine. A lot of us are former athletes. We're competitive. Some of us are outspoken."
Smith and Slaughter were outspoken Tuesday on DePaul's choice. Carter thought had to do more with not knowing Purnell.
"Everyone was throwing out these names of other people," Carter said. "Mark Aguirre, Terry Cummings, Isiah Thomas, these are people we know.
"Purnell was out of nowhere. I don't even remember an article where he was suggested. When people were asked about Purnell, they were like, 'Who?' If they had hired Steve Lavin, you wouldn't have got that. If they had hired Isiah Thomas or Mark Aguirre, you wouldn't have got that. You only got that because of lack of familiarity."
Carter also stressed that a lack of a previous relationship won't determine whether Purnell will have recruiting success with Public League coaches. They do give outsiders a chance. Not too long ago, there were Public League coaches who had expressed disappointment that Illinois coach Bruce Weber was hired instead of other local names, and now Weber is well-liked by most area coaches.
As far as Smith's comments about DePaul needing to hire Webster, Carter said he understood.
"I think Rob is trying to protect someone he knows," Carter said. "'If you don't hire him, don't come into my gym.' That might have been a little overboard. I understand what he was saying about Tracy Webster. I said the same thing about Billy Garrett. I didn't say, 'You can't come in my gym.' It's not going to affect our relationship as a head coach from DePaul, but I don't want to see Billy get fired.
"I think Purnell is smart enough, and I'm sure he had some of these issues when he went to Clemson. It happens all the time."
Purnell reached out to Slaughter, Smith and a variety of other coaches earlier in the week.
"I've been asking what's going on with them," Purnell said on Thursday. "I want to get to know them. That's how you start any relationship."
On Friday morning, he spoke with Carter.
"We just talked in general," Carter said. "I said, 'On behalf of the Coaches Association, we welcome you here.' He said, 'Thank you. I want to get DePaul on the national map. I know I have to work with the Chicago area. I want to get the alumni involved, Mayor Daley.'
"He had a broad plan. That's where it starts."
ESPN national director of basketball recruiting Paul Biancardi understands the local coaches' initial hesitancy, but he also knows Purnell well enough to know he will succeed at winning them over.
"Say Clemson now hires for example someone from Las Vegas, they'll say, 'Who is this guy?' " Biancardi said. "My point is they're a lot of great coaches around. Just because you don't hire someone who isn't from the area or local, it doesn't mean it's not going to work out. There have been a lot of coaches who have relocated and done well. You just have to give it time.
"Oliver is a great guy at breaking down barriers and engaging people into DePaul. I think he'll do that without question."
Scott Powers covers high school and college sports for ESPNChicago.com and can be reached at spowers@espnchicago.com.
Reporter
Scott Powers is a general reporter for ESPNChicago.com. He is an award-winning journalist and has been reporting on preps, colleges and pros for publications throughout the Midwest since 1997.
MORE MEN'S COLLEGE BASKETBALL HEADLINES