Commentary
Knowing his environment
Badgers assistant coach Moore recruits hometown of Chicago
Updated:
March 12, 2010, 3:31 PM ET
By
Scott Powers
| ESPNChicago.com
INDIANAPOLIS -- Howard Moore understood, coming out of Taft High School in Chicago, that he wasn't going to play in the NBA.
[+] Enlarge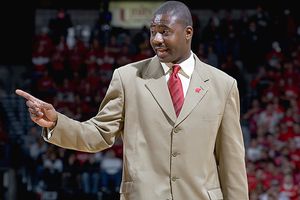 David Stluka/Getty ImagesHoward Moore's journey from Chicago to Madison is one of his best recruiting pitches.
He had some talent, though, and it was enough to attract a handful of Division I programs. It came down to Northern Illinois, Northwestern and Wisconsin. Ultimately, he chose the Badgers as he saw an opportunity for a quality education, a chance to play and a program that was on the verge of success.
Moore had to wait his turn at Wisconsin, but he was rewarded. He saw plenty of the court late in his career and contributed in 1994 to the Badgers' reaching the NCAA tournament for the first time in 47 years. When his career was over and he earned his degree, he looked back with no regrets. Wisconsin had been the right choice.
Twenty years later after graduating from Taft and embarking on that Wisconsin career, Moore finds himself making that three-hour drive from Madison, Wisc. to Chicago at least a couple times a week and retelling his story to high school recruits. His hope -- especially being a Wisconsin assistant coach now -- is those Chicago-area recruits will choose the same path he did.
"My story is of a kid from the West Side of Chicago who tried to improve and overachieve in every aspect of my life, and how Wisconsin worked for me," said Moore, who was previously an assistant at Loyola, Ball State and Bradley. "It's not necessarily going to be the same factors for every kid. I was a decent student, not a great student; a decent player, not a great player. If you're looking for a good situation, Wisconsin can be that."
The area's top high school players are listening. Outside of the Fighting Illini, Wisconsin's opponent Friday in the Big Ten tournament, no other consistent NCAA tournament team has been a fixture in the recruitment of Chicago's top talent in recent years.
Last year, Wisconsin signed Bolingbrook guard Diamond Taylor. From the 2010 class, Wisconsin has inked Deerfield's multi-versatile forward, Duje Dukan. In 2010, the Badgers already have commitments from Bolingbrook forward Devon Hodges and Marshall point guard George Marshall, and they're in the mix for three of the state's top juniors -- De La Salle's Mike Shaw, Orr's Mycheal Henry and Rock Island's Chasson Randle.
Illinois Wolves AAU coach Mike Mullins, who has coached Hodges, Randle and Taylor, said he believes Moore is largely responsible for the Badgers' recruiting success in Illinois. Moore was a main factor why Demetri McCamey and Evan Turner also considered Wisconsin, Mullins said.
"I think Howard does a great job of identifying talent at an early age," Mullins said. "He does a great job of selling what Wisconsin and the Big Ten has to offer. He has a great network of relationships that he works very hard to sustain at the high school and club levels in the area. Even if he doesn't have a player they want, he keeps those relationships up, so when he does have a player they want it's not as if you haven't heard from Howard in three years."
Crossing the border isn't anything new to Wisconsin's program. The Badgers have benefited over the years from dipping into Illinois. Michael Finley (Proviso East High School), Sean Mason (Rich Central) and Alando Tucker (Lockport) are three of the Badgers' all-time greats.
[+] Enlarge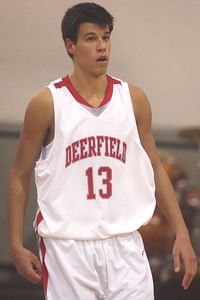 Scott PowersDeerfield's Duje Dukan is a versatile forward who is headed to Madison.
"It's a natural place to recruit in its proximity to Madison, and it's a great recruiting pool," Moore said. "Chicago-area kids are willing to listen and look at different options. We're trying to find the niche kids who can find Wisconsin to be a good match.
"For a kid like myself, I wanted to get away from Chicago, but not go too far away. I knew I wasn't a NBA player, but I wanted to play in the Big Ten."
Often on the road, Moore comes across Illinois coach Bruce Weber and assistant Jerrance Howard, the Illini's main recruiter in the area. Both programs are going after Henry, Randle and Shaw, standouts in the 2011 class.
The two programs aren't trying to win at any cost, though.
"When you look at the two programs, Coach Weber and Coach [Bo] Ryan -- what they're all about, they're old-school coaches that demand effort on both ends of the court," Moore said. "These are the type of kids they're both pursuing. You'd be fortunate to play for either guy. Illinois has a large talent pool, and it just so happens we're going after the same players.
"We have a lot of respect for each other. We both have quality people. You won't find a kid who claims either staff has said anything negative about the other staff. There is a mutual respect."
Scott Powers covers high school and college sports for ESPNChicago.com and can be reached at spowers@espnchicago.com.
Reporter
Scott Powers is the Blackhawks beat reporter for ESPNChicago.com. He is an award-winning journalist and has been reporting on preps, colleges and pros for publications throughout the Midwest since 1997.
Jansport Women's Wisconsin Badgers Final Four Bound Basketball Black T-shirt Shop »
MORE MEN'S COLLEGE BASKETBALL HEADLINES