Commentary
Expect Wright to be in starters' mix
Updated:
April 24, 2010, 12:35 PM ET
By
Michael Wright
| ESPNChicago.com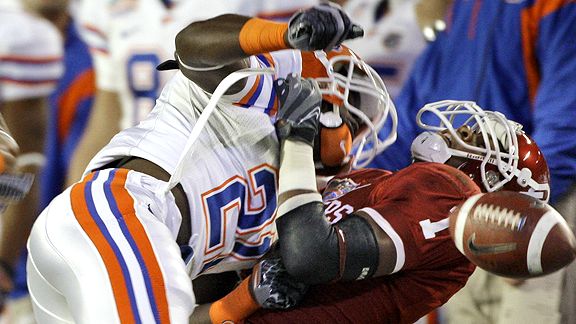 AP Photo/Mark HumphreyMajor Wright started seven games as a true freshman during Florida's last championship season.
LAKE FOREST, Ill. --
Chicago Bears
general manager Jerry Angelo and coach Lovie Smith resisted to even hint at the notion of
Major Wright
opening the 2010 season as the Bears starting free safety.
Their reluctance to do so said it all -- that Wright, the former Florida standout and Chicago's top pick in the draft -- is definitely in the mix to start as a rookie.
"To say he's gonna come in and start, I can't say that," Angelo said.
Shortly before, Smith played the downplay game, too.
"You hate to talk about rookies being one of the starters right away, but I think when you pick a player ... we're expecting big things from him," Smith said. "But there's a long way to go before you put a rookie in a starting lineup."
That distance isn't as far as Smith makes it seem. Given Wright's pedigree, skill set and potential, and Chicago's less-than-stellar talent at the position, it's likely the free safety will immediately come in and compete for a starting position. Consider this: the Bears used five different players -- Al Afalava, Josh Bullocks, Kevin Payne, Craig Steltz and Danieal Manning -- at free safety last season, and six combinations of starters at both free and strong safety.
Injuries played less of a role in the shuffling than coverage busts and inconsistent play at the position. When five safeties combine for only one interception in a 16-game season like they did in 2009, there's a problem which needs to be addressed.
That's where Wright, who started 33 of 41 career games at Florida, comes into the picture. Smith explained exactly how Wright fits into what the Bears do on defense.
"Most of the time, we'll have at least one safety in the middle of the field. He's the last wave," Smith said. "He has to be able to be a good tackler, to maybe make that touchdown-saving tackle. [Wright] can do that. You also want a guy with some force to come up with big hits in the middle of the field. He can do that. He's gotten interceptions. He also has good knowledge. We want our quarterback back there -- our free safety -- to be vocal back there and run the show. We think he can do that, too."
At Florida, Wright intercepted eight passes, while posting 165 tackles, and a fumble recovery. As a true freshman during the Gators last national championship season, Wright played in all 13 games, starting in seven . Also at Florida, Wright sharpened his skills against top-notch completion, which came mostly from his own teammates at practice.
"Every practice, when [former Florida standout and Vikings Pro Bowler] Percy [Harvin] and [Raiders receiver] Louis Murphy were there, it was always intense," Wright said at the NFL combine. "At every practice, whether you knew it or not, somebody was going to get better. We were talking trash, we were motivating each other. That just made us a better team."
ESPNChicago.com Bears blog

Get the latest from ESPN Chicago.
Bears blog »
50 Greatest Bears

Those battles instilled confidence in Wright that he could handle the caliber of players he'll soon face in the NFL.
Widely considered by scouts to be one of the draft's most aggressive players, he's also thought to be one of the most instinctive at the position. He's displayed superior toughness, and shows impressive range defending the run. But Wright fell to the third round mostly because of concerns about a lack of a speed burst in deep coverage -- despite running a 4.48 40-yard dash. Some scouts also considered Wright to lack elite athleticism.
The Bears apparently didn't see it that way. In fact, Angelo and Smith compared Wright to former Bears safety Mike Brown.
"From his freshman year on, he's played at a high level. Tim Tebow did a lot for Florida on the offensive side of the ball," Smith said. "I think [Gators coach] Urban Meyer would talk about Major doing some of those same things as far as being the guy who is vocal, who players look to for a little bit of that leadership. That's what we were looking for. We had a great guy in the past in Mike Brown who was a big hitter, played the pass well and was the quarterback back there. Major has done some of those things. "
A major component to that leadership ability comes from Wright's film-study acumen, according to Angelo. Smith said that Chicago defensive backs coach Jon Hoke put Wright through a workout in "the last week" before sitting down the safety in front of a blackboard for an extensive discussion about concepts of play in the secondary.
Hoke reported positive results back to Angelo and Smith.
"What you try to do when you put a guy on the blackboard is just conceptually get a feel for how much he knows; not only about his position, but the secondary as a whole," Angelo explained. "A lot of players know their positions, but they don't understand the concepts of secondary play. Jon [Hoke] was comfortable with him. [Wright is] a willing learner and [Hoke] felt good about the fact that he understands concepts. Physically speaking, he's very gifted. You don't go into the University of Florida and play on a national championship team your first year as a true freshman if you don't have something going for you."
Smith said the decision isn't "in cement or anything like that," but the plan is to start Wright out at free safety, where he'll compete with -- and likely take the job away from -- Steltz, a two-year veteran, who contributed 12 tackles last season. Manning, Steltz and Josh Bullocks appear to be the top three safeties on the current roster.
That order could soon change once Wright arrives at Halas Hall.
"I'm very smart; I communicate a lot on the field," Wright said. "I'm very physical and I'm a person who loves to get around my team and make plays."
Michael Wright covers the Bears for ESPNChicago.com.
MORE COLLEGE FOOTBALL HEADLINES