Wrigley Field readies for football
Updated:
November 15, 2010, 10:08 PM ET
By
Scott Powers
| ESPNChicago.com
EVANSTON, Ill. -- The few times Northwestern sophomore Demetrius Fields has taken the L train into Chicago he's closed his eyes and napped until reaching his destination.
On Saturday, the Dallas, Texas native expects his eyes to remain wide open. Fields and his fellow Wildcats will board the L Saturday morning and depart for the Addison Red Line stop before playing Illinois in the first football game at Wrigley Field since 1970. A sellout crowd of around 40,000 is expected in the inaugural Allstate Wrigleyville Classic.
"I'm one of the most oblivious people," Fields said. "I've been downtown maybe a total of four times since I've been here. Maybe I'll stay awake this time and look at the sights when we're going through the city."
[+] Enlarge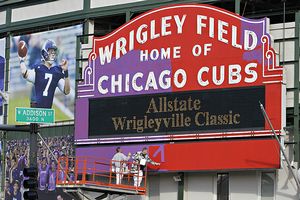 AP Photo/Charles Rex ArbogastPainters cover the trademark red on the Wrigley Field sign with purple for Northwestern on Monday in preparation for the Wildcats' football game against Illinois on Saturday.
In recent years, Wrigley Field has hosted concerts and the NHL staged its Winter Classic in 2009 with the Chicago Blackhawks taking on the Detroit Red Wings. But football has been missing since the Chicago Bears moved out following the 1970 season.
And it's been an even longer absence for college football. DePaul and St. Louis, two schools that no longer offer the sport, clashed in 1938. Illinois and Northwestern last met at Wrigley Field in 1923, 15 years after the Cubs' last World Series championship.
A sight to see for many in the Wrigleyville neighborhood on Monday was the painting of the historic Cubs' marquee sign at Clark and Addison. The sign was transformed from its classic red to Northwestern purple.
Northwestern athletic director Jim Phillips painted the first stroke of purple onto the sign.
"It's incredible," Phillips said. "I was never fortunate to see a Bears game here, but being born and raised in Chicago, I think it's every Chicago kid's dream to see Wrigley Field not only for baseball, but football and the history it had with football.
"To be a part of it, I don't even know if I can describe what it felt like to paint a little bit of the scoreboard. That was kind of neat. That was really a special thing."
The purple marquee was the Cubs' idea.
"We talked about dressing the building up so that Northwestern didn't lose a home game," Cubs president Crane Kenney said. "This is still a home game for them. They want the building to reflect a Northwestern feeling. When we talked about elements being converted to a purple color, the marquee has been different colors over time, so painting it purple temporarily wasn't too difficult."
Media members were given the opportunity to observe the football field on Monday. Two areas of the field were of specific interest.
On the right-field side, the sideline narrows as it approaches the bleachers. At the 5-yard line, there's about five feet between the field and a padded wall of the stands.
The setup is more challenging than the conversion for the NHL game, when a rink was built atop turf and infield.
"I think it was a little harder on the pre-setup with the sod and leveling the field," said Roger Baird, Wrigley Field's head groundskeeper since 1995. "After the hockey game we had a lot of work afterward, which will be the same thing here. We'll have to put the mound back in, put the skin area back, the runner's lines, warning tracks and re-leveling and some re-sodding."
In the end zone, there's even less room out of bounds. In one spot, there's about one foot separating the back of the end zone to a padded brick wall of the bleachers.
"I know both staffs are aware of it," Phillips said. " From the very beginning, the players' safety was paramount. That's what took us the longest time. We had risk managers here; we had civil engineers, safety engineers. We had so many people look at it because nobody wants or wanted to put the student-athlete at harm's way at a riskier type of environment.
"We vetted it through all the experts at both universities and felt everyone was comfortable with the dimensions."
Northwestern coach Pat Fitzgerald acknowledged Monday that the field's dimensions could play a factor in the game.
"I think it'll definitely be an element in the game, but we'll plan accordingly for it," Fitzgerald said.
Fields was unaware of the possible dangers for himself and his co-wide receivers until a reporter mentioned it to him.
"I might need to look at that," Fields said. "I saw one picture, but it was kind of far. I didn't take note of it. "Hopefully, it's not like Arena [Football] where you're running into and over billboard signs. & We're just out there playing football. We trust in each other to not be put in situations where we'll be killed."
Information from the Associated Press was used in this report. Scott Powers covers high school and college sports for ESPNChicago.com and can be reached at spowers@espnchicago.com.
Reporter
Scott Powers is a general reporter for ESPNChicago.com. He is an award-winning journalist and has been reporting on preps, colleges and pros for publications throughout the Midwest since 1997.
MORE COLLEGE FOOTBALL HEADLINES