Hossa on Slovakia Olympic team
Updated:
December 29, 2009, 11:46 PM ET
By
Jesse Rogers
| ESPNChicago.com
At least two Chicago Blackhawks will be playing in the upcoming Winter Olympics.
Marian Hossa and Tomas Kopecky have been named to Slovakia's 23-man roster for the 2010 Games in Vancouver. Slovakia will open the tournament against the Czech Republic on Feb. 17.
ESPNChicago.com Blackhawks Blog

The latest Hawks news and notes from ESPN Chicago. Blog
Must-see: Hawks playoff gallery

Others selected for the team: goalies Peter Budaj of Colorado and Jaroslav Halak of Montreal; defensemen Zdeno Chara of Boston; Milan Jurcina of Columbus, Andrej Meszaros of Tampa Bay, Andrej Sekera of Buffalo and Lubomir Visnovsky of Edmonton; and forwards Marian Gaborik of the New York Rangers; Pavol Demitra of Vancouver, Michal Handzus of Los Angeles and Tomas Kopecky of Chicago.
This will be the third Olympic experience of Marian Hossa's career. The 30-year-old forward registered six points (4 goals) in two games for Slovakia in Salt Lake City in 2002, and 10 points (5 goals) in six contests during the 2006 Winter Olympics in Turin, Italy.
This will be Kopecky's first opportunity to represent his country in international play. The 27-year-old forward has tallied five points in 36 regular-season games in his first season with the Blackhawks. Kopecky had career-highs in goals, assists, and points last season with the Detroit Red Wings, and he won the Stanley Cup with Detroit in 2008. This season, Kopecky's production and play has dipped, but he still made the team after a strong final week before the roster was announced.
Jesse Rogers covers the Blackhawks for ESPNChicago.com. Information from The Associated Press was used in this report.
Chicago Cubs beat reporter
Jesse joined ESPN Chicago in September 2009 and covers the Chicago Cubs for ESPNChicago.com and ESPN Radio 1000.
MEN'S OLYMPIC HOCKEY ROSTERS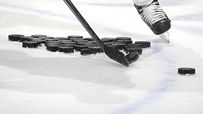 A look at the men's rosters for the top countries competing in the 2010 Olympic hockey tournament in Vancouver:
ROSTERS