Commentary
Brian Urlacher bounces back
After spending 2009 season injured and grumpy, Bears LB is rejuvenated
LAKE FOREST, Ill. -- Chicago Bears middle linebacker Brian Urlacher eyed the target, cocked his right arm and fired the football with the ferocity of a major league closer.
He'd already gleefully watched as the scoreboard on this video game at Dave & Buster's lit up with each successful pass he completed to imaginary receivers. Now Urlacher was taking aim at the establishment's all-time record. Every time he grabbed a ball and chucked it at the machine, his companions for the night -- younger brother Casey and longtime friend Bryce Karger -- kept thinking about how much had changed in the star defender's life. A year ago at this time, Urlacher was sullen and moody. He was miffed by how poorly his team played while he sat sidelined with a wrist injury so severe that doctors later deemed it career-threatening. Instead of filling the room with his vibrant enthusiasm, as he did two weeks ago, that Brian Urlacher would have drained the life out of the party.
Green Bay Packers
-- the lesson was that it truly hurt to be useless when you're the face of a franchise. He essentially spent all of last season as a glorified, grumpy cheerleader. Yet there was one unforeseeable reward from that year: It gave Urlacher more reason than ever to prove what made him great in the first place. In the process, he has helped the Bears to a 11-4 record, an NFC North title and hopes of making the second Super Bowl appearance of his career. According to the Bears' statistics, Urlacher leads the team this season in tackles (141), tackles for losses (11), pass breakups (13) and fumble recoveries (3). Even that is not completely satisfying. "I think I could be playing better at times but winning definitely helps," said Urlacher, 32. "When you're coming back from injury, people tend to forget about you. I know I do it all the time. I'll see somebody who's been gone for a year and I'll think, 'What happened to that guy?' I didn't want that to happen to me."
'Fewer false steps' these days
It hasn't been hard to locate Urlacher this season, his 11th. He's usually in a familiar spot, crashing into the action, making the kind of head-turning plays that help energize a Bears defense that has rediscovered its groove.
As
New England Patriots
coach Bill Belichick said, "He's definitely a tough matchup guy for any offense. It's a lot different throwing around a 6-foot-4 inside linebacker compared to a lot of guys who are shorter. ... He gets to a few balls most guys won't get to." Urlacher basically has played well enough to be a shoo-in for his seventh Pro Bowl nomination. Indeed, Urlacher was selected to the Pro Bowl on Tuesday. He's been a star since entering the league as the ninth overall selection of the 2000 draft. Beyond numbers, there is an undeniable maturity in his game as well.
Tommie Harris
said, "[Urlacher] loves to compete. If you said you could stand up faster than him, he would want to put money on it." That desire also showed up while Urlacher was sitting out last fall. During one contest, Harris heard Urlacher correctly predicting which plays the opposing offense was about to run before the ball was snapped. Aside from not being on the field, what hurt Urlacher more than anything was being unable to help his team, which finished 7-9 and out of the playoffs without him. "Brian is like a lot of great athletes in that he's a very proud person," Karger said. "That pride level in him is so big that he thinks there's nothing he can't come back from. He cares a lot that his teammates have always known they can depend on him to be there for them." Added Urlacher: "The main thing for me was that I missed my teammates. I'd come around for meetings but I didn't feel like I was part of the team. I think [injured outside linebacker]
Hunter Hillenmeyer
is going through the same thing right now. I said hello to him the other day and then I wondered if he felt what I did last year. You just feel like you're in the way when you're in that position."
Wrist injury still a mystery
Urlacher still has a hard time understanding exactly what caused his injury or even how it became so severe. He was merely charging upfield to tackle Packers running back Ryan Grant in that 2009 season opener. He didn't land awkwardly. Yet when Urlacher emerged from the pile, he felt a searing pain in his right wrist.
As he wiggled it gently while returning to the huddle, he looked at outside linebacker
Lance Briggs
and said, "I think I just broke my wrist."
Israel Idonije
said. "You had to empathize with him because you do fade into the background when you're hurt."
Smith pulled Urlacher aside a few times to offer encouragement. On one occasion, the coach told the player that this would all be over in time, that he'd have ample opportunity to move on once the next season arrived.
But there were still moments when Urlacher couldn't contain his emotions. One such occasion occurred last December, when Yahoo Sports ran a story that featured Urlacher watching a Bears-Vikings game and questioning the direction of the team with new quarterback
Jay Cutler
under center. Those comments became even more controversial since former Bears wide receiver
Bobby Wade
had said Urlacher had referred to Cutler as "a p----" earlier in the offseason. Though Cutler later dismissed the issue, Urlacher still claims he was venting about the Bears' losing instead of ripping the quarterback. "When I watch games and we're losing, I get pissed," Urlacher said. "I should've been smart enough to not make those comments with a reporter in the room. But I've also said much worse things in private. It was just a situation where I got frustrated." That frustration didn't subside until Urlacher finally returned to the field for offseason workouts. Suddenly, the same guy who rarely relished such sessions couldn't wait to get going. He was smiling constantly and pushing teammates to raise their energy levels. When Briggs walked into a meeting one day and admitted that he was having a hard time getting through those mundane sessions, Urlacher said he was happy to just be back in that position again. That optimism continued throughout the offseason as Urlacher saw what the Bears were doing to improve the team. He liked the addition of offensive coordinator Mike Martz. He was even more thrilled by the free-agent signing of Pro Bowl defensive end
Julius Peppers
. Urlacher also had no problem resuming his familiar role as team caretaker, even when it meant exchanging some verbal jabs with Bears icon Gale Sayers, Hall of Fame running back, in May. Urlacher was most upset that Sayers had questioned how Chicago would play this season while dealing with issues such as Urlacher's health and Smith's job stability. Urlacher responded by saying Sayers didn't have to right to criticize them since he'd never won a playoff game in his day.
Olin Kreutz
: "The guy is a genetic freak. People may say he's losing a step, but he was the fastest middle linebacker in the league to begin with. He's still running guys down." Urlacher also notched his name into Bears history Nov. 19 when he moved past Mike Singletary to become the team's all-time leader in tackles (he now has 1,551 career stops). Though Urlacher recently joked about the record -- "Lance [Briggs] will probably pass me in a few years, but I'll enjoy it while I have it" -- he does realize that time is running out. This will be Chicago's first trip to the postseason since 2006, when they won the NFC championship but lost to the
Indianapolis Colts
in Super Bowl XLI. Urlacher realizes few middle linebackers remain productive well into their 30's. So he understands the importance of enjoying his time in the game these days.
He comes bearing gifts
Urlacher actually was in an excitable mood one recent Friday afternoon as he sat at the team facility and talked about his plans for Christmas. Since his kids were going to be with him that night to celebrate the holiday, Urlacher giddily discussed some of the numerous gifts he'd purchased for them.
Among the most interesting was a skateboard for 5-year-old Riley. "It might sound strange to get a gift like that for somebody so young, but she's good," Urlacher said. "She can go to the park and do all kinds of things on those ramps." As Urlacher continued talking, it was easy to see the pride in his eyes. He was talking about one of his children throwing her body around and showing people that just about anything is possible with the right attitude. That happens to be the same way Riley's old man made a name for himself in the league. It's also why he's happier than ever to still have a chance to play this game. "I'll be honest, you do think about retiring at times because people start saying you're old in your 30's," Urlacher said. "But I still feel good. And as long as I can contribute, I'll be out there."
Senior writer Jeffri Chadiha covers the NFL for ESPN.com.
NFL WEEK 17 PREVIEW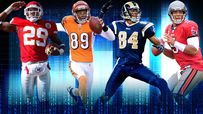 POWER RANKINGS
PICKS
HOT READ: BRIAN URLACHER
FINAL WORD
PRO BOWL ANALYSIS
COMMENTARY/BLOG POSTS
FANTASY FOOTBALL
NFL BLOG NETWORK
FOLLOW US ON TWITTER
Fathead Julius Peppers Wall Graphic Shop »