Commentary
The freaky free-agency season
The embattled Bears front office will have plenty of options in the coming weeks
Updated:
March 4, 2010, 2:31 PM ET
By
Jon Greenberg
| ESPNChicago.com
If you do a Boolean search for "Julius Peppers + freak," you get about 21,000 results. When you're a 6-foot-7, 283-pound pass-rushing end who has 81 sacks since 2002 and played power forward for a Final Four team, the "Freak" tag certainly fits.
But is a freakishly talented Peppers worth freaky money at 30? Like $40 million guaranteed? Heck, is he worth $25 million guaranteed, a low to conservative estimate of what he's bound to get, perhaps as early as this weekend?
I'm not saying the Bears shouldn't sign Peppers with an uncapped year and an unusual free-agency period starting at 11:01 p.m. CT on Thursday. But I could see it being a total waste of money.
[+] Enlarge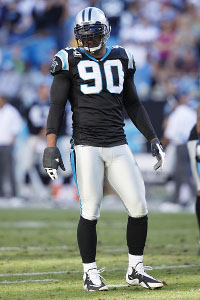 Joe Robbins/Getty ImagesThe Bears are reportedly among the teams that will make a push for Julius Peppers when the free-agent season begins.
Who couldn't? I'm no genius. Peppers had 2½ sacks in 2007 and 25 combined the past two years. He could go all-out, disregarding the clucking pessimists, and still have to fight double-teams every down.
He made a small fortune last year and will certainly demand a ton of guaranteed money, especially if the year is uncapped and a couple hundred free agents are restricted.
Then again, what are the odds the Bears are willing to throw a Brinks truck at Peppers?
Not because they're cheap. The Bears do spend money, contrary to long-held opinions. Last year, they had the fifth-highest payroll at $120,672,112, but the only guy who made more than $10 million in total salary was Jay Cutler, who had a base salary near $15 million and got a $7 million signing bonus when he signed that well-deserved deal just before the season fell off the cliff. Seven players made $5 million or more, with another eight making more than $2 million.
The good news here is the Bears aren't drastically overpaying anyone, aside from Cutler, so they can afford to fill a few positions of need, most notably at safety. The bad news for fans of Peppers is that the Bears aren't likely to shake up their salary tree by throwing big money at a 30-year-old who could be on the downswing of his career.
Then again, this isn't a normal offseason. Unless a 12th-hour deal gets done to extend the collective bargaining agreement (the NFLPA broached the idea of a one-year extension with a static salary cap, but it was rebuffed Tuesday) or a miracle happens and the two sides sign a new one, this will be an uncapped year. Any team thinking Super Bowl or bust can load up on talent if they're willing to roll the dice. Sounds great, right?
Not to the 200-plus surly football players who would have been unrestricted free agents after four years of service, but will probably be restricted free agents instead.
According to a story in the Philadelphia Daily News, none of the 55 restricted free agents last year changed teams because of myriad complications in the process, from draft pick penalties and the teams' right to retain their players.
"It's going to be more restrictive than in past years," Angelo said of free agency at the combine in Indianapolis. "It's a little harder to predict."
If it were up to me, I'd pass on Peppers and his promise, make a run at Green Bay's Aaron Kampman, a cheaper alternative at defensive end, and put the full-court press on playmaking Cardinals safety Antrel Rolle, New Orleans Saints veteran Darren Sharper or maybe Pittsburgh Steelers safety Ryan Clark to lay some wood behind him. The safety position underperformed and Lovie Smith said the team needs to invest more there than a late-round pick.
And of course, I'd find one or two restricted free agent "bargains" and throw some big money at them. There's bound to be some movement in that regard this year, given teams' ability to ignore the salary cap. A good front office (and I'm not saying the Bears have one) would know where to poke and prod. Maybe ends like Matt Roth and Frostee Rucker would be available for a decent upcharge.
Angelo also said you might see more trades this offseason, with unhappy RFAs threatening to sit out training camp. I wish the NFL had a more active trade market like the other sports.
"I expect more players to want to be traded," he said. "I'm hearing more of that from my peers."
[+] Enlarge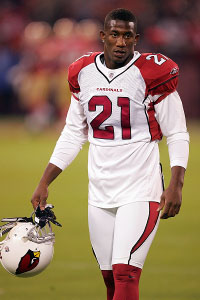 Ezra Shaw/Getty ImagesCardinals safety Antrel Rolle would beef up the Bears' heavily scrutinized secondary.
If the Bears crap out in free agency, they still have the draft. Angelo said he likes the depth at defensive end this year. Does he try to grab an outside linebacker or a promising pass-rusher in the third round?
Without picks in the first two rounds for the second straight year, I would imagine the Bears go with the best talent available between end, defensive back, linebacker and running back.
Angelo told reporters he wouldn't try to trade up. Not that he would tell us if he were harboring that notion. But he doesn't have much ammunition, with a roster of semi-desirables and a dearth of draft picks. He's also not into sending future picks out every season, after shooting the moon to get Cutler last year.
"I don't like doing that," he said in Indianapolis. "We're not in the business of doing that. We did that last year, for obvious reasons. It's the quarterback position. The value of the position speaks for itself. But that's not the way we want to build. I don't see that as part of our philosophy."
Bears fans were ecstatic to get Cutler, damn the consequences. Because Cutler represented something more than a flesh and blood quarterback. He represented a new kind of hope and a degree of normalcy. After years of retreads, journeymen and failures, the Bears had a real quarterback. The Bears haven't had similar problems with players of Peppers' ilk, but a big-name player is again serving as kind of a tonic for the sick state of a team in decline. Would Peppers make it all go away? No, probably not. I guess I'm against Peppers because he represents to me a quick fix. And even in the NFL, the land of the one-year turnarounds, I just don't believe in them.
I always feel a bit strange about these types of stories -- you know, the big-mouth writer telling the professionals what to do. If I'm wrong and the Bears are right, well, that's why I'm behind a keyboard or a microphone. If I'm right (theoretically, of course) and the Bears are wrong, well, who wins then?
Angelo and his staff don't listen to fans, writers, broadcasters or professional prognosticators. They are the ones with their jobs on the line, the ones with the inside info. And given the aging, ever-unproductive state of the Bears' roster and their lack of draft picks, those jobs are even more on the line when free agency kicks off.
That's why I wonder if they're going to shell out the money to sign Peppers and what that says about their philosophy this season. Do they go for the big splash, hoping Peppers inspires his teammates with his "freaky" athleticism, plays up to the hype and jump-starts a veteran defense that should have a healthy Brian Urlacher patrolling the middle?
Maybe they go for smaller moves, loading up on better defensive backs and cheaper defensive ends. Do they think that 2009 nonentities Jarron Gilbert and Henry Melton will be able to contribute, either inside or outside? Maybe Mark Anderson, a restricted free agent himself, will have a renaissance season. Heck, maybe they re-sign unrestricted free agent Adewale Ogunleye, though I'd have to imagine he could earn more on the open market. After watching film, Angelo and Smith seem confident that Tommie Harris will have a productive 2010, which would make life easier on the outside pass-rushers.
"We'll determine who the players are, and how aggressive we're going to be," Angelo said of the positions the Bears want to create competition at. "I think we've done that every year we've been here."
Last year, of course, the Bears brought in two new Cutler-guarding offensive linemen, Frank Omiyale and Orlando Pace, for a little more than $12 million. They brought in Pisa Tinoisamoa to create competition at linebacker. During the season, they traded for Gaines Adams, who died tragically this winter.
Last year wasn't a banner year for Bears free agents. But that's all over now. It's a whole new world, uncapped but restricted, full of possibility and pitfalls.
Columnist, ESPNChicago.com
Jon Greenberg is a columnist for ESPNChicago.com. He has lived and worked in Chicago since 2003, and is a graduate of Ohio University and the University of Chicago.