Commentary
Everyone's all in
On the Bears' historic day, Julius Peppers silenced his critics -- for now
Friday was a good day for Jerry Angelo and Lovie Smith. A very good day. Not a single play was run but they won, scoring big points in the game of "Please let us keep our jobs past next season."

"We weren't looking to make a splash," said Angelo. "We're looking to win."

But if spending more than $100 million of the franchise's money in one day isn't a splash, then we all should want to party with that cowboy.

The truth is, the Bears probably overspent for 30-year-old defensive end Julius Peppers, who will get a guaranteed $42 million in a six-year, $91.5 million deal. Just for fun, they also signed tight end Brandon Manumaleuna to a five-year deal worth $17 million with $6 million guaranteed, and running back Chester Taylor to a four-year, $12.5 million deal with $7 million guaranteed.

[+] Enlarge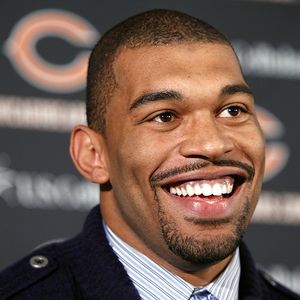 AP Photo/Jim PrischingJulius Peppers told the media that he was genuniely touched that Lovie Smith came to North Carolina to recruit him.

And who's kidding whom? Friday's bonanza was born as much of desperation as football savvy.

That said, do any Bears fans really care today what motivated Angelo & Co. to get the job done? Do they care if future salary caps are thrown out of whack? Or even if Peppers can muster only a decent year or two before settling into a comfort zone of five or six sacks a year?

If you're a Bears fan, you'd still rather have Peppers in Chicago Friday than see him in a Philadelphia Eagles jersey next season. Without a first- or second-round draft pick at present, "long term" is a phrase that is entirely irrelevant to the Bears.

Besides, it isn't our money, so why sweat it? The Bears' first order of business was getting a pass-rusher and Peppers, a 6-foot-7, approximately 280-pound five-time Pro Bowler also named to the NFL's All-Decade team, is freakishly athletic with game-changing ability and was the best player available in free agency, period.

So Smith boarded a private plane, flew to North Carolina and sat in the lobby of the Wilson Air Center adjacent to the Charlotte Airport (we won't talk about the possibility of any earlier discussions between the Bears and Peppers' people because that would've been against the rules).

"I was caught off-guard by that," Peppers said of Smith's recruiting trip. "My agent called me at midnight and told me that Lovie was at the airport. Actually, I was sleeping because I haven't been sleeping at all this week. I've been a little anxious to find out what was going to happen.

"I had no plans on coming, I just went by to say, 'Hello,' but I met him, it felt right, it felt good, and that's when I made a decision to come [visit Chicago]."

Peppers was genuinely moved by Smith's gesture -- "I wish [Smith] had a twin so one of them could have come and got me, too," cracked Taylor -- and said he had been "observing [Smith] from afar."

"I always liked his demeanor, how his teams played," said Peppers. "They always played hard, they always give it their all."

Peppers also got positive reviews on Smith from Carolina teammates and former Bears Muhsin Muhammad, Chris Harris and Dante Wesley, so there is no diminishing Smith's influence. As for his and Angelo's judgment, we'll obviously have to see.

The knock on Peppers has been that he took plays, games and, some sarcastically suggest, seasons off in the past. Disgruntled Carolina Panthers fans soured on him for good after his 2.5 sacks in 2007, the same season he turned down a deal that would have made him the highest-paid defensive player in the league, saying he wasn't deserving of it.

The same skeptics quickly theorized that Peppers was simply waiting for Albert Haynesworth to sign his free-agent deal last year (seven years for $100 million with the Redskins) and drive up the market.

And when Peppers had officially played his last game for Charlotte, Tommy Tomlinson of the Charlotte Observer wrote: "The Panthers broke up with Julius Peppers. I say 'broke up' because Peppers said the Panthers' silence toward him was a 'turnoff.' Maybe he thought they were dating. That would explain all those games when he appeared to be playing in heels."

And then there was this from the Observer's Tom Sorensen, writing about the national attention Peppers was receiving as free agency approached: "When Julius appears on the screen, he is tackling a back or stripping the ball or intercepting a pass. Where's the footage with which we're all familiar, the footage of Julius blocked single-handedly by a plump tackle who is so bored he occasionally checks his watch?"

Peppers naturally takes exception to the characterization and is refreshingly candid with his response.

"That one thing that people say about me taking plays off, I feel like somebody said that when I was playing in college and it has followed me throughout my career," he said. "Because I feel like if we had the film and you wanted to pick one person who was taking a play off on a particular play, you could pick anybody. Not to be like that guy saying, 'I'm not the only one that's doing it,' but I'm the only one that people are saying that about.

[+] Enlarge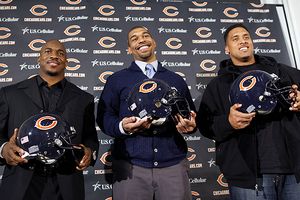 AP Photo/Jim PrischingBears introduced recently signed free agents, from left, running back Chester Taylor, defensive end Julius Peppers, and tight end Brandon Manumaleuna during an news conference at Halas Hall on Friday.

"And, you know, sometimes when you're on the field, you get tired. So if I'm not playing as hard on play No. 66 as I was on play No. 1, then come on. I'm self-motivated, but I hear those things and if that's something I have to try to work on and correct, I will. But I don't feel like it's a problem. I never felt like my effort was a problem."

Mike Rucker, another former Charlotte defensive lineman, who played with Hall of Famer Reggie White at the end of his career as well as standout defensive linemen Chuck Smith and Eric Swann, said, "You can put them in a pot and shake them all up and you've got Julius Peppers. The speed of Chuck Smith, the bigness of Reggie and ability of Swannie, Julius is all of them in one."

As for Pepper's intensity, said Rucker, "If you think about Muhammad Ali, when he was boxing, he'd take rounds off but it wasn't like he was getting beat up. There was a strategy to it, a rope-a-dope.

"Even Hall of Famers have a down year, years they'd like to take back. It's funny when people take one year out of eight and make a big deal out of it and say he's in a decline. It all goes back to, 'Can the dude still produce?' "

Even with the 2.5-sack year, Peppers is averaging a little more than 10 sacks per year.

"Five more years at that rate, and even with the bad year, he's in the Hall of Fame," said Brentson Buckner, the former Charlotte defensive tackle who lined up next to Peppers for five years.

Buckner, who calls Peppers "a victim of his own talent," meaning he faces unrealistic expectations, said love of the game should not be mistaken for passion.

"He's part of a generation that didn't grow up playing football out on the street, pretending to be whoever the best running back or defensive lineman was," he said. "Guys nowadays are so gifted, you don't have to love what you do if you're good enough get the job done."

That said, when Peppers was criticized for a lack of intensity in October by team captain Jon Beason, Buckner said Peppers took it to heart.

"Jon talked to him man-to-man and said 'What you're doing on film looks a lot different than [Vikings' defensive end] Jared Allen,' " Buckner said. "That was a wake-up call [for Peppers] and after that you saw a totally different person. He took it the right way and that's how you can tell it's part of a maturation process with him."

Again, Peppers, who was also attracted to the Bears by the tradition of the franchise and reputation of the defense, sounded sincere.

"I love the game just as much as anybody else," he said. "But at the same time, I also understand that life is more than football, too. People might get that misconstrued sometimes, too, that I don't care because I'm not die-hard football, eat, sleep and drink it all day and all night.

"You shouldn't be that way, anyway. You need a certain type of balance in life and I know where to put football in its proper place. But my love for the game, I have it just like everybody else. If you don't, you're going to get yourself hurt out there."

Or worse, get your bosses fired.
Columnist, ESPNChicago.com

Melissa Isaacson is a columnist for espnW.com, ESPN Chicago and ESPN.com. The award-winning writer has covered Chicago sports for most of her 31-year career, including at the Chicago Tribune before joining ESPN in 2009. Isaacson has also covered tennis since 1986.
Fathead Julius Peppers Wall Graphic Shop »