Bears' Smith not worrying about job
Updated:
February 26, 2010, 7:36 PM ET
By
Jon Greenberg
| ESPNChicago.com
INDIANAPOLIS -- Chicago Bears coach Lovie Smith said he's not worried about his job security, but he understands why the discussion surfaces.
"Every day I've been here on job, I felt like I needed to get the job done then," Smith said Friday from the NFL combine. "Nothing has changed.
ESPNChicago.com Bears blog

Get the latest from ESPN Chicago.
Bears blog »
50 Greatest Bears

"The Bears have been great to me. We haven't made the playoffs in three years; normally if you haven't done that, there's going to be some rumblings going on. Ted Phillips and the McCaskey family have been nothing but supportive to me. My glass is always half full. I'm excited about the opportunity I have. If we do well this year, everything will take care of itself. It's as simple as that."
Smith took questions on a variety of other subjects:
On his ill-fated stint as defensive coordinator: "When you say it didn't work very well, I thought it worked fairly well. We just didn't get some of the results we wanted.
"My plan wasn't always to stay in that position. When I moved into that role, I was looking at what I had on my staff at the time and that was what I needed to do."
On pursuing Julius Peppers: "Is he available? If there's a player available, we'll look at all them."
On Jay Cutler: "Jay did a lot of good things. Obviously we need to take care of some turnovers, we had too many of those. But he threw a lot of touchdown passes. I like the way Jay finished the season. The last couple games were the way I saw Jay and the crew playing. We'll pick up from there."
On going after a veteran running back in free agency: "We're trying to improve our ballclub at all positions. This past season we weren't as pleased as we'd like to be with our running back situation. So we'll look at everyone available."
On his young wide receivers: "Even though we're young, we think it's the deepest position on our ballclub, and we think they'll take off [in Mike Martz's system]. Even a guy like Juaquin Iglesias who didn't play much. I saw a lot of good things he did in practice against our [first-team] defense last year."
On the relationship between Martz and Cutler: "Mike will be fine. All coaches have strong personalities, some just come out more. Mike got a chance to sit down with Jay. I think Jay will like Mike's offensive mind.
"All quarterbacks like working with guys who know more football than they do and can teach them a lot. Jay got a chance to talk to Kurt Warner and guys that have played in that system, and he's excited about it."
[+] Enlarge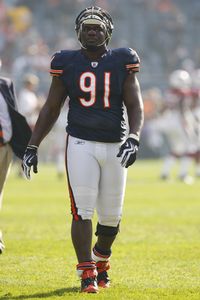 AP Photo/Nam Y. HuhLovie Smith said Tommie Harris still can be an impact player, and he needs to be one this season.
On Tommie Harris needing to step up: "That's how it was, some ups and downs. After having the chance to dissect video, which we have been doing, Tommie had a lot of flash plays, a lot of special plays.
"I'll say five more sacks where he didn't wrap the guy up. He can still be an impact player, he will be an impact player. Our defense is counting on him do that. When you go through some injuries, sometimes people say a guy can't do it anymore. But he can still do it. And he needs to do it this year."
On Orlando Pace possibly retiring: All those questions will take care of themselves. Our plan coming in was that he would play a couple years. We'll let all that play out in the coming weeks, I feel like maybe sooner than later."
On where Frank Omiyale will play: "It's safe to say we'll lock Frank in one position. He can play left guard and right tackle. It's safe to say Frank will be at one of those positions."
On Greg Olsen's role in Martz's offense: I've heard in this offense that tight ends only block. That's not the case. In our offense we can get the ball to all of our skill guys who have the skill level to catch the ball. Greg has that. I think Greg will be more than pleased with his role in our offense. There are things for everybody to improve on. I think Greg knows he needs to improve on some of his blocking. He'll do that."
And finally, why do the Bears have so many Vanderbilt players? "It works out that way sometimes. They do a great job there. [Vanderbilt players] are smart guys who know how important football is. I don't know the reason why, but we'll continue to keep making stops there every year."
Columnist, ESPNChicago.com
Jon Greenberg is a columnist for ESPNChicago.com. He has lived and worked in Chicago since 2003, and is a graduate of Ohio University and the University of Chicago.
Nike Men's Home Game Jersey Chicago Bears Julius Peppers #90 - Extended Sizes Shop »