Mike Martz takes blame for goal-line play
LAKE FOREST, Ill. -- Bears coach Lovie Smith took the heat for his decision Sunday against the Lions to try for a touchdown on fourth-and-1 from the Lions' 1-yard line instead of calling for a field goal with his team down a point in the fourth quarter.
Offensive coordinator Mike Martz, meanwhile, placed blame on himself a day later for improperly preparing the unit for goal line situations.
ESPNChicago.com Bears blog

Get the latest from ESPN Chicago.
Bears blog »
50 Greatest Bears

"We've been going through all that [installation on offense], and our goal-line stuff has not gotten the attention it needs. That's just a coaching deal," Martz said. "I just don't think we did a good enough job of preparing for what they were going to see, and they were a little different than what we thought. We've got to spend a little more time with them on that, too. So I'll wear that one. That's really on me."
Asked if somehow his expansive playbook became limited on the goal line, Martz said flatly, "No."
"We've just got to execute," he said. "We did not spend the time we needed to spend on it, getting all these other things ready. I felt comfortable with where we were with [the offense], but we've just got to get all the nuances of the goal line down. We can do a better job in that. This is me. This was all on me. I blame myself."
Against the Lions, the Bears failed to convert on four scoring opportunities from the red zone, and finished 0 for 2 in goal-to-go situations.
Michael C. Wright covers the Bears for ESPNChicago.com and ESPN 1000.
ESPN Chicago Bears reporter
Joined ESPN in 2010
Previously covered Jaguars and Redskins
Played college football at West Texas A&M
2010 WEEK 2: BEARS AT COWBOYS
Bears Team Center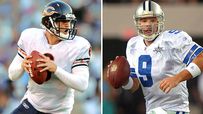 Follow ESPNChicago.com's coverage

of the Bears on Twitter
Get ready for Week 2 by following the action on ESPNChicago.com's
Bears Blog
.
NEWS/COMMENTARY
NFL BLOG NETWORK
1985 BEARS TURN 25 COVERAGE