Commentary
He knows where they've been
Comparing White Sox 2005 slump to current Hawks skid
Updated:
April 1, 2010, 10:41 AM ET
By
Jon Greenberg
| ESPNChicago.com
GLENDALE, Ariz. -- Ozzie Guillen has some words of advice for the Chicago Blackhawks, and no, they don't include any bleeps.
"Don't panic," he said.
That goes for you too, Blackhawks fans.
[+] Enlarge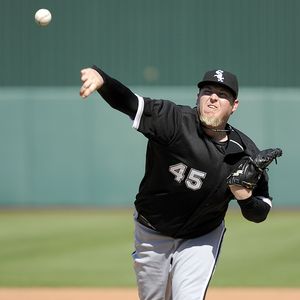 Ron Vesely/Getty ImagesCloser Bobby Jenks, a mid-2005 call-up, was one of the sparks for the 2005 White Sox.
The World Series winner is really just a self-proclaimed "jumping on the bandwagon fan" who hasn't had much time to parse the Blackhawks' post-Olympics malaise. But anyone can see the correlation between the Hawks' funk and the 2005 White Sox's late-summer swoon.
"When we sucked so bad for that month and almost blew it?" closer Bobby Jenks asked, forcing a smile.
Yup, that's the parallel.
Jenks then got serious. A midseason addition from the minors in 2005, he was one of the sparks that helped the team finish strong and clean house in the playoffs.
"We never gave up," he said. "That's the one thing I remember very well, still coming into the clubhouse every day, all the guys having the same attitudes before and after the games, even during that stretch when we were losing. Guys were still putting music on, still just enjoying the game, because we knew there was a confidence, almost a little swagger behind that team."
Some of that swagger may have been a put-on, but it fooled the rookie reliever. So it worked.
"It wasn't easy," first baseman Paul Konerko said. "There was definitely a sinking, draining feeling every day, to see the lead just keep disappearing. But once we got into the playoffs, I knew we were the most dangerous team, because now we had all the weight in the world off our shoulders. It's a little different, because they know they're in, so they can still get in if they don't play better."
Guillen never hit the panic button when he managed the White Sox to the World Series championship after a mediocre August and early September, and a hard-charging Indians club nearly knocked them out of the playoffs. And he should get some credit for his team's fight to make the postseason during a can't-lose run in 2008. If Guillen were asked to give a pep talk to the team, it would be largely unprintable. But here's a G-rated version:
"You're going to go through tough times in the season, early, middle or late," he said, sitting in his golf cart at the team's spring training complex Wednesday morning. "Believe in yourself, believe in what you do and believe you're there for a reason."
As the Hawks scramble for answers while trying to stay positive, a few wins -- even one big win -- could shift the momentum dramatically.
[+] Enlarge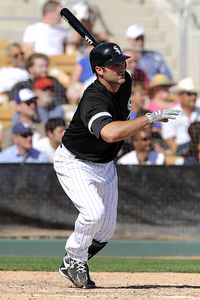 Ron Vesely/MLB Photos via Getty ImagesPaul Konerko, like many of the members of the 2005 Chicago White Sox, knows what the Hawks are going through of late.
"How many games do they have left?" Konerko said. "I'm guessing if they have a couple good games, they'll finish up in peak. I'm a hockey fan, so I know there are teams that fired their coach with a month or two months to go and go on to win the Cup. It's all about peaking at that right moment."
The White Sox saw the abyss and survived after losing most of a 15-game divisional lead in August. They went 12-16 in August, and their lead over the Indians dwindled to 1½ games by Sept. 20. But they survived, and nine days later clinched the division. The rest is well-documented history, as the team stampeded through the playoffs.
"Actually, I'm glad, looking back on it, that they had that run," A.J. Pierzynski said. "Because it made us make sure everything was tightened up before we got to the playoffs. Mentally, it helped us get back, because we had such a big lead for a long time."
The Blackhawks (99 points) were 41-15-5 before the Olympic break in mid-February. Since play resumed, they are 6-7-2, and have snapped their three-game losing streak by beating the Minnesota Wild 4-0 on Wednesday.
Before the break, they were fighting for home-ice advantage with the Sharks. Now they're trying to keep the second seed and hold off their version of the '05 Indians, the streaking Red Wings. Detroit was 17 points back after beating Chicago on March 7. Now it's just six points back. Detroit has won six straight and has six to go, including the season finale in Chicago on April 11. Before Wednesday, Chicago had seven games left, to answer Konerko, and Nashville is actually a point ahead of Detroit with 94.
Goaltending has been a sore subject all year, much like closing was for the 2005 White Sox. Cristobal Huet is 2-3 and Antti Niemi is 3-3-2, giving up a combined 36 goals on 228 shot attempts. Huet is giving up 2.5 goals a game and Niemi 2.31. And unlike the '05 White Sox, there is no Jenks on the horizon to save the day. AHL backup Corey Crawford is 0-1.
Injuries -- mainly defenseman Brian Campbell, who was knocked out by Alex Ovechkin in a loss to Washington and is likely out for the season with a fractured clavicle and ribs -- have sapped a defense that has been pilloried, and the forwards have been guilty of sloppy passing and lackluster puck possessions. The four Blackhawks who played in the gold medal game were minus-22 since the Olympics.
"When you're not playing good, all that negative stuff comes out," Guillen said. "That same stuff happens when you're winning, but when you're winning, people cover that stuff up. But when you're losing, people say they don't have this, they don't have that, they don't have experience, they're a bunch of kids. But that's the same kids who had experience when they were winning. All of a sudden now they don't have experience. Don't listen to what people say. Make sure you stick together."
Konerko, the real-deal hockey fan, said he's rooting for his hometown Phoenix Coyotes, the Los Angeles Kings (he has a friend who plays for them) and the Blackhawks. Jenks and Pierzynski are rooting for the Hawks, but they're not devoted fans or anything.
Guillen said the Blackhawks have charmed him and turned the Venezuelan manager into a hockey fan.
"I'll be rooting for them," he said. "I'm not going to say I'm the biggest Blackhawk fan, but I'm one of those Chicago guys rooting for them."
The Blackhawks surely appreciate the support, but what they need are wins.
Jon Greenberg is a columnist for ESPNChicago.com
Columnist, ESPNChicago.com
Jon Greenberg is a columnist for ESPNChicago.com. He has lived and worked in Chicago since 2003, and is a graduate of Ohio University and the University of Chicago.