Commentary
On the brink, Hawks deliver best
Threat of elimination rekindled good old days at United Center -- at least for one night
Updated:
April 20, 2011, 2:04 AM ET
By
Jon Greenberg
| ESPNChicago.com
CHICAGO -- For one night at least, the old magic was back at the United Center.
"Dah dah dah dah ..." you get the picture.
Whether it's a Halley's Comet-like event, like fans taking pictures of a famous media member in the United Center press box, will be up to the Chicago Blackhawks and the collective will of the Vancouver Canucks.
But for one night, with elimination and tee times on the horizon, or in Jonathan Toews' case, hardcore weightlifting in the basement to the strains of Ratt, the Blackhawks of yesteryear showed up.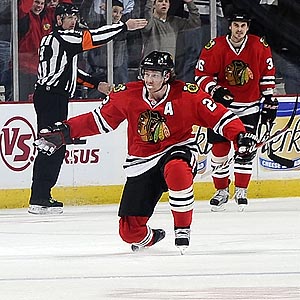 Bill Smith/NHLI/Getty ImagesDuncan Keith scored during the Blackhawks' four-goal second period against the Canucks on Tuesday.
The fans rejoiced, and the Blackhawks skated much lighter with a considerable weight lifted off their tired shoulders. Each goal produced a celebration, and not just in the stands.
Behind a wildly unexpected, and possibly inspirational performance by center Dave Bolland, who was activated for the first time since March 9 when he left the game with a concussion, the Blackhawks avoided a desultory first-round sweep with a punishing 7-2 victory over the Canucks.
And here I thought the best part of the game would be that Mumford and Sons video montage on the jumbotron and the possibility of a few John Scott haymakers.
Instead I got to watch a passionate team defend its home ice and give the paying customers a show they can take with them into the offseason.
Six consecutive goals, a bunch of fights, and the chance to boo Roberto Luongo off the ice? John McDonough and Jay Blunk can't market that kind of entertainment.
And if you haven't seen it, check out the picture of "super-fan No. 99," Vince Vaughn, laughing at Luongo as the goaltender sulked off the ice.
Was the pressure on the Canucks or did the Blackhawks just want this win more?
"I don't know what the reason was, but guys were competing a little harder," said Duncan Keith, who scored in the team's four-goal second period. "That's what we need. We saw it today. We're not the biggest team, but guys were hitting, and I thought we did a better job of that tonight."
While the fans celebrated in the stands, you could feel the tension melt away from a team beset by the dissonance between history-laced expectations and the cold stare of reality.
Elimination turned out to be the motivator this team needed.
"It's a situation our team hasn't been involved in, in a while," said Brian Campbell, who scored the go-ahead goal. "Last year we were never involved in that situation. So it's been a couple of years. We didn't want to end it like this, and we're too good of a team not to challenge Vancouver into a series. Obviously they're in great shape, and they're a great hockey club. But we're going to have some fun and see what can go on."
"

It's a situation our team hasn't been involved in, in a while. Last year we were never involved in that situation. So it's been a couple of years. We didn't want to end it like this, and we're too good of a team not to challenge Vancouver into a series.

"

-- Brian Campbell
A series sweep really would have been a perfectly fitting end to this season, for a team that backed into the playoffs in every way. But the Blackhawks are still alive. And one more win will loosen up the players more than a tray of shots at The Roxy.
"Oh yeah, our season's on the line," Keith said of the threat of elimination. "We got a lot of pride in here, and we never want to quit. It's a long, long ways away. A lot of hockey left to be played."
Well, maybe not. But you have to like the attitude.
"We felt no pressure going into this game and that's not going to change," coach Joel Quenneville said.
Winning this series is a between-the-pipes dream, to be sure, but with the Canucks' tortured playoff history, you know the talk in Vancouver will trend toward disaster.
"We're excited to be going back to Vancouver," Quenneville said. "We've played well there the last two years."
Of course, the Blackhawks have eliminated the Canucks from the playoffs the past two years. The odds are long there will be a three-peat, but really who expected another run from this team? Outside the diehards, of which there are many, few really cared.
With a punishing post-Stanley Cup hangover, myriad injuries (including Brent Seabrook, who sat out this game after a vicious hit by Torres in Game 3), and the Bears and Bulls stealing the oxygen in Chicago, the Blackhawks didn't reach as many casual fans as they did in the past two years.
Their TV ratings are still stellar, and so is attendance, but the buzz dimmed significantly as Bulls Fever has gripped the city while the Hawks struggled to put together a serious run at relevance in the Western Conference.
Fandom had no impact on this team, though; its troubles were all about health and salary cap-induced atrophy, and fits and finding momentum. We got a first-hand look on why teams don't repeat in the new National Hockey League.
The only way for the team to engage its most passionate fans now is through actual hockey moves, not marketing strategy. So the pressure now is on Stan Bowman and Co. to find better fits to complement the well-paid core of players the team committed to in the past two years, or find ways to move guys to bring in depth.
ESPNChicago.com Blackhawks Blog

The latest Hawks news and notes from ESPN Chicago. Blog
Must-see: Hawks playoff gallery

Like every champion, the Blackhawks certainly get some leeway from the burden of defending. And in the NHL, where the salary cap is enforced with much more tenacity than headshots do in Colin Campbell's office, that's even more true.
In some sense, I was ready for this hockey season to end, just so we could cease talking about the changes from last year to this one. It's unfair to compare this team to last year's, and the Blackhawks need a fresh start and a couple months of rest.
No one is naming any lakes after players this summer, and if any Hawks want to impress girls in the Chicago bars, they'll have to do it with their wealth, youth and charm. Not the Stanley Cup.
"We're happy," Keith said. "But at the same time we know we're still facing elimination next game, and we still have a job to do."
One Goal has morphed into One Game. Will the better team win? The Blackhawks hope not.
Jon Greenberg is a columnist for ESPNChicago.com.
Columnist, ESPNChicago.com
Jon Greenberg is a columnist for ESPNChicago.com. He has lived and worked in Chicago since 2003, and is a graduate of Ohio University and the University of Chicago.